Posted on
Sun, Jan 30, 2011 : 1:44 p.m.
From work to leisure: It's the anticipation of new challenges that keeps us going
By Robert Faber
Editor's note: This is another in a series of occasional columns by long-time Ann Arbor resident Robert Faber on what he describes as his most recently acquired area of expertise — growing old.
Properly nurtured, age can lift a wine from palatable to exotic, can transform casual passion into eternal love, can convert a sap-soaked bug into a fossilized treasure. On the other hand, that same time lapse can turn wine into vinegar and cause unprotected meat to rot. Much of the choice is up to us.
The phenomenon of Old Age is one of the most feared and misunderstood periods in the schedule of man, which is a shame.
Oh sure, young and strong and immortal, as are most youngsters short of seniorhood, is preferable, but there is also a lot to say for old age — except that it doesn't last long enough.
Even aside from such fringe benefits as being offered a seat on a crowded bus or getting discounts at the movies and golf courses, there are pleasures in aging that are not ordinarily available to those 40- to 50-year-old kids who tremble in fearful anticipation of growing old.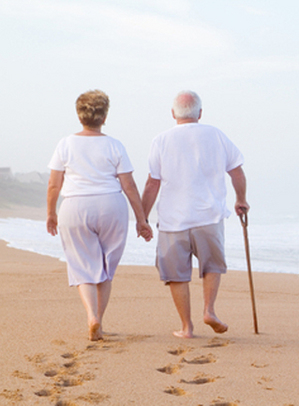 Dreamstime images
With aging, for example, comes the freedom of retirement, supported by a Social Security income and maybe something more from a pension fund — and some very satisfying relief from the requirements of offensive workplace routines.
The leisure of advanced age provides us with the freedom to indulge all those fantasies that were forbidden or beyond reach during our years on the job. Now we can spend time reading the books we want, or visiting the world's more interesting and exotic destinations (limited somewhat by cost, but no longer by time), or concentrate on learning new skills or improving old ones without fearing the embarrassment of failure.
Of course, age does have its problems, but we need not be defined by those new limitations. How we deal with our new identity and adjust to our new milieu is largely up to us.
We can continue our new lives in our old pattern or we can seek new experiences, new skills and new interests to replace our expired routines.
The most common complaint of my contemporaries — aside from arthritis and failing memory and income anxiety and similar such examples of age-related deterioration — is boredom.
In the past we were constantly challenged — to earn a living or shape our kids or please our boss or whatever. Now we no longer have a job, our kids are busy trying to shape their kids, our boss has retired and moved to Florida — and if we are still stuck in yesterday's malaise, it's our own fault.
At this point we should try to replace those routines imposed by our job or our circumstances with challenges of our own choosing.
The biggest threat for many of us is the prospect of a dull or meaningless future. Being mobile around the house and conversant with daytime TV is simply not enough — it's the challenges of the coming days that keep us going.
We must find ways to be productive, even if that productivity produces nothing.
Building flower boxes in our basement workshop can be a fulfilling experience, or improving our golf game, or learning a new language — anything that requires personal involvement and yields tangible results, however inconsequential those results might be.
A good example of meeting this new challenge of excessive free time is shown by my friend Ron who had spent his preceding half-century in medical school — first learning, then practicing and teaching, finally retiring to his books and his collection of classical records.
For some, reading good books and listening to good music is enough, but Ron needed a bit more stimulation, so at age 70 and without any previous experience, Ron bought a violin, hired an instructor and began his Phase Two of life. Now, a decade later, he practices every evening and plays with an amateur string quartet once each weekend — and can't wait for each new day to begin.
It is the contemplation of what comes next, the anticipation of new challenges, perhaps new successes or even new failures to be overcome, that keep us going.
And for all of us there is an overlooked list of tasks or achievements or desires that teased us during our responsible years, those years of full-time devotion to our obligations, that forbade our taking the time for more limited personal pleasures. (My wife's father used to complain of being 200 years behind in his reading.) It is the more distant end of the aging process that gives us the time to pursue those missed desires — and without any of those dispiriting feelings of guilt.
In short, quitting is not an option, so we might as well enjoy ourselves now that we have the chance.
Bob Faber has been a resident of Ann Arbor since 1954. He and his wife, Eunice, owned a fabric store and later a travel agency. He served a couple of terms on the Ann Arbor City Council. He may be reached at rgfaber@comcast.net.