Posted on
Sun, Mar 31, 2013 : 7 a.m.
Alternative options available for those looking for a more hen-friendly Easter
By Letters to the Editor
Today, on Easter, millions of eggs will be dyed with vibrant colors and eagerly sought after in hunts. While the eggs often look nice on the outside, their pretty shells hide the cruelty that went into producing them.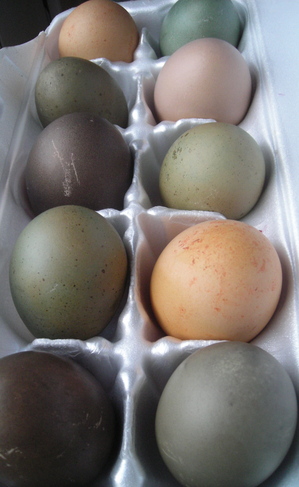 Corinna Borden | Contributor
Each year, 280 million laying hens endure a nightmare that lasts for two years. At just a few days old, a large portion of each hen's beak is cut off with a burning-hot blade, and no painkillers are used. After enduring these mutilations, hens are shoved into tiny wire "battery" cages, which measure roughly 18-by-20 inches and hold five to 11 hens, each of whom has a wingspan of 32 inches. The birds are crammed so closely together that these normally clean animals are forced to urinate and defecate on one another.
After two years in these conditions, the hens' bodies are exhausted, and their egg production drops. These "spent" hens are shipped to slaughterhouses, where roughly 29 percent of them will be suffering from broken bones resulting from neglect and rough treatment.
What I'm describing is not an exception; it's standard industry procedure. Eggs labeled "free-range" or "cage-free," (not subject to independent third party certification or USDA standards) are often from chickens who endure just as much suffering and end up at the same slaughterhouses as their battery-caged counterparts.
The best way to eliminate this cruelty is to stop purchasing eggs. There are many egg-free alternatives that don't harm animals, including using plastic eggs (which can be refilled year after year) at hunts and wooden eggs (available at any craft store) for decorating. It's easy to have a compassionate Easter free of animal suffering.
Kate Brindle
Ypsilanti