Posted on
Tue, Jun 5, 2012 : 2 p.m.
Police coverage may be down, but Ann Arbor remains a safe town
By Guest Column
Editor's note: The spelling of Ed Davidson's last name has been corrected.
Reading Stephen Ranzini's recent op-ed piece ("Ann Arbor lacks adequate policing levels to keep the city safe") gives the wrong impression that downtown Ann Arbor is unsafe. He has no statistics to back it up.
I was informed that people have to look at the long- and short-term statistics to come to a reasonable conclusion. The actual statistics are favorable, according to the Ann Arbor Police Department.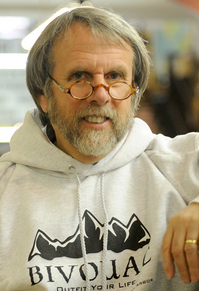 File photo
There is no question that our police force needs to be reinstated to its former level of staffing so that coverage and response times are more in tune with the city's needs. There is no argument that street level policing (foot patrols, bike cops) influence and thwart miscreant activities before a crime can be committed.
However, beat cops aren't only crime fighters, they are very important ambassadors the City of Ann Arbor has. A beat cop on the street increases people's perception of safety, they are around to answer questions, they are there in a pinch for an emergency. Beefing up police staff cut by previous budgets in the police department would further support the entire city community -- a community that is wonderfully healthy and vibrant.
As a State Street Merchant for more than 40 years, I have seen very little change in the landscape in terms of the number of panhandlers and petty/violent crimes. The only recent changes have been in the decreased level of police coverage (which, as stated above, needs to be returned to its former levels). I question (Stephen Ranzini's) editorial for which stats for Pinckney and Livingston County are quoted. If a headline is declaring "Ann Arbor lacks adequate policing to keep city safe," I would like to see statistics directly relating to Ann Arbor -- not Washtenaw County (as a whole), Livingston County, or Detroit, etc. Yes, we are interconnected, but to have an informed conversation about one specific city using statistics from other cities seems a bit sensational. Give us stats for Ann Arbor. Then let's have a conversation.
I frequent downtown and attend movies, restaurants and music venues. I shop. I enjoy the many public events held throughout the year. I see many other people downtown, enjoying the same. Opinion pieces such as this only serve to fear monger, and steer people away from supporting local merchants, restaurants, artists, musicians, etc.
Don't kill the vibrancy of Ann Arbor with ill informed "facts."
Ed Davidson is the owner of Bivouac store in downtown Ann Arbor and has been a State Street merchant for more than 40 years.