Posted on
Sat, Apr 20, 2013 : 5 p.m.
City council needs to consider more than zoning guidelines for proposed 413 E. Huron high-rise
By Guest Column
The proposal for a massive 14-story student apartment building at 413 E. Huron St. has made obvious major weaknesses in the city's site plan approval process. Since planning staff says the project meets provisions of the city's zoning ordinance, legal counsel has advised council members they have no choice but to approve the project as submitted. In other words, the authority of council is being construed in the most narrow manner possible — i.e., only zoning counts.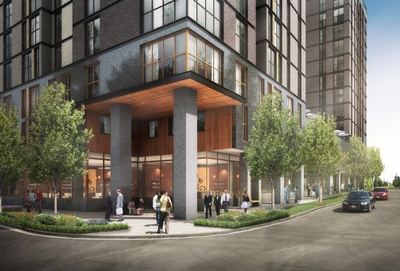 Humphreys & Partners Architects
The 413 project proposal was first reviewed by the city's Design Review Board. That group of design professionals made comments on the negative impact of the project's size relative to the adjacent neighborhood. The public input session had one speaker after another speak of their concerns about the size and location of the project, and its overall impacts.
The proposed project goes against established guidelines for design, as included in the city's master plan, its downtown plan, and its overlay zoning design guidelines. Also, there will be significant loss to the character of three of the city's premier historic districts.
The advice council gets from its legal staff is simply: You must approve it as submitted or you will be sued. This advice pits the city's own authority to plan and control development against the deep pockets of developers.
The public should question whether considered critiques by its appointed Design Review Board, concerns from the public, a resolution opposing the project from the Historic District Commission, and provisions in all of the city's design guidelines should be so easily discarded in the site plan review process. If only zoning counts, then what is the purpose of these other steps, which any developer will be free to ignore.
Council does have other options, which have been presented by legal advisors representing at least eight citizens groups. Members of council should utilize these options and vote to send the developer back to the drawing board to deliver a plan that is more in keeping with what the community wants — and deserves.
Norman Tyler is a resident of downtown Ann Arbor.