Posted on
Sun, Dec 4, 2011 : 6:06 a.m.
Public employers in Michigan must be allowed to offer domestic partner benefits
By Tony Dearing
Legislation that's been approved in the state House would strip local governments, schools and public universities of their ability to offer health insurance or other benefits to the domestic partners of their employees. This is not an issue where the state can afford to retreat.
Supporters of House Bill 4770 and 4771 contend that tax dollars should not be used to provide benefits to the unmarried partners of public employees and their children. It also would deny their right to include the issue in collective bargaining agreements.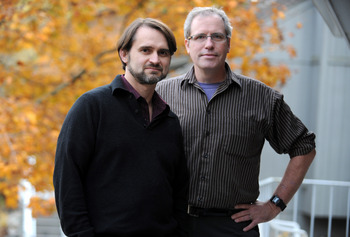 Angela J. Cesere | AnnArbor.com
While such benefits are currently offered to both heterosexual and homosexual couples, it's clear to us that the impetus for the bill is to deny these benefits to same-sex partners, and we think that's not only unfair, it's also bad economic policy.
We oppose this legislation, which we consider an inappropriate and ill-conceived attempt to impose a blatantly discriminatory social agenda on public employers, denying them an option that is widely available in the private sector and hampering their ability to compete for talent.
We see no reason that public employees should be singled out, and stripped of benefits that are commonplace in private business. The Human Rights Campaign reports that 60 percent of Fortune 500 companies offer domestic partner benefits to their employees. These companies understand that in today's economy, if they want to compete for the best talent, it's in their interest to offer a work climate that is tolerant, diverse and welcoming.
The University of Michigan, Eastern Michigan University and the Ann Arbor/Ypsilanti Regional Chamber of Commerce understand the same thing. That's why they have joined the growing chorus of voices calling upon the state Senate to reject HB 4770 and 4771.
The chamber approved a statement last month warning that the legislation would be discriminatory, as well as detrimental to the business climate locally and across the state. Sean Duval, chairman of the chamber's public policy committee, told AnnArbor.com that the state cannot afford to be "exclusionary'' when it is trying to attractive and retain good employees. "We are a better place because of the diversity of the wonderful people who call this region home, and we want our public institutions to use every tool they have to attract and retain each and every bright individual.''
We entirely share that sentiment, and so do many in our community. In a poll conducted on our web site last month, more than 1,600 people responded and three-fourths said they oppose this legislation.
Last week, AnnArbor.com reported that the unemployment rate for Washtenaw County fell to 5.7 percent in October, the second-lowest rate in Michigan. At a time when the state's economy is only beginning to show signs of a fragile recovery, we are fortunate to be a bright spot in employment. Part of that success can be found in the ability of our public institutions like U-M and EMU to generate jobs and attract talent. Our growing high-tech sector also is adding jobs and luring well-educated, well-paid workers to the community. This is absolutely the wrong time to put economic recovery and job growth at risk by slamming the door shut to a portion of the very work force that we're trying to attract.
We also believe that supporters of this legislation are making too much of the supposed cost of providing domestic partner benefits to public employees. In fact, that cost is negligible. U-M President Mary Sue Coleman, who has been vocal in opposing the bills, points out that the domestic partner benefits provided to roughly 620 adults and children through the university's medical plan account for 0.7 percent of the total $302 million in health-care costs. Presumably, if employees left over time because their domestic partners were no longer covered, they would be replaced by new hires who are more likely to be married. These spouses would, of course, be eligible for benefits, saving little money in the long-run.
Any of our public employers, whether it's the University of Michigan or a local school district or township, should have the autonomy to offer whatever array of benefits it finds appropriate to attract and keep workers. The idea that the state would step in and force those employers to treat some workers as second-class citizens, undeserving of benefits that remain available to others working alongside them, is repugnant to us. We call on the state Senate to reject House Bills 4770 and 4771.
(This editorial was published in today's newspaper and reflects the opinion of the Editorial Board at AnnArbor.com.)