Posted on
Sat, Jul 23, 2011 : 5:57 a.m.
Q&A with meteorologist Paul Gross: The heat wave, climate change and other weather phenomena
By Lucy Ann Lance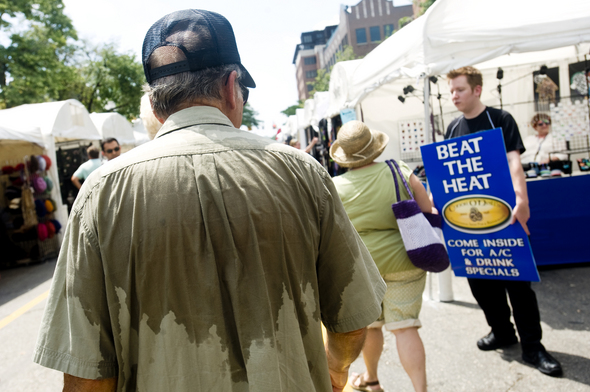 Melanie Maxwell I AnnArbor.com
Think it's been hot? Imagine living through the Great Heat Wave of 1936. It lasted most of that summer throughout the United States with 5,000 people perishing and many crops destroyed.
Earlier this past week on 1290 WLBY, just as the high heat began to envelope us, Dean Erskine and I talked with WDIV Local 4 meteorologist Paul Gross, author of "Extreme Michigan Weather, the Wild World of the Great Lakes State," published by University of Michigan Press.
Lucy Ann: So how bad is this modern day heat wave compared throughout history?
Gross:
We're not going to minimize this. This is obviously a significant heat wave. But I'll tell you, Lucy Ann, there is nothing that compares to that heat wave of 1936. I consider that the most significant weather event ever to hit the state of Michigan because it hit the entire state. Here in the Detroit area it was seven consecutive days over one hundred, and it wasn't just here in the southern part of the state. You go up North to cool off, but areas up North got it as well. Traverse City had five straight days over one hundred. West Branch had six straight days over one hundred. Even up in the Upper Peninsula, Munising had four days over one hundred. That was an extraordinary time with no air conditioning -- we're talking 1936.
Lucy Ann: If they were lucky, they had ice to try to cool down from that.
Gross: You had to wait for the ice man to come.
Lucy Ann: How did they live through that, Paul?
Gross: They actually tried to employ some of the things that we tell people today. You try to limit your activity, drink a lot of water, and one thing that people tend to forget is, you have cold water that comes from the tap. If you don't have air conditioning, you can just take a cool bath to lower your body temperature, That's all you need to try to withstand this heat because after a while the stress does take its toll on you.
Lucy Ann: When we talk about 1936 contrasted with today, is this just the cyclical aspect of weather versus climate change or global warming?
Gross: Well, there are little cycles and things that we look for and then there are things like El Nino and La Nina that impact our weather. Now when you get into climate change, first of all the scientists on the planet agree that we're in a period of unusual warming and it doesn't mean, for example, that we won't have winter. It means that we'll have fewer cold extremes and an increase in heat extremes. So, for example, back in 2003, they had an extreme heat wave in Europe that killed 35,000 people and then we had the one in Russia three years ago and so now we're seeing a heat wave here. Look back at this past winter and think about how harsh of a winter it was with all the snow. You know what? We did not set a single record low this winter. Not one here in the Detroit area. Now this summer, of course, we have all this heat that's going on. We've had some record highs over the course of the year. A scientist told me that in about 75 years, it's not something that happens overnight, but in about 75 years a Michigan summer is going to feel like what a Missouri summer feels like today. He said that was a conservative estimate.
Lucy Ann: How do we know, though, that this isn't just what happens throughout history?
Gross: The reason that scientists now are getting more confident that we're seeing this warming is in a number of statistical things. I counted, for example, the number of record highs and record lows over the decade from 1990 to 2000 and then from 2000 to 2010. In the '90s, record highs outnumbered record lows here in the Detroit area in a three to one ratio. And then in the next decade that number jumped to six to one record highs versus record lows. At this point in our climate record that shouldn't be that high of a number. So we're seeing a significant forcing on the climate by something and we pretty much know what that something is -- it's the pollution that we've put into the atmosphere. We've actually changed the composition of our planet's atmosphere.
Lucy Ann: What about the impact of El Nino and La Nina, which are naturally occurring climate cycles?
Dean: Paul, from what I've heard that contributed to all the tornadoes that were happening in the South earlier this year.
Gross: We had kind of the tailend of a La Nina. El Nino is an eastward shift in above normal Pacific Ocean surface water temperatures. In other words, the winds kind of shift and push those eastward and they cool off the West Coast of South America. La Niña is the opposite. Those warm waters shift westward towards Indonesia and that changes the jet stream configuration and the jet stream is the storm track. Now you see why that kind of plays into our weather, so, yeah, we were at the tail end of La Niña as we entered into the spring and we had a very energetic storm pattern. I've been emailing with all my TV meteorologist friends around the world about this. It was the most extraordinary tornado season. I was just interviewed on Czech Republic National TV about our tornado season and over there they don't get very many tornados. They just can't believe what happened here this spring.
Lucy Ann: Put this week's high heat into perspective.
Gross: The last time that we had nine consecutive days over 90 was back in 1953, August 26 through September 4, and by the way that was also the heat wave that was our record for 90 degree days consecutively -- we had eleven of them actually -- so this is getting into pretty rarified air here.
Lucy Ann Lance co-owns Lance & Erskine Communications, which produces "The Lucy Ann Lance Business Insider" (M-F, 8 a.m.-11 a.m.) and "The Lucy Ann Lance Show" (Saturdays, 9 a.m.-12 p.m.) on 1290 WLBY. The programs are live streamed at www.1290WLBY.com, and podcast on www.lucyannlance.com. The above interview is a condensed version of a longer conversation that is edited for clarity. The complete audio interview is posted online at www.lucyannlance.com.