Posted on
Sat, Aug 20, 2011 : 5:58 a.m.
No ads in the Big House: New chief marketing officer talks about branding U-M sports
By Lucy Ann Lance
In 1999, the University of Michigan football team beat Ohio State, 24-17. Hunter Lochmann is quick to tell you all about that game. It's the only Michigan football game he has ever attended.
Now the Massachusetts native is the first chief marketing officer in the history of U-M intercollegiate athletics. Lochmann, former vice president of marketing for the New York Knicks, talked with us this past week on 1290 WLBY.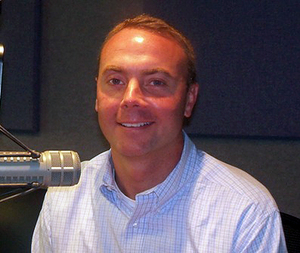 Lucy Ann:
Since coming on board eight months ago, what is your impression of the University of Michigan and its athletic program?
Lochmann: Powerful. I came from the New York Knicks, which I thought the Knicks and the Michigan Athletics brand were pretty equal. It's not even close. The Michigan brand throughout athletics, but in particular football, is mammoth. Not that I underestimated the fan base, but it is beyond anything that I ever imagined.
Lucy Ann: It is incredible, isn't it?
Lochmann: It's worldwide. It's funny, when I considered taking the job, I saw Michigan everywhere. I was living in New Jersey and I was driving down a side street and in a small town in New Jersey there was this old guy wearing a Michigan jersey. You see it everywhere. It's such a powerful brand by itself, but when you add athletics and the university, there are a handful of schools that can even sniff it.
Lucy Ann: Did you know right away that you were going to apply for the job when you heard about it?
Lochmann: I saw the job description and it was one of those weird moments. I looked at the description and my 14 years of experience spoke to it, and I put everything within myself to have it. I wanted to be here.
Dean Erskine: I really love some of the changes that are happening with the university, not just football, but the Big Chill hockey game that was played back in December. A 100,000 people out there watching that. That was fabulous. A night game with Notre Dame coming up. I am so excited about that, and I think that it's so long overdue to have a night game here in Ann Arbor at Michigan Stadium.
Lochmann: It's a good opportunity for us to show the brand nationally.
Erskine: Yes, and to be the main center-stage game on a Saturday night.
Lochmann: There's so much involved with the game besides the fact that ESPN Game Day will be here. That just added to the luster of this game. (We'll be) honoring Desmond (Howard) for his College Football Hall of Fame. It's also the 10th anniversary of 9/11. It's going to be a powerful day and there's just a lot of planning going into it right now.
Lucy Ann: You have some challenges coming up. One of those is filling up Crisler Arena where the basketball team plays. The rebuild of that should help.
Lochmann: It's really a marketing dream because you have a great coach in Coach (John) Beilein, you've got a great returning team from a successful season, and (add to that the) renovated arena. Now this is step one, you're going to see new seats and this unbelievable scoreboard which is going to completely change the game day experience. So it's fun and the fan base is excited. One of the bigger adjustments is taking twenty nine sports and looking at, how we improve attendance and really build the brand of all these sports.
Erskine: You can do a lot of things to improve the game day experience but it all comes down to W's and L's.
Lochmann: You learn, growing up in the sports marketing business, you can't affect what happens on the court but you can affect everything else and be prepared to win.
Lucy Ann: With pro teams even if it's a losing team, they still seem to garner excitement and have a passionate fan base. Is there something you can take from your experience working in the pro leagues and apply it at the college level?
Lochmann: That's where you get the game presentation element. Where a family of four is going to their first game ever on a weekday where maybe it isn't the strongest opponent, but if they had a great time at the game and they don't even remember the score in some sense and they want to come back. That's looking and knowing who your audience is, who to go after, and to create enough ticket plans and opportunities for everyone to come.
Erskine: Hunter, it has been a bad off-season as far as scandal in college football, one just coming up in the last couple of days with the Miami Hurricanes. Does college football run the risk of getting such a black eye that it could turn off its fan base?
Lochmann: No, (although) I think any sport is leery of that. The great thing about the University of Michigan (is) the brand is based on integrity. We have a leader in (Michigan athletic director) Dave Brandon. One of our guiding principles is integrity, and I think our fan base knows that and that what they're getting is just a clean program that's going to do things in the right way. Does negativity creep into any sport? Sure. All in all, I think (fans) just care about their own team, and they want to see their team win. Unfortunately, what's happened at these other schools is not their problem.
Lucy Ann: Will there ever be advertising inside Michigan stadium for a football game?
Lochmann: No. I've learned from Dave Brandon that you ask your fans what they want. They don't want to see a lick of advertising in Michigan Stadium. I think my resume would be updated if I ever allowed it in there on my own. It's not going to happen; I think there are enough opportunities emerging in this digital world and other inventory to satisfy partners.
Lucy Ann: But you have over 100,000 people in there, glued to it. You have the television coverage.
Lochmann: Sure. It's a great opportunity.
Lucy Ann: There are elementary schools which have incorporated corporate advertising in their programs. Why not Michigan Stadium?
Lochmann: You know, it's a great opportunity and anyone who doesn't say it is, isn't telling the truth, but the fans don't want it. You listen to your fans and if that's their No. 1 issue then we can come up with a thousand other things that they do want, that we can take advantage of.
Erskine: Just think of the money that someone would pay just to have their logo on the scoreboard.
Lochmann: There are other opportunities.
Lucy Ann: What are those other opportunities?
Lochmann: Digital. We have 100,000 people who come to these games. Guess what? We now have their e-mail addresses and we can market our own internal Facebook and Twitter and reach them differently through sponsors. Not spam them, but try to figure out what do they want to hear from?
Lucy Ann: What about the MGoBlue.com website? Any transformation of that coming up?
Lochmann: Actually, that's a great question. We are redesigning that as we speak. Hopefully a mid to late September re-launch or redesign. It's going to be a lot more video focus. Video is where everything's heading with the mobile phones, iPads, and anything else, so we're working hard on that. It's a popular site; that's where our fans go, but we have some work to do. That's part of the branding of Michigan Athletics. You look at every touch point and obviously MGoBlue.com is one of the most popular ones.
Lucy Ann: Any other changes that you have coming out regarding branding of the University of Michigan?
Lochmann: Event presentation and how people experience the brand at our events is a big part of building the brand, and we are in the midst of hiring some event presentation folks to really focus on making it a wow experience for our fans who go to basketball, hockey, football, soccer. It's not just a PA announcement.
Lucy Ann: More entertainment?
Lochmann: Exactly. We really want to make all Michigan Athletics a destination for sports fans.
Lucy Ann Lance & Dean Erskine own Lance & Erskine Communications, which produces "The Lucy Ann Lance Business Insider" (M-F, 8 a.m.-11 a.m.) and "The Lucy Ann Lance Show" (Saturdays, 9 a.m.-12 p.m.) on 1290 WLBY. The programs are live streamed at www.1290WLBY.com, and podcast on www.lucyannlance.com. The above interview is a condensed version of a longer conversation that is edited for clarity. The complete audio interview is posted online at www.lucyannlance.com.