Lucy Ann Lance | Newsmaker Q&A
COLUMN:

Q&A with Judge Chris Easthope: On the impact of eliminating judgeships statewide

Posted on Sat, Aug 27, 2011 : 7:48 a.m.
Unless you receive a summons for jury duty, or you're at the polls trying to figure out which judge gets your vote, or you are involved in a case before the court, you probably don't think about our court system too often.
I'm scheduled for jury duty in October. So, it has been on my mind.
Then two reports came out last week that had many in our community contemplating the courts. The first was the Judicial Resources Recommendations issued by the Michigan State Court Administrative Office, which is calling for eliminating a number of judgeships. The second was that Ann Arbor 15th District Chief Judge Julie Creal has left the bench on indefinite medical leave. In an interview on 1290 WLBY, 15th District Judge Chris Easthope provided insight on the future of the courts.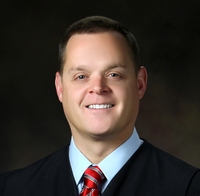 Lucy Ann:
How is Judge Creal doing?
Judge Easthope: She's doing great. She decided that it's probably best for her long term health to take some time and decide her future. I'm sure she'll appreciate everybody's well wishes.
Lucy Ann: The community has rallied behind her since hearing the news that she has had to step down because of some health concerns and that it might be permanently. Do we have a definitive on that yet?
Judge Easthope: We don't have a definitive on that yet, and I'm sure she'll take some time to figure out what's best and probably let everybody know soon.
Lucy Ann: Are we talking weeks or months before that's resolved?
Judge Easthope: It won't be months, but an exact date I can't tell you.
Lucy Ann: Has she revealed the nature of her health concern?
Judge Easthope: To her staff she has, but publically she hasn't.
Lucy Ann: Give us an update on the judicial study calling for a reduction in judges and what that means for our 15th District Court.
Judge Easthope: The austerity movement throughout all of government, especially in local governments, is on the march. The one thing that I want to make clear is that the judges have been putting these reports out annually about what we should do to reduce the judiciary where it makes sense, and because of how our judicial system is set up, the Legislature hasn't acted on those reports. Every year a report comes out from the State Supreme Court's office suggesting where we could take cuts. We enacted a new study again over the past year and judges were required to take part. They tracked caseloads, populations, and amount of time spent on cases, and based on that study they developed a recommendation that the state could do without 45 judges in certain counties and cities. That's a significant amount given that there are only a little over 500 judges in the state. However, what the report also suggests is that there should be 31 new judges added to specific areas of the state where the caseload has increased significantly.
Lucy Ann: That includes the 22nd Circuit Court locally. They need one more judge?
Judge Easthope: That's correct. My court, the 15th District Court, (the report) said it shouldn't change, it should stay a three judge court and that the Circuit Court in Washtenaw County should add one more based on their caseload. The report says 45 to 49 judges should be cut and 31 should be added, but there's not going to be any added. Everybody had agreed right now that there isn't any money to add any judges. So you're going to see a cut of forty-five to forty-nine judges. I think the way they are going to do that has caused some concern. It's going to be done through attrition. You wait for that judge to either retire or quit and that they don't allow that seat to go up for re-election or re-appointment. Some people thought, "Can't you just cut the seats right now?" But that would not be an effective way to reduce the number of judges.
Lucy Ann: What about the places where it was determined that more judges are needed. Where there are heavy caseloads and it takes a long time to get through the court system which, in my understanding, is the Circuit Court?
Judge Easthope: They should do that because it's not fair to the public. Everyone is in this cut, cut, cut mode right now, but there are significant backlogs in certain areas. People are so afraid to spend money right now in the state that all the circuit court judges and the district judges associations say don't add any judges right now even though there are backlogs and everybody's just got to deal with it. The savings are $7 million to $8 million per year if they cut that many judges, and technically in our overall budget that's really a pittance, so it's not really a huge savings to the public.
Lucy Ann: What is the 15th District Court budget and where does that funding come from, Judge Easthope?
Judge Easthope: It's a little over $4 million and it's a locally taxpayer funded court, so it's funded through the City of Ann Arbor and that means all operations including the physical operations of the official court and all the employees. However the judges, we are a little bit different. Our paycheck is paid by the State of Michigan not by the City of Ann Arbor and that's kind of a little quirk in the way it works, but the budget is totally done by the City of Ann Arbor. We have to participate in the budget process as well as every other department does. When it comes to cut time in the budget we have really participated. We're down a lot of employees over our last couple of budgets. We have great employees who have been able to do a lot more for a lot less.
Lucy Ann: The 15th District Court budget has actually been reduced in the last couple of years?
Judge Easthope: Yes, we're down four or five employees. We've made significant cuts, we haven't given employees raises over several years, and their benefits have obviously changed so they have taken what amounts to a pay cut. There have been significant changes made in the court budget to make sure that all the money is being saved as much as possible.
Lucy Ann: What kinds of cases are you ruling on?
Judge Easthope: My specific docket is that I only handle criminal cases. We are cross-assigned to handle felony preliminary exams. Then we also handle misdemeanors, which means you can't go to jail for more than a year. Then we handle civil cases that are under $25,000 and we handle landlord, tenants, small claims courts, and traffic tickets.
Lucy Ann: Given that caseload for the entire 15th District Court, what is your impression of the number of judges that you have to handle all of that?
Judge Easthope: Judge Creal had taken a leave earlier this year, a short leave. Judge Elizabeth Hines and I were then splitting all the work. We were busy to say the least, so when we are at three judges it's right about perfect. It kind of ebbs and flows a little bit but when we are at two judges trying to handle our current caseload, it's pretty overwhelming.
Lucy Ann: You also have a magistrate as well?
Judge Easthope: We do, Magistrate Colleen Curry. She handles all of our arraignments. … She handles a lot of informal traffic ticket hearings, all of our small claims cases ... She also runs our civil division, so she wears two hats. She's been excellent, she really knows her stuff coming over from the Circuit Court, so we're very fortunate to have her because she helps us out a lot.
Lucy Ann: What is your impression of the new Justice Center Building where the 15th District Court is now located?
Judge Easthope: The building is truly an amazing building in terms of customer service. The first two floors are for the police use and the upper floors are for the court, and once they get the new signage and the front of the new City Hall finished, the access will be really easy for the public to use. It's a great building to use in terms of when we talk about what works for it, the safety of the public coming and going. In the old building prisoners could be walking down the middle of the hallway.
Lucy Ann: Even if you had reductions in the court that wouldn't have been overbuilt?
Judge Easthope: No. The only thing that you could then maybe say would be overbuilt is that we would have one extra courtroom, but all the other space is still needed. But we are also talking about having meetings with other local court districts to see if there are any consolidations we can do countywide. One of them is to change dockets and look at how we can be of service throughout the county. Those conversations are going on right now also to see where we can save money in the county budget.
Lucy Ann: Would that be pulling some of those people then into the Justice Center?
Judge Easthope: Well, we would be making a docket, making a courtroom available to them if they wanted to look at changing some of their court usage. The conversation has just started and I wouldn't want to say either way whether or not there will be an outcome but certainly everything is on the table.