Posted on
Sat, Nov 12, 2011 : 5:58 a.m.
Q&A with Laura Rubin on the RiverUp! Project to improve the Huron River
By Lucy Ann Lance
Efforts are underway to make the Huron River more of a community magnet by cleaning it up and building it up with businesses and river-friendly features. Laura Rubin, executive director of the Huron River Watershed Council, talked with me recently on 1290 WLBY about the RiverUp! Project and how it could change the way we utilize our river.
Lucy Ann: How important is the Huron River to our community?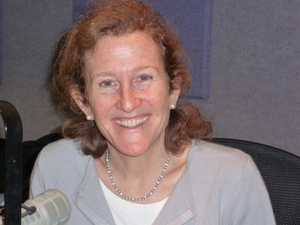 Rubin:
It's really the dominant natural feature in the area. When you talk to people about what is the big natural feature in the area, it's the river, and the watershed is what shapes our landscape. So when we have uplands or woodlands or rivers or streams, it's all part of the watershed, and despite that, a lot of people in this town don't know there's a river down there, it really is what defines this community.
Lucy Ann:
We don't celebrate our river the way other communities do. You see a lot of other places build up their riverfronts with businesses. You don't see a lot of economic development here.
Rubin:
You don't and that's a big effort of ours right now. Historically the river was used mainly to convey waste, then it became very industrialized and it was our main source of navigation. So traditionally we built our backs to the river, the backs of our businesses, the backs of our community, because it wasn't really a desirable place to be. I think there has been a real shift nationwide and locally of re-embracing the riverfront. We call it a river renaissance. I think most people are familiar with the San Antonio River Walk, but even in some of our Great Lakes cities, Chicago, Buffalo, Cleveland, they found a lot of economic opportunities by cleaning up the industrial lakefront and riverfront and utilizing it. That's what we're trying to do.
Lucy Ann:
I would've thought the Huron River Watershed Council wouldn't want to see a build-up of businesses along the riverfront, but it could be an economic driver if it's done in a graceful way.
Rubin:
Exactly. We're not talking about building it up with big high-rises and a lot of pavement, because we know that's what really harms our water quality. We have to balance access with protection. We've done a very good job especially in Ann Arbor, but through the Huron-Clinton Metropolitan Authority of protecting a lot of parkland along the river, but we need to improve access. Not everyone can get to the river. Ironically, there's really not a restaurant, there's really not a place you can go and eat.
Lucy Ann:
It surprises me that no one has tried to do that. Are there rules against that?
Rubin:
No. It hasn't been a desirable location especially in terms of downtown Ann Arbor. Downtown isn't really connected to the river; we don't have that connector. We'd love to see that come in. We've been working with the Downtown Development Authorities in Milford, Dexter, Ann Arbor, and Flat Rock, and they're really excited about this project. We saw in Dexter when we took out the Mill Pond Dam two years ago that has now made Dexter a destination for paddlers who come in and spend the weekend there and they go to the brew pubs and they go to the convenience stores and the bakery and they spend their money there and it's a real nice economic driver. In Ann Arbor, we have been looking at that North Main corridor down to Broadway. In Ypsilanti, Angstrom has a site, the old Ford plant, where they have a 14-acre parking lot that's not being used. We've been working with Washtenaw County Parks, the City of Ypsilanti and Ypsilanti Township. Could we make that a better trail linking Ford Lake into downtown Ypsilanti and EMU and get a restaurant there? We're trying to be creative about some of these lands that were historically heavy manufacturing or industry, giving us the opportunity to clean those up.
Lucy Ann:
How do you do this and who takes ownership?
Rubin:
It's tricky and it also depends on the property. If there's contamination then that's one area that needs to be cleaned up first and there's funds there. There's either the original property owner or there's Brownfield money. If it's a clean site then it's really talking about putting together the funders, and in this economy that's a little iffy. We can also bring in community foundations as being landholders. Sometimes they hold land until there's an interested developer to buy it.
Lucy Ann:
Is the Watershed Council prepared to do that?
Rubin:
We don't take lands; it's not a business we want to get into. But we've got a lot of nice partners. One of the nice things on this project is we've been working with a team called the Wolfpack, which is a lot of private individuals and businesses coming in and working with the local governments. We've really got a nice relationship there and working with the community foundations to make something happen.
Lucy Ann:
Tell me more about that.
Rubin:
The Wolfpack is a group of business and community leaders that the National Wildlife Foundation has worked with and they've approached us to work on this river project. Congressman John Dingell has been very interested in it, again trying to leave some legacy of river revitalization.
Lucy Ann:
What kinds of businesses do you see for the Huron River front?
Rubin:
Definitely liveries. We've got a lot of interest in getting more paddlers, canoers, kayakers. The City of Ann Arbor is adding some whitewater features and so we'll have more people coming down to the river to watch that. Restaurants, whether it's just a brewpub or just a restaurant, both involve people coming down and sitting and watching. Could be an outfitter or outdoors gear type of (store), coffee houses. I know there's been some interest in this town and Ypsilanti of having some offices that overlook the river.
Lucy Ann:
How much of this land is available right now for purchase?
Rubin:
Good question. Right now there are more blocks (of property) here and there of fifteen or ten acres. In Ann Arbor, there's the DTE MichCon property. In the Village of Dexter, there are a lot of properties that sit there right next to the river. Past industrial, old metal finishing shops, things like that. You go up to Milford, it's the same thing.
Lucy Ann:
Are you also talking about some kind of public-private partnership between the landholders such as the City of Ann Arbor?
Rubin:
Could be. Washtenaw County is talking about building a recreation center down at Water Street in Ypsilanti. That could be that public-private partnership if you were to build a recreation center. It really would draw a lot of the youth, the seniors. Then that becomes more of a magnet for the private businesses to come in. Where we can have some of the public money jump start it, that's all the better for us.
Lucy Ann:
What's it going to take to make this happen and how long are we talking before it does?
Rubin:
You know, it depends on how vibrant we want to see it initially. I think in a good ten to fifteen years we're going to start to see some of this. We've seen some interest from restaurant owners who've looked at sites. We want to get the marketing underway to build some excitement. We're going to have to do a lot of bulldozing, just improving portages, improving launches, just trying to get better access, just trying to get better signs. That would be the first step to get us there.
Lucy Ann:
And the Huron River Watershed Council is a catalyst in all of this?
Rubin:
We're trying to be a big partner in this. As you can imagine, we want to get a lot of people there. We need the public, we need the private industries, we need the community foundations, we need all of the people to make this happen because it's sort of a mix of clean-up and land use and economic development and so it's really going to be a lot of partners and a lot of projects.
Lucy Ann Lance co-owns Lance & Erskine Communications, which produces "The Lucy Ann Lance Business Insider" (M-F, 8 a.m.-11 a.m.) and "The Lucy Ann Lance Show" (Saturdays, 9 a.m.-12 p.m.) on 1290 WLBY. The programs are live streamed at www.1290WLBY.com, and podcast on www.lucyannlance.com. The above interview is a condensed version of a longer conversation that is edited for clarity. The complete audio interview is posted online at www.lucyannlance.com.