Posted on
Sat, Apr 16, 2011 : 5:56 a.m.
Q&A with Lou Belcher: Former mayor gets candid about current council, his career and the GOP's future in Ann Arbor
By Lucy Ann Lance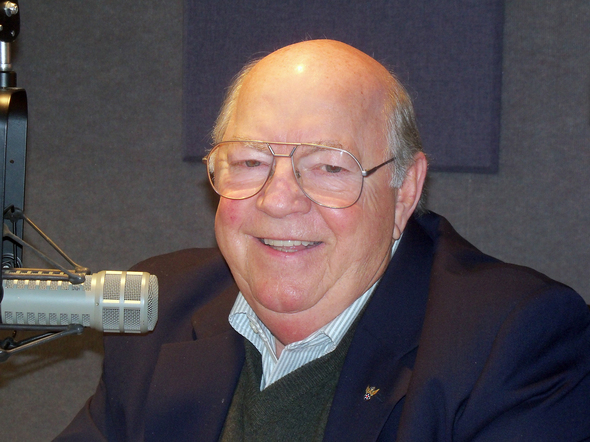 Editor's note: Following the publication of this interview, a reader questioned some of the statements made about the 1977 court challenge discussed here. After reviewing the records of the case, a correction was published to set straight some of the facts involved. You can see that correction here.)
The election of Ann Arbor Mayor Louis Belcher in 1978 ranks as one of the oddest Ann Arbor has ever experienced. There wasn't supposed to be a Mayoral election that year, but it was brought about by a 1977 challenge that Republican candidate Belcher made against Democratic incumbent Mayor Al Wheeler.
Belcher had lost that election by a single vote, but then it was discovered that 20 people had voted who unknowingly didn't live in Ann Arbor. A judge ordered those voters to reveal the name of the candidate for whom they had voted.
In an interview on 1290 WLBY this past week, Belcher recalled the bizarre circumstances and the three terms he spent as mayor of Ann Arbor.
Lou Belcher: We had a visiting judge, no local judge would take this case, and that chap probably ranked in the far corner of idiots of the world. He subpoenaed all 20 non-residents and asked them how they voted. The first one got up and said, "Al Wheeler." The judge then turned to the clerk who was keeping score and said, "Deduct one vote from Al Wheeler." The next person said, "I voted for Lou Belcher." The judge said, "Deduct one point from Lou Belcher." Everyone was going nuts because we were giving those people two votes. And so the third, thank goodness, was a young freshman at U of M, had never voted before, and she said, "I am not going to tell you. This is a secret ballot." The judge said, "You do not have that right in this court." This went on for five minutes and finally she backed the judge in a corner and he said, "You must tell me or I'm going to hold you in contempt." So, the bailiff came in and handcuffed her, and that was the image spread across the U.S. of her being led out of the courthouse, hands cuffed behind her, for upholding the U.S. Constitution. This created an uproar and everybody came into Ann Arbor - Time, Newsweek, every major news source, reporters everywhere. A third day went by and she still wouldn't reveal. The judge called us into his office and said, "I don't know how we are going to resolve this, so I suggest we call a new election." Both Al and I wanted to do that from the beginning.
Lucy Ann: You didn't want it to go that far.
Lou Belcher: Well, they let her out of jail, and the judge disappeared into oblivion, as he should have. What was so funny about that was I had employees who worked for me who said they didn't vote that day - it was raining. I must have had a couple hundred people saying "I can't believe I didn't vote." I think it was a great lesson in how every vote counts. There have been a ton of one-vote elections across the country in the past few years.
Lucy Ann: You served four years on City Council and, after winning that second mayoral election, you ultimately served seven years as mayor. What was the most defining moment in a decision made by you and City Council?
Belcher: I always like to go back and think of things, about decisions and if you made the right choice. I think the creation of the Downtown Development Authority. It's raised so much money for the city. The Michigan Theater, of course, was a big one.
Lucy Ann: Ann Arbor's 1928 movie palace almost had a date with the wrecking ball until you convinced City Council to buy it. You helped save the Michigan Theater!
Belcher: That was a big story. Ann Arbor came together to do some good. Also, the Pfizer vote turned out to be one of the more important votes we did. (When Pfizer subsidiary Parke-Davis threatened to leave Ann Arbor, Belcher corralled City Council to give the company a tax abatement.)
Belcher: From the tax break and the deal that (U-M President) Harold Shapiro and I put together with the president of Parke-Davis. They built their lab here, enlarged it, and council fought it, and we fought to get the votes we needed. It's turned out big because it turned into a billion-dollar industry. But the big news to me is how the U of M was able to purchase the building recently for $108 million. I think that is going to be one of the biggest spin-offs for businesses in Michigan and Ann Arbor. Right now, they have incubator space in there and U of M has taken a very aggressive stand on tech transfer. They are actually starting to come up to other universities - Ohio State, Purdue, MIT - where the research developed is commercialized.
Lucy Ann: Even though that building is off the tax rolls now?
Belcher: This is the funny part about taxes. I think they are far overrated and do nothing but impede the private sector, and that is where the jobs are. The government can create jobs but that's peanuts. As an American economy, as we go against the world, we are in competition with everybody. It is going to be our ability to create millions of jobs a year, not 200,000, and you get that from these spin-offs. I've been around Ann Arbor long enough and I've been a part of the business community and I've watched our biggest companies leave. We've always recovered and we've always had a great economy that's spun out of that bigger than before.
Lucy Ann: What do you think about the direction that Ann Arbor City Council and Mayor John Hieftje are leading the city today?
Belcher: Well, I have to admit we had some great city councils, really good ones. I am not saying they are not good now, but they were really top flight.
Lucy Ann: When you look at issues like the downtown conference center and how that was handled, what is your impression?
Belcher: Let me tell you what I don't like. Although it's getting better, I don't like rules being made and then not being followed. I don't want people to spend money on things that are not going to go through. They should tell them right away it's not going to fly instead of going through all of this bickering and then come back and say we are not going to do it. Someone has poured a couple of hundred thousand bucks into that and your reputation as a progressive city goes down the tubes.
Lucy Ann: Will the Republican Party ever return to the City of Ann Arbor?
Belcher: I think it already has. I think some of the representatives on City Council are actually kind of Republican.
Lucy Ann: Who?
Belcher: Well I don't want to say and ruin their vote.
Lucy Ann: Are you talking about those who were Republican and then switched to Democrat?
Belcher: Well, everybody switched to being Democrat. When the students took control of the vote here everyone became Democrat, because when they go into the booth no one pulls the Republican handle. They all pull Democrat.
Lucy Ann: Will you ever run again?
Belcher: No. I was offered an opportunity to run for Congress. I only ran (for mayor) because I was really upset with City Council. It was silly season.
Lucy Ann: What have you been doing since your days as Ann Arbor Mayor?
Belcher: I've been in business. I sold my engineering company a couple of years ago. I thought I'd do more trout fishing, and then I got tangled up in a new business. Now we are ready to go on the market with Alternative Energy Engineering, which derives power out of waste water plants.
Lucy Ann Lance is co-owner of Lance & Erskine Communications, which produces "The Lucy Ann Lance Business Insider" (M-F, 8 a.m.-11 a.m.) and "The Lucy Ann Lance Show" (Saturdays, 9 a.m.-12 p.m.) on 1290 WLBY. The programs are live streamed at www.1290WLBY.com, and podcast on www.lucyannlance.com. The complete audio interview with former Ann Arbor Mayor Lou Belcher is posted on her website.