Posted on
Sat, Jan 21, 2012 : 5:59 a.m.
Q&A with Mayor John Hieftje: On the State of the State, the state of the roads and the city's crosswalk law
By Lucy Ann Lance
In an interview on The Lucy Ann Lance Business Insider on 1290 WLBY this past week, Ann Arbor Mayor John Hieftje talked with me and Dean Erskine about Gov. Rick Snyder's State of the State, fixing Ann Arbor roads, and the Pedestrian Crosswalk Ordinance.
Lucy Ann: What did you take away from the governor's State of the State?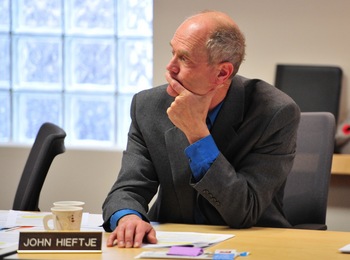 Mayor Hieftje:
He talks a lot about a lot about higher education and the need for a really educated work force, and I think that's what pays off for Ann Arbor. That's why new businesses are still willing to locate here. But at the same time, they cut higher education and they cut K-12 pretty deeply. There was the big business tax cut, and whether that's going to pay off in more jobs is yet to be seen. But the companies we've talked to are interested in coming here because we have a much more highly educated workforce and a high quality of life in our city. I would have emphasized education more on the budget side and not just on the rhetoric.
Lucy Ann: We talked with Rob Fowler of the Small Business Association of Michigan and asked him about this pitting of schools and cities against business. He happens to also sit on the Haslett School Board, so he has a unique perspective. He wants everyone to understand that when you invest in business here in the state, jobs come, and that's where everyone does better in the long run. He also points out that those tax cuts weren't for big businesses, but rather the "mom and pop" operations.
Mayor Hieftje: Well, if it turns out that way and it results in more jobs, I'm going to give the governor credit.
Dean Erskine: Where there's a lot of confusion, Mayor, is that there aren't big business tax cuts. It's small business.
Mayor Hieftje: I just disagree with the theory. I think we've tried trickle-down in the nation before; I don't know if it has worked, and the cuts to the schools were pretty deep. Hopefully with the budget bouncing back, they're going to be able to restore that.
Dean: I think where a lot of the bad feelings are coming up is because everyone is saying that Snyder is giving cuts to his cronies.
Mayor Hieftje: I wouldn't say that. I know Rick and I know that wouldn't happen.
Dean: There's not enough accuracy with what's going on and there are too many people that are just using their own agenda to paint something differently.
Mayor Hieftje: Perhaps I didn't state it as well as I could've when I say there were big business tax cuts. I didn't mean that there were tax cuts for big businesses; I meant that there were tax cuts that were large. I really appreciate the governor's emphasis on infrastructure. My mom and dad had to pay heavy taxes to build the infrastructure we have. We have to rebuild our infrastructure. I think the cities are getting the short end of this. You drive down a lot of rural roads up north and they're in great shape, and yet one of the roads that we've been trying to get fixed for a long time is Huron and Jackson here in Ann Arbor, which are in really bad shape. Because it's a state road, it's not a city function to take care of that road. We do a little repair on it when they give us a little money. If you know the difference between a state road and a local road, the state roads are really in bad shape in the cities. In his drive to get more funding, I hope the people and the Legislature listen to him and they do something about infrastructure.
Lucy Ann: What is the impact of state funding on Ann Arbor?
Mayor Hieftje: We're going to be fine. We just finished the year with a little bit of a surplus, which was a good thing. Our budget is always balanced. We have a more than adequate General Fund Reserve. It's really putting a lot of pressure on cities across the state. The governor's got tough choices and there's only so much money. I did appreciate the fact when he mentioned that they finished their budget in a timely fashion last year. That was very helpful to local governments. In previous years, we were trying to blindly set our budget not knowing what was going to happen with state revenue sharing. We knew it was going to go down, but we weren't sure how much. But now we have a lot more certainty as we approach budgets. Governments have been hit hard and I'm hoping we're starting to turn a corner. Hopefully with the new revenues that are coming in from the sales tax, there won't be a need for another round of revenue sharing cuts.
Lucy Ann: I worked for the City of Ann Arbor for 30 years and retired this past October from my position at Community Television Network. I've seen all kinds of efficiencies that the city has been making over the last decade. When Governor Snyder forces municipalities and public schools to take a hard look at where the money's going, how they're spending it, and asking them to curb it, Ann Arbor actually started doing this a long time ago.
Mayor Hieftje: Yes, we've really done a lot of the work. We were extremely efficient; technology has played a big part in that. If you go inside a police car in Ann Arbor you can hardly find any room because of the computer equipment -- the trunk is full. But that's made it a lot easier and a lot safer for them. Your water meter, nobody reads it anymore. It sends a signal to a central computer and you can go online and figure out how much water you used. We're well positioned. We're fortunate enough to still have some interest in businesses moving to our city, we have construction going on in the downtown area. That's been something we've been trying to make sure happens to have a vibrant downtown. But I talk to other mayors and they're hurting. They don't have the benefits that we do, and something has got to change.
Dean: Mayor, when you hear people on the left say that (the governor) is for big business and cuts taxes for big businesses, isn't there a responsibility for people to speak out and say, "No, I'm sorry. You're wrong. We disagree with what he's doing, but it's not a big business tax cut."
Mayor Hieftje: I agree with you and I think I've been standing up a little bit for him here even though we're on different sides of the aisle. But I think the governor is not looking for personal gain out of any of this. He does need to stop doing some of the things he's been doing when he takes some of the best people we have in the local area and moving them up to Lansing. Our former city administrator, although we have a great new city administrator, our director of SPARK, Mike Finney, and he's cherry picking on the city administrator over in Ypsilanti. We've had a little bit of a talent drain.
Lucy Ann: Are you in favor of the Emergency Financial Manager Law?
Mayor Hieftje: I think it's probably unconstitutional and I'm not in favor of that, but I am in favor of cities getting proactive, recognizing that they can't run these deficits and facing reality because the reality is that there's no one that's going to come to bail you out if it's not going to be the state and if you're going to ask the state for money or help, you're probably going to have to play by their rules.
Lucy Ann: Anything else that you want to let the residents of the City of Ann Arbor know about?
Mayor Hieftje: Infrastructure. We have the Stadium Bridge project going on, something we waited to do until we got federal money. We know that there are local streets in Ann Arbor that need attention. Dexter's going to be completely redone. We had saved up a few years worth of our local money to replace the Stadium bridges. We have $17 million in outside money coming in now, almost all federal, and that is going to free up that (local) money. So we're going to have a pretty aggressive road resurfacing program this summer and next summer and the one after that, so people are going to have to put up with construction.
Lucy Ann: Are we still on track to open the Stadium bridges late next year?
Mayor Hieftje: The bridge is down and they're doing a whole lot of infrastructure work, in the ground kind of work that winter is not going to interfere with. It's right on schedule and we expect to get that done.
Dean: Pedestrian Ordinance; I know that you're looking at putting up more lighted signage on Plymouth Road.
Mayor Hieftje: Yes, we changed that. If you follow the litany of the cities that are doing well, walkability is a huge issue, and I know that some folks had some trouble with that but we've changed it. You'll see in the spring these pretty high tech LED flashers that go up that actually the person will push the button, so you'll be aware.
Lucy Ann: But Mayor, why does it take many rounds of conversations in front of council on this? No one on council knew that this was going to be a problem? That maybe we need some lights in order for this to work safely for motorists and pedestrians?
Mayor Hieftje: Well, you know it took a while, and we did some education, and I don't think it probably stuck with everybody.
Lucy Ann: That's never going to work in a transient town, Mayor.
Mayor Hieftje: It was a year between that and when the ordinance was put in place.
Lucy Ann: The City of Saline knew right away. They put in those underground flashers on Woodland Drive. They didn't dilly-dally with having some signs here and there and request that people just get educated. They knew that you needed to have it done safely with lighting.
Mayor Hieftje: I think you have a good point there and I won't disagree with you on it.
Lucy Ann: I look at these conversations around the council table and I can't believe these points aren't brought up.
Dean: When it was said that it's been working in Boulder for all these years, I went on the Boulder website right away and saw that they said the only way that you can do it on a multi-lane road is to have lighted signage, flashing lights, so it gets people's attention. Why didn't Washtenaw Walking and Biking Coalition, who pushed this here, say, "We're going to design it after Boulder and you have to have lights on all multi-lane roads."
Mayor Hieftje: I wish we'd done it that way first, but we'll have those up in the spring.
Lucy Ann: Will you be putting up lights at the crosswalks on Stadium Boulevard as well?
Mayor Hieftje: Yes. If you look at the Hawk signal at the YMCA on Huron, that was a $110,000 installation. That was an MDOT installation because that is their (state) road, but these LED flashers are much less expensive. About $10,000 to $15,000, which in the scheme of the millions of dollars that are spent on roads, that's not very expensive. I don't disagree with you. I wish we would have put those up first.
Lucy Ann: They're needed on Packard, too, Mayor.
Mayor Hieftje: Well, we're looking at all of them. I think they've ordered six of them to start out with, but we'll order some more. The engineers are looking at that right now.
Lucy Ann: Well, you said you got that federal money for the Stadium bridges. Now you have the local money for roads.
Mayor Hieftje: We do. We're going to be careful how we spend it, as we always are.
Lucy Ann Lance and Dean Erskine own Lance & Erskine Communications, which produces "The Lucy Ann Lance Business Insider" (M-F, 8 a.m.-11 a.m.) and "The Lucy Ann Lance Show" (Saturdays, 9 a.m.-12 p.m.) on 1290 WLBY. The programs are live streamed at www.1290WLBY.com, and podcast on www.lucyannlance.com. The above interview is a condensed version of a longer conversation that is edited for clarity. The complete audio interview is posted online at www.lucyannlance.com.