Posted on
Sat, Jan 19, 2013 : 3:05 p.m.
Quality education promises to pave the way for success of state as well as individuals
By Tom Watkins
Gov. Rick Snyder outlined a plan to fix Michigan's crumbling roads in his State of the State address.
Today, two, billion-dollar questions need to be asked and answered: Aren't there equally important funding needs — like education — and where are the accountability requirements that should be expected for a massive outlay of new taxes?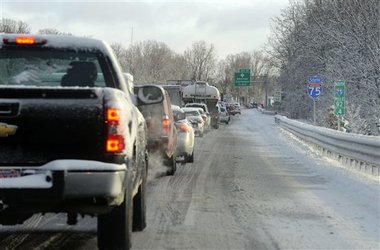 The Associated Press
There is no doubt that far too many of our roads are bone rattling and in need of repair.
As a frequent business traveler to China, I often, in turn, host Chinese business and educational officials here to Michigan. One recent Chinese visitor pointed out that the roads in our state remind him of his childhood village's dirt roads from 40 years ago.
Ouch!
My experience as former state superintendent of schools for Michigan and CEO of The Economic Council of Palm Beach County, in Florida, leads me to note that the issues of return on investment, taxpayer "value for money" and quality performance seem to be missing from the current state-of-the-roads debate.
Why do our roads deteriorate so quickly? Are we getting our money's worth? Are road builders reaping excess profits? Where are the dashboard metrics for quality? Is there a need for "charter" road builders, akin to charter schools to help drive competition in road building?
These questions surely would be posed if our schools were in line for new money.
Those advocating an increase in the state gasoline tax to help fund road-fixes point out they haven't gone up in 15 years. Why not also acknowledge and act on the fact that education funding for our K-12, community colleges, and state universities has been flat or reduced for several years while demands for performance have never been higher?
It has been suggested the legislature might raise new gasoline taxes and user fees and then place an alternative plan on a statewide ballot for voters to choose. Remember? This was our lawmakers' strategy to address property tax relief and school funding back in 1993-94 before voters approved Proposal A, shifting public school funding from local property taxes to a combination of state-administered property and sales taxes. Many believe this change was the beginning of the end for local control of our public schools.
Is education adequately funded?
Mike Nystrom, executive vice president of the Michigan Infrastructure Transportation Association, is pushing hard for more money for infrastructure improvements. He states, "The longer we put off the solution, the bigger the problem grows."
Can't the education community make the same argument?
As Michigan state superintendent of schools back in 2004, I wrote a report, "Structural Funding Issues Surrounding Michigan's Schools in the 21st Century."
At the time, I stated, "We must ask ourselves what we are willing to do to re-direct our finite resources and optimize support for our core mission of teaching and learning. This may entail consolidations, mergers, joint operating agreements, and drastically modified business processes — as well as deterring the true cost of educating our children."
A major recommendation in that report was for the Governor and state legislature to fund an Adequacy and Equity study. I pointed to Michigan's last analysis of what it cost to educate a child that was done in 1968: The Thomas Study - School Finance and Education Opportunity in Michigan - A Michigan School Finance Study.
An Adequacy and Equity Study would provide a contemporary view of the true costs of educating a child to not simply survive, but thrive in our hyper-competitive, disruptive, knowledge economy where ideas and jobs can and DO move around the globe effortlessly. It has yet to be done.
Michigan State Chamber president Rich Studley argues the Governor "needs to emphasize the economic benefits of better roads." The President of the Michigan Business Leaders, Doug Rothwell concluded in a Detroit Free Press editorial that "investing in people" is equally as important as infrastructure investment.
The viability of our society, the strength of our economy, the quality of our lives and our place in the world inextricably are linked to the quality of education we provide our people. The global competition our children, state, and nation faces is fierce and unrelenting.
Like addressing our crumbling roads, we need to do more than simply patch our deteriorating educational funding to assure we are able to collaborate and compete on the global stage.
In the 21st century, quality education promises to pave the way for success — not only for the individual, but our state and nation. Let's not forget — there are educational pot holes that need fixing too.
Tom Watkins served the citizens of Michigan as state superintendent of schools from 2001-05 and is a US/China business and educational consultant. He can be reached at: tdwatkins88@gmail.com