Posted on
Sat, Jun 30, 2012 : 1:21 p.m.
Remembering Vincent Chin: Decent people must always oppose ugly rhetoric and misplaced blame
By Tom Watkins
Thirty years ago, a fatal blow was struck to fairness, decency, and the American way.
After lying in a coma for several days due to head injuries suffered in a baseball bat attack, Vincent Chin died on June 19, 1982.
Officially, it was a blow to the head that killed Vincent Chin. But it was ugly rhetoric, tolerated by a complacent society, which set the stage for Chin's murder.
In the early 1980s, the Big 3 domestic auto industry was again feeling the periodic pinch of foreign competition. Even then, a stagnant economy, plant closings and layoffs of blue-collar workers were the norm.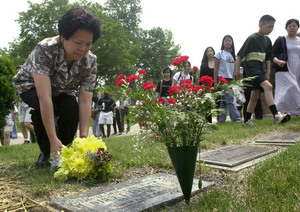 AP Photo
At UAW union halls around town, signs reading "No Foreign Cars Allowed" and "Don't Even Think About Parking A Foreign Car Here" and other incendiary messages sprouted like weeds.
Anti-"foreign" sentiment was at a fever pitch. I recall a local church carnival where, for one U.S. dollar, you got three hits with a sledge hammer on a Toyota car.
Rhetorical poison, as lethal as carbon dioxide gas, was seeping into the public consciousness. Anger and hate were being spewed like the black soot spewing from Rouge Plant smoke stacks. A blame game mentality was setting in, particularly against "Asians" for the economic woes that had beset many in manufacturing-land.
Metro Detroit became ground zero for this anger and frustration where many displaced autoworkers felt that global change was yanking the economic rug out from under them. Far too many heard and saw the hate. But they chose to remain silent.
Vincent Chin, a Chinese-American, became the target of pent up anger and hate fueled with alcohol from Ronald Ebens and his stepson, Michael Nitz, both laid-off autoworkers. Chin was at a bar for his bachelor party. Mistaking Chin for Japanese, Ebens taunted Chin, blaming him for their plight.
Chin and Ebens started fighting; Nitz joined in the battle. The fight was stopped and Chin left. Outside, Ebens and Nitz caught up to Chin striking him several times with a baseball bat, including a fatal blow to the head.
The injustice and crime did not end there. At the trial for the murder of Vincent Chin, both Ronald Ebens and Michael Nitz plead guilty to manslaughter. For a hate crime and the murder of an innocent man, they plea bargained down to three years probation, a $3,000 fine and $780 in court costs.
Angered by the sentence, the broader Asian-American community raised hell, pressing the U.S. Department of Justice to charge the two men with violating Chin's civil rights. There were two more trials for civil rights violations and conspiracy, but ultimately the men who beat Vincent Chin to death with a baseball bat were cleared of the charges.
Today, anti-Asian sentiment still exists in America. Both Democrats and Republicans have attempted to make China the boogey-man for the economic challenges of the 21st century.
Two men with a baseball bat killed Vincent Chin 30 years ago. Ignorance coupled with society's tolerance for misplaced blame were accessories. We cannot allow anger, hate, prejudice and misinformation to boil over and kill.
It has been said that all that is necessary for the triumph of evil is that good men do nothing. Stop the hate. Speak up.
Remember Vincent Chin.
(Tom Watkins is Michigan's former state superintendent of public instruction. He has a lifetime interest in China and is recognized by the Chinese Association of Greater Detroit as 2012 lifetime achievement award recipient for his work in building cultural, educational and economic bridges with China. He can be reached at: tdwatkins88@gmail.com)