letters to the editor
opinion:

Romney's acceptance speech disappointing, needed different focus

Posted on Sun, Sep 9, 2012 : 5:09 p.m.
Mitt Romney's acceptance speech as the Republican Party's nominee for Presidency announced no new policies on creating jobs or on anything else, but focused on how President Barack Obama should not be re-elected.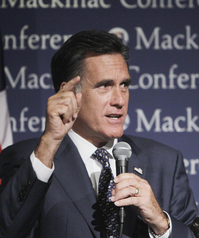 Carlos Osorio | The Associated Press
Romney claimed that four years ago, as Obama was elected President of the US, the Republican Party was behind the President. This is a lie. The Republican Party essentially was an obstruction party in the last four years, fiercely against Obama in all major initiatives, especially in health care as well as restoring tax to the rich.
Romney asked whether we are better off than 4 years ago. Clearly we are.
Four years ago, the Dow was about half of the historic high and our retirement savings were evaporating, and now the market essentially has restored to its historic high and our retirement savings are worth something again.
Four years ago, the employment rate was high and rapidly rising. Now the rising unemployment rate has been curbed, though it has not dropped as rapidly as we hoped.
Four years ago, many Americans did not have health care coverage. Now more Americans have health insurance. In fact, if the Republican Party didn't obstruct the Health Care law, more people would have health care coverage today.
I do hope that in the second term, Obama will be able to turn deficits into surpluses (as Clinton did), reduce unemployment rate, and bridge the rich-poor gap.
Youxue Zhang Ann Arbor