Editorial
Opinion:

School aid fund surplus should only be used for schools

Posted on Sun, Jun 27, 2010 : 6 a.m.
Now that the state finds itself staring at an unexpected surplus in the school aid fund, here's a word of advice to lawmakers who are talking about diverting that money to anything other than our schools.
Don't even think about it.
At a time when K-12 districts across Michigan are facing agonizing budget cuts, and still reeling from the slash in state funds they took earlier this year, it cannot be an option to use this newfound surplus for anything other than helping stabilize the finances of our schools.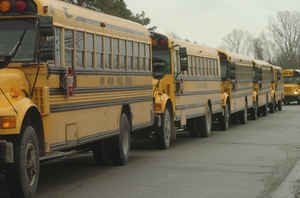 That's why the Legislature should reject suggestions from Senate Majority Leader Mike Bishop or others that the surplus now accumulating in the state school fund might be used to plug other holes in the state budget - even if the beneficiaries would be equally valuable institutions such as community colleges.
Local school districts have every right to complain about the way they've been whipsawed by uncertainty over state funding in recent years. Lansing has been consistently late in setting the budget for school funding, and equally notorious for overestimating revenue and then socking schools with mid-year funding cuts.
That played out again this school year. In January, school districts took a cut of $165 per student - or $398 per student in the case of the Ann Arbor Public Schools.
Now, for once, the state's inability to accurately project revenue is a potential plus for schools, rather than another blow. Due primarily to unexpectedly high collections of sales tax revenue, the state school aid fund is experiencing what may be a surplus of nearly $300 million.
It should go without saying that the school aid fund exists to fund our schools. But given the talk in Lansing about using the surplus for other purposes, it appears that we need to state the obvious. This is money collected from taxpayers for the expressed purpose of funding public schools, and any other use of it would break a promise that lawmakers made to the public when the school aid fund was established after the passage of Proposal A in 1994.
People already have a cynical attitude toward government promises. They remember how the launch of the state Lottery was promised as new funding for schools, and instead became an excuse to divert general fund dollars from education to other causes. To dip into the school aid fund now for other purposes would be a further break with public trust.
As long as lawmakers keep their hands off the surplus, other than to direct it to K-12 schools, at the very least it should allow them to avoid cuts that were expected in the coming school year. The Ann Arbor Public Schools budget is based on an assumption of the loss of another $268 per pupil in state funds. The surplus could forestall that cut.
Some of the surplus also could potentially be set aside as a cushion against any bad news that may be coming in the fiscal year ahead. Given the state's track record for forecasting revenue and the continued sluggishness of the state economy, what's a surplus now could turn to a deficit of revenue next year. Saving a portion of the surplus could reduce the chances of schools getting hammered with another cut come January.
We also want to emphasize that this one-time surplus should not be used as an excuse by schools to avoid the fiscal discipline and long-term reform that's necessary to stabilize their budgets. The money issues facing public education are structural, not cyclical, and must continue to be addressed that way.
Meanwhile, urging lawmakers not to dip into the school aid fund for other purposes doesn't mean we are unsympathetic to other entities that face budget hardships of their own, including community colleges. We just don't believe anyone benefits by pitting the needs of K-12 schools against the needs of higher education. Each must be addressed on its own terms.
The surplus in the school aid fund is not a windfall to be plundered for other purposes. It is money meant for K-12 education, and that is the only way it should be spent.