Posted on
Tue, Dec 15, 2009 : 8:07 a.m.
Silence is golden on this high school football team
By Lon Horwedel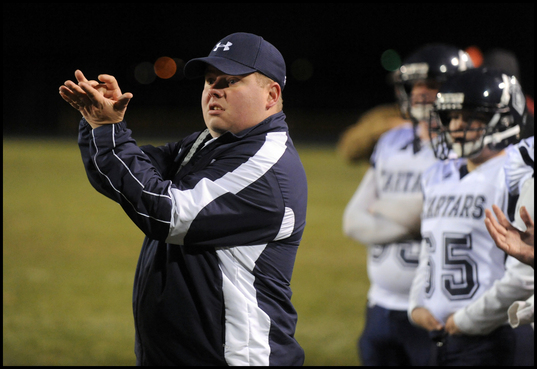 Lon Horwedel | AnnArbor.com
I've shot a lot of football games in my 25-year career as a professional photographer … a lot!
I've photographed high school games, college games, and professional games - even backyard games. I've been to the Alamo Bowl, the Orange Bowl and the Rose Bowl (twice). Heck, I've even covered the Super Bowl. You name it, I've either seen it, or shot it.
But recently I saw something I'd never seen on the gridiron - an amazing thing. And the most amazing part was the fact that I watched it for nearly 15 minutes before I even realized what I was watching.
I was assigned to cover the Eastern Washtenaw Multicultural Academy play their last football game of the season against a team from Flushing called the MSD Tartars.
It was cold and I wasn't exactly in the mood for shooting outdoors at a game in I which I had little interest. But I sucked it up, put on my gloves and headed toward the Saline Middle School football field where the game was being played.
The kickoff seemed rather normal, you know, for a high school game. The Tartars received the less-than-stellar boot around the 30-yard line and returned it to their 40 to start play.
That's when things got interesting. On their first play from scrimmage, the Tartar's quarterback didn't bark out any signals, in fact, he didn't say a thing. The ball was snapped, but someone on the offensive line jumped the gun and the Tartars were flagged for a false start.
The next play it was more of the same - no signals; false start. Finally, on their third play, they got off a running play without a penalty and the Tartar's running back was promptly dropped for a loss.
Normally, a head coach would be going ballistic about now, but the Tartar's bench was oddly silent. That's not to say it was calm. The coaches were running around like mad men waving their arms and jumping up and down. I noticed one of the coaches was using sign language to communicate.
"Wow, that's cool." I said to myself. "One of their players must be deaf."
Then I noticed that behind the Tartar's bench, about a dozen cheerleaders were jumping and clapping in unison in what looked like typical cheerleader mode, but they weren't cheering - at least not vocally. It was a surreal scene to see so much action without an accompanying soundtrack.
Suddenly it dawned on me that the entire Tartars team must be deaf - cheerleaders too!
Intrigued, I left the EWMA sideline and headed over to MSD's side of the field. There I found out that MSD stood for Michigan School for the Deaf.
Quickly, I figured out that at least one man on the Tartar's sideline could hear and speak. His name was Pete Eckman and he just so happened to be the head coach. We got to talking and before long I realized that what I was seeing on the field was not only amazing, but also pretty damn inspirational.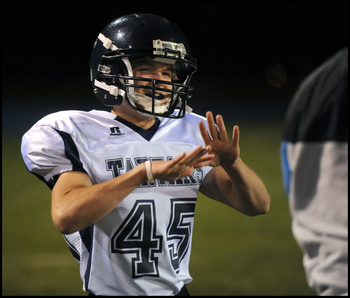 Lon Horwedel | AnnArbor.com
Eckman told me about how his own daughter's deafness had brought him to MSD where he was offered the head-coaching gig by the school's athletic director, Nikki Coleman, after the school unanimously voted to field a football team for the first time in 25 years.
This created problems given the fact Eckman had only five practices to prepare his team for their seven-game season - a team that consisted of every male student in the school (all 18 of them). Unfortunately, not one of the boys had ever played a single down of competitive football before. "Maybe some backyard stuff," Eckman said, "but none of them knew the rules."
According to Eckman, getting kids to sign up to play was the easy part. Being able to communicate with them was far more daunting.
Even though his own daughter is deaf, Eckamn was far from fluent in sign language when the season began. To combat his communication problem, he enlisted the help of school instructors Tracie Inches and Jeff Courtney, who became his assistant coaches.
"I made a deal with Tracie," Eckman said, "he could help teach me sign language, and I'd help him learn to coach." As for Courtney, "He reads lips," Eckman said, "so we communicate very well."
Watching his team working so seamlessly with the coaches on the sidelines was a thing of beauty. Sure, there were the normal grunts and groans coming from the field like any other tackle football game, but other than that - pure silence.
Eckman told me the season went about as he expected. The Tartars didn't win a single game. But what Eckman didn't expect was the way his players would handle the losing.
"I learned a lot from these kids," Eckman said. "It was great for me as a coach, because with these boys, I didn't have to deal with attitude. I've never had a team, win or lose, who was just happy to play the game - to have the opportunity."
Looking at the quiet smiles on the faces of his players, it was easy to see he was right.
Lon Horwedel is a photojournalist with AnnArbor.com. You may contact him at lonhorwedel@annarbor.com.