Posted on
Tue, Mar 26, 2013 : 4 p.m.
Small acts of kindness can help make the best of difficult situations
By Robert Faber
Just hoping for the best will not relieve us of the misdeeds of the many. Among more aggressive efforts it also requires an awareness of the problems and for that there are newspaper headlines and stories - which we have in excess.
The ABC Newspapers, for example, noted that for all members of their chain, seven of last year's top 10 stories were about "crime, courts and crashes," explaining, "We can't ignore the bad things that are happening." And the editor of the Chattanooga Free Press, when asked why she was putting "so much doom and gloom" on the front page, simply explained, "It's what we do."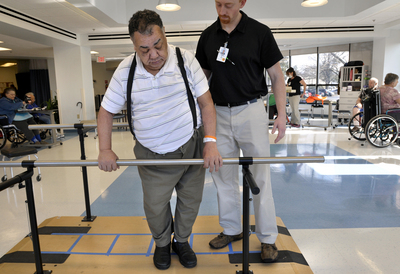 AP file photo
That procedure is time-honored and reasonable, but unrelenting reliance on such reporting carries with it the possibility of confusing "what we did" with "who we are." The headlines and their stories inevitably concentrate on the drama and the misdeeds, but missing is the character of the larger population whose lives are built around the often pleasant, usually petty details that fill the time and lives of most people. Having picked up and returned a stranger's dropped trinket in exchange for a smile or a "thanks" has little meaning beyond the polite, but it does add to the atmosphere that helps tie us all together.
And on occasion some of those minor moments of connection can be a bit more than passing and insignificant.
Preparing to drop my less-mobile wife at the front door of the restaurant while I parked the car an inconvenient distance away, I waited while a small group of youngsters - loud, aggressive, energetic - walked by and entered the restaurant ahead of her - all, that is, but one. The young lady, probably in her late teens, stopped in order to hold the car door open, then to help my wife into the restaurant.
The restaurant was crowded, so when I rejoined my wife we stood in the entryway with a number of other patrons, most of whom were young and also waiting for a table to become available. The benches and chairs in that waiting area were all occupied when we entered, but during the time of our wait almost everyone there rose to offer us their seats. (We compromised: I stood - she sat.)
These common, insignificant expressions of appreciation from strangers will never make the news, but they help tie together the many members of our diverse society. During the last several weeks of my wife's illness we had full-time help to attend her many needs - feeding and bathing and assisting in all the many personal tasks that are required of each of us, but which she could no longer handle on her own. And during all their care-giving activities, performing all the many physical and personal tasks required of them, they remained radiant and upbeat, continuing to smile and to reassure and to interact in the most pleasant and positive manner possible.
Watching their remarkably gracious and upbeat performance under this most difficult of conditions, I asked them individually how they managed and was given much the same response by each: They had started out with the desire to do good for people and/or society, then found the job - in this case, caregiving - that fit those requirements.
We are a fairly straightforward people competing in a complex society with perhaps an instinctive drive to wind up on top, but coupled with that instinct of aggression is a continuing urge to help those with whom we interact. That is not the top of the news, certainly not worthy of a newspaper's interest, but it is a view of that segment of the population generally overlooked by headlines of trauma and tragedy.
The daily papers are indispensable for ascertaining facts, but sharing moments and events - however minor and informal - still is the best connection for most people and their society.
Robert Faber has been a resident of Ann Arbor since 1954. He previously owned a fabric store and later a travel agency. He served a couple of terms on the Ann Arbor City Council. His wife of more than 60 years, Eunice, died March 20. He may be reached at rgfaber@comcast.net.