Posted on
Wed, Apr 24, 2013 : 6:30 p.m.
Snyder doesn't understand challenges many families face
By Letters to the Editor
The people of Michigan have been taken for a ride. In 2010, voters picked Rick Snyder. Many did so because they thought he was an outsider. He was not a politician. He was businessman who knew how to balance budgets responsibly. He was "one tough nerd."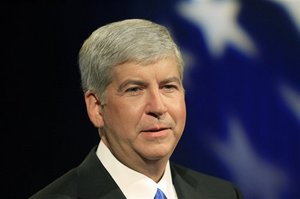 File photo
Instead, he's turned out to be one big disaster. No leader can, in good conscience, make low and middle-income families pay more in taxes so wealthy corporations can get tax breaks. That's exactly what Snyder did when he raised taxes on families and seniors and taxed health care, so he could give $1.8 billion in tax breaks to big corporations.
Snyder may be a good businessman, but he doesn't understand simple fairness. And he definitely doesn't understand the challenges ordinary middle-class families face.
Mike Davis Jr.
Sumpter Township