Posted on
Thu, Mar 21, 2013 : 8 a.m.
Snyder smart to recognize Michigan's greatest asset as the talent within the state
By Tom Watkins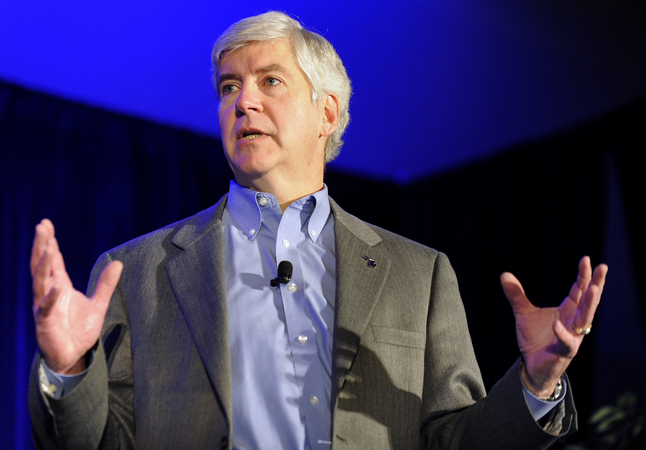 AP Photo
Jobs and talent matter. Gov.
Rick Snyder
says there is a mis-match between the two as he kicked off his first
two-day economic summit
at
Cobo Center
in Detroit on Monday. Snyder points out there are more than 60,000 open positions on
mitalent.org
.
But Snyder also recognizes that Michigan's "greatest asset that we have in our state is our talent."
With all the talk at the national, state and local level about fiscal cliffs, debt and deficit reduction crisis, are we losing sight of the real tragedy? A lack of jobs!
Human misery is measured in more than unemployment statistics. Job losses destroy families, communities, and cities, ripping away at the heart of our country. Behind the unemployment statistics are citizens: moms and dads, sisters and brothers losing hope as human potential slips away.
Just recently, the Obama administration touted the American economy adding 236,000 new jobs in February. Good news for a change. In addition to the "Happy days are here again" theme, we added more construction jobs than at any other time since March of 2007!
Yet even with these encouraging numbers, the overall recovery is still leaving far too many Americans behind.
A recent issue about jobs published in The Atlantic Magazine noted: "People looking for work for 6-months or longer - long-term unemployed - jumped by 89,000 last month. It's been three years since the labor market bottomed, but the long-term unemployment rate is still higher than it's been at any point since 1948. Technically-speaking, we're still in a deep hole."
Lessons Learned?
Over the past several years, economists and pundits have lamented that they had not seen Michigan's economy in such a downward spiral since the deep Reagan recession of 1982.
Now more than 30 years later, again the dominant issue today remains the economy and jobs.
We Need Action In Dog Years!
The public isn't seeing any political party or candidate making job creation a true priority. No one is offering meaningful proposals designed to get people working again, other than standard political party rhetoric about "cutting taxes" or "raising taxes." Not unlike a Miller Lite beer commercial — it sure tastes great (cut taxes) / and is less filling (raise taxes) — but we need serious action to create jobs.
Just when we need government to work together, polls indicate people's trust in government's ability to handle virtually any issue at any level is at an all-time low.
Rest assured, someone who has lost a job, be it white collar or blue, does not care where the job creation ideas comes from - Democrat or Republican, Libertarian or Green Party — as long as people get working again.
At his economic summit Snyder reminded the audience he ran on a pledge: "More and better jobs and a future for our kids!"
He spoke with passion that Michigan needs the new "three C's"—
Collaboration to..
Create talent and to
Connect education/talent development with employers needs.
Michigan lost nearly a million jobs beginning just before the Great Recession of 2008. The recession only sped up the misery.
Rust Belt state Michigan has been in the top tier of economic decline for some time. Despite recent announcements of new jobs in the the auto sectors, the reality is that we lost jobs in a roaring tsunami and replaced them with tear drops.
Long Term Strategy: Quality Education From Cradle To Grave
Michigan must continue to focus on preparing, retaining and attracting talent — something government can actually do. Companies will grow in and come to places where talent is nurtured and concentrated. We must set a goal to make Michigan and America the brain bank of the world, where everyone comes for deposits and withdrawals.
This requires a cultural shift away from thinking a high-paying , low skill factory job is the easy ticket to the middle class. A 4-year college degree is not the sole pathway to success - technical, and vocational training can have a big payoff.
We have moved from a state where you once could "lift" for a living — to one where more and more of our citizens must "think" for a living.
The Atlantic Magazine got it right when it stated: "There isn't a more urgent crisis than putting the long-term jobless back to work."
Let's follow Snyder's lead and develop our talent and assure we have jobs to offer. Getting Michigan working again will pay big dividends for us all.
See: Business Leaders for Michigan report, A New Michigan: The 2013 Report on Michigan's Progress in Six Opportunities, was developed in partnership with Anderson Economic Group LLC.
Tom Watkins lead two major departments of state government: mental health and education. He was president and CEO of the economic council in Palm Beach County, FL. and is a US/China business and educational consultant. Hecan be reached at: tdwatkins88@gmail.com