Posted on
Thu, Dec 10, 2009 : 11:31 a.m.
Tackling issues faced by first-generation students at the University of Michigan
By Dwight Lang
Like all universities, the University of Michigan has always enrolled students who are first in their families to attend college. Today many first-generation students are undergraduates (approximately ten percent or 2500 students), while others study in graduate programs and various professional schools.
Most find themselves in a place that every now and then appears unusual - at a university far from communities that carefully looked after them. Sometimes first-gens feel invisible in their new home.
When first-gen student Candyce Hill, from Howell, Michigan, arrived on campus in the fall of 2008 she felt a bit overwhelmed. "In this sort of environment it's easy to feel lost, confused or even lonely. I was really hoping to find people whose experiences were similar to my own and who were willing to talk about issues that first-generation students might face."
Hill's feelings are shared by junior Danielle Miller from Baltimore, Maryland. After starting classes she wondered if other first-gens even attended the University of Michigan. "I had never met another first-gen student and really felt as though I was the only person whose parents had not gone to college. It was not something people normally talked about."
Fortunately Hill and Miller heard about a new sociology department sponsored undergraduate organization - First-generation College Students@Michigan - that provides a forum to discuss shared first-gen experiences. For example, what is it like to go home over the holidays and talk with parents about college life or your anthropology or biology classes when family members have never sat in college classrooms or lived in a dorm? How do you interact with peers or work with graduate student instructors who assume all students have middle or upper middle class backgrounds? How do you react to a professor who talks about America's least advantaged with distain?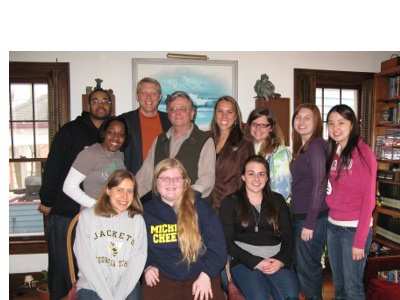 Dwight Lang / Contributor
First-gens@Michigan, according to Hill, "not only recognizes, raises awareness of, and resolves issues related to first-gen students, but also helps provide a supportive atmosphere for students whose experiences are different from most peers." On a campus where ninety percent of undergraduates are second, third, or even fourth-gens, the first-gen experience is often overlooked or misunderstood. Miller echoes Hill's thoughts that first-gens are largely invisible. When she discovered UM's first-gen group she "was ecstatic because it felt like there was something I could be passionate about. I wanted to take my personal experiences and use them to raise awareness around a campus that largely does not address the first-gen population, as well as help current and future first-gen students - both on and off campus."
Efforts to provide first-gen students opportunities to meet in supportive settings are not restricted to the undergraduate population. The Rackham Graduate School also recognizes the unique experiences of graduate students who are first in their families to attend college. For the past few years, Rackham has sponsored welcome luncheons where new and continuing first-gen students hear UM first-gen faculty, staff, and other students describe their journeys to higher education. "Our efforts focus on building and enhancing connections between graduate students, faculty, and staff," says Natalie Bartolacci, Program Manager at Rackham.
Since September Bartolacci has coordinated two luncheons with approximately thirty students in attendance. The graduate student group hopes to collaborate with First-gens@Michigan in the future. Matt Sullivan, a graduate student from UC Berkeley, attended the initial luncheon after reading about first-gen grad students in Rackham materials during August orientation programs. "I was looking for a group where social class issues in higher education were being explored. When campus diversity was addressed during orientation the focus was usually on gender and race issues."
Sullivan hopes to move beyond the usual assumptions regarding white males in America. "Being from the working class, my background isn't as privileged as many people automatically assume. I'm glad the University of Michigan is trying to recognize social class differences on campus." Sullivan plans to attend future Rackham events, in part, to meet fellow first-gens, but also consider matters related to social class diversity in the academy.
These new undergraduate and graduate groups reflect the university's desire to recognize diversity in all its complexity. As Michigan continues to reach out to a wide array of talented students, we are likely to see more first-gens in our community, studying in college classrooms, or simply strolling across the Diag.
If you would like more information on First-gens@Michigan, please visit: http://sitemaker.umich.edu/firstgens. Natalie Bartolacci can be reached at nplosky@umich.edu. Dwight Lang is a lecturer in the sociology department at the University of Michigan and faculty advisor to First-gens@Michigan. He was first in his family to attend college and can be contacted at dwlang@umich.edu.