Posted on
Sun, Aug 1, 2010 : 7:11 a.m.
Sorting out the rules of the road for bike lanes
By Guest Column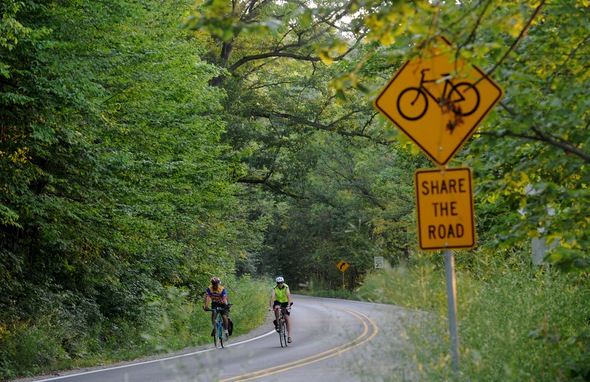 Melanie Maxwell | AnnArbor.com
Editor's note: Although the city of Ann Arbor has not adopted the Michigan Uniform Traffic Code, as stated in this guest column, the City Council in February adopted its own ordinance defining and regulating bicycle lanes, according to Lisa Wondrash, communications unit manager for the city. You can view the city code here.
What is a bike lane, anyway?
Over the years, as Ann Arbor has added many miles of bike lanes, I've occasionally heard some really strange ideas about them. It might help to go over what they are supposed to be and how they're supposed to be used.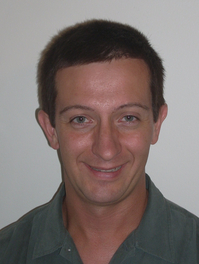 First, bicyclists do not have to use bike lanes. Bicyclists have to keep as near as practicable to the right-hand side of the roadway (or right- or left-hand side on a one-way street). Practicable means safely reasonable.
There's no law in Michigan that says that a bicyclist has to use a bike lane if it's provided, in part because if the bike lane isn't safe to use, a bicyclist shouldn't use it.
There are also lots of exceptions to the keep right law (MCL 257.660a), that apply to bike lanes as well. For example a bicyclist making a left turn should never do it from the bike lane. And by law, they aren't required to stay in a bike lane or to the right-hand side if they're preparing to make a left turn. The best thing for a cyclist to do is pretend the bike lane isn't there and keep to the right as they normally would.
Next, in most of Michigan, it is illegal for a motorist to drive in a bike lane.
This isn't the case in Ann Arbor, where motorists drive in bike lanes all the time, but it is true in Chelsea, Ypsilanti, Dexter, Ann Arbor Township, Scio Township, Ypsilanti Township, and many other cities and townships in Michigan. That's because there is a set of ordinances recommended by the Michigan State Police, called the Michigan Uniform Traffic Code (UTC), which makes it illegal to drive in a bike lane, and makes a violation a misdemeanor.
It's technically illegal to drive in a bike lane even if a community hasn't adopted UTC, since all road users are required to obey traffic control devices, and bike lane markings are traffic control devices. But it's funny that the Michigan city with the most bike lanes does nothing to keep motorists out of them.
This gets at the point of bike lanes, which is to encourage bicycling. The idea of a bike lane is to set aside extra space on the roadway that motorists aren't allowed to use, but bicyclists are allowed to use.
They are a lot like HOV lanes; people in carpools can drive in them, but don't have to, and motorists by themselves risk tickets if they use them. In fact, bike lanes used to use the diamond "restricted" symbol just like HOV lanes do, until the authorities realized that too many bicyclists took that to mean they were two-way lanes. At that point, the authorities switched to arrows in the direction of traffic to make it clear that people using the bike lanes still have to keep to the right.
Finally, a word on what isn't a bike lane. In Michigan, bicyclists are required to keep to the right of the "roadway" (MCL 257.55). The term "roadway" is specific; shoulders are not, by definition, part of the roadway (MCL 257.59a). So bicyclists are not supposed to use shoulders, even paved shoulders, any more than motorists are. The only real exception to that is when a paved shoulder is designated as a bike facility, with signs and pavement markings.
The reason bicyclists aren't supposed to use paved shoulders is that if there is a problem with the shoulder, like a gaping pothole, and the cyclist gets hurt from that pothole, the cyclist is out of luck. The local government isn't responsible for maintaining shoulders in a drivable condition.
That's why bicyclists are supposed to be to the left of foglines on roadways, since the fogline - the thick white stripe on the edge of the roadway - means the edge of the usable roadway. So every place you see a wide paved shoulder, but with no markings that say it's a bicycle facility, you shouldn't expect to see bicyclists using it.
They're not supposed to use it, since it isn't part of the roadway, and certainly isn't a bike lane.
Ken Clark is a former regional director for the League of Michigan Bicyclists, chair of the Ann Arbor Bicycle Coordinating Committee, and chair of the Ann Arbor Environmental Commission Transportation Committee. He's certified to teach the League of American Bicyclists Road 1 bicycle safety course. He's a year-round bicycle commuter on the Northeast side of Ann Arbor, and has commuted by bike for most of his 24 years as a resident of Ann Arbor. He can be reached at kenclark@ameritech.net.