Posted on
Thu, Apr 25, 2013 : 5:57 a.m.
In wake of tragedies, Americans show true colors
By Rich Kinsey
Last Friday night as I watched the television coverage of the capture of the second Boston Marathon Bomber, I was deeply moved. Never before have I seen the streets crowded with citizens to cheer for the police. I can tell you that for many exhausted officers leaving Watertown, Mass., that cheering crowd will be the most cherished memory of their police career.
For a career-police officer, I have never seen such an outpouring of gratitude. The scene unfolding on television was surreal. Thousands of weary local, state and federal law enforcement officers, driving all manners of police cars, vans, SUVs and armored personnel carriers barely could navigate through that Boston suburb's streets because of the joyous crowds that had spilled off the sidewalks to cheer and shake hands with this departing army of cops. That was a scene of a victorious army parading through a liberated community.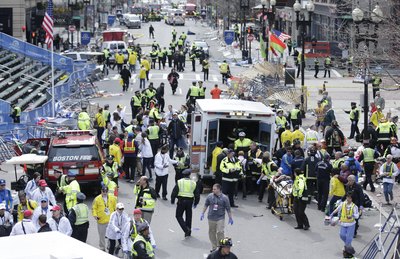 This was an American celebration. For five days we all watched with horror various images that had unfolded after the terrorist bombings at the Boston Marathon — from plums of smoke and a senior marathoner knocked off his feet by the first bomb's pressure wave to Americans rendering aid, assistance and comfort to victims horribly maimed by homemade bombs deposited by misguided sociopaths.
Those images we saw of the bombings and the desperate race against time to catch the murderers before they could kill again was a nation's collective battle. Thousands of law enforcement officers tried to put the puzzle together to solve the crime. They analyzed countless thousands of tips, photographs, video images and shreds of evidence supplied by victims, witnesses, bystanders, citizens and the crime scenes themselves.
Those small pieces of information supplied by citizens, who truly are the eyes and ears of law enforcement, came together last Thursday and Friday in Watertown. That celebration in the streets was for the cops, for Boston and for our nation that had just won an internationally-significant battle in the unfortunately continuing global war on terrorism.
We as Americans are at our best and closest to each other when things are at their worst. When the chips are down we come together as a nation. We Americans may get knocked down or our nose bloodied, but when we stand together as a nation we are a force to be reckoned with.
Remember Pearl Harbor in World War II? Remember how 9/11 brought us together as a nation? Remember in our own backyard, last year's tornado in Dexter? Americans come together in times of crisis to overcome whatever adversity lies before them and help their neighbors.
I was told an interesting law enforcement story about 9/11 that demonstrated a small part of this spirit. Several officers told me that when the World Trade Center Towers fell on 9/11, several New York area organized crime figures, who were constant targets of surveillance, came out and spoke to agents assigned to their cases.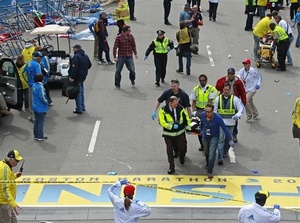 AP photo
The mobsters supposedly told the agents it wasn't the cops versus the crooks that day. The old wise-guys told the agents they were not just criminals, they were Americans and Americans had to stand together on that day. The mobsters promised there would be no problems with labor or resources at the World Trade Center. They pledged that anything that was needed to dig out and look for victims would be there and in a hurry.
I can not prove the story, but I believe those who told it to me. I also believe it because that is the incredible and sometimes unorthodox way that we as a nation of diverse people, from different cultures and from all over the globe blend together as Americans — especially when we are in crisis.
The war on terror is not won by one battle. We must still keep our eyes, ears and minds open to the possibility that some people, regardless of their reasons, want to change our way of life by terrorizing us. We as Americans must not let this happen.
The best revenge we can have on terrorists is a good life. We may have to adapt our lives and experience some inconvenience in the name of common safety and security, but let's not change who we are.
Americans are a fun-loving people. Let's continue to live free and have fun when the work of the day is done. Let's travel, go to ballgames, races, theaters, tailgate parties, national monuments and parks, school plays and athletic events, festivals, fairs, picnics, parades and marathons, because that is what we have always done. That makes us what we are in this great country.
To the people in the general Boston area — and Watertown in particular — we in law enforcement must tip our hats and say thanks. The level of bravery, care and concern for other citizens those people exhibited was phenomenal. More importantly the level of trust, cooperation and understanding for the law enforcement mission in a case like this will become the gold standard.
Those citizens in Massachusetts experienced a very trying, difficult and uncomfortable week, but they came together, assisted law enforcement and the results are fantastic. In five days a major mystery was solved, and the principals in the plot will not hurt anyone outside of a prison wall again.
Last week makes me proud to be an American and reaffirms that we are truly the land of the free and the home of the brave. God bless America and all those who love her and defend her.
Lock it up, don't leave it unattended, be aware and watch out for your neighbors.
Rich Kinsey is a retired Ann Arbor police detective sergeant who now blogs about crime and safety for AnnArbor.com.