Posted on
Mon, Mar 26, 2012 : 1:08 p.m.
Detroit leaders offering too little, too late - it's time for the state to step in
By Tom Watkins
AP Photo | Detroit News, Daniel Mears
Detroit to State: "Trust us, we'll fix the problem."
Watching the last-minute maneuvering to try to avoid fiscal accountability, which has eluded city leaders going back decades, would be humorous if not such a damaging farce.
What city leaders have offered up to "fix" Detroit is classic too little, too late. Plans and promises have been made and broken going back decades.
The time for false fixes is over. Real change requires real change.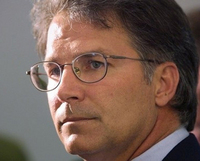 Just because you tell a big enough lie long and loud enough-then blog it, tweet it and shout it on local news and partisan talk radio shows, does not make it true.
Yet, far too many local politicians and city hall hangers-on have a history of believing their own press releases.
Watching the city/state consent agreement/emergency manager dance play out, two stories come to mind:
First, a story attributed to Abraham Lincoln. Honest Abe asked, "If you call a horse's tail a leg, how many legs does a horse have? The answer is four, because calling a horse's tail a leg doesn't make it one."
Second, Groucho Marx posed the right question when he asked, "Who are you going to believe, me or your own eyes?"
To pretend the actions to date taken by the mayor or City Council come close to addressing Detroit's fiscal crisis, will damn the city, region and state to mediocrity or worse for another generation.
If you have a hole in your roof, pretending to fix it, does not keep the rain out. The days of pretending and spending must come to an end.
Some city leaders are playing a game of chicken with both the city's and our collective future.
The state has historically looked the other way as Detroit spent money it does not have for decades. The day has arrived to enforce fiscal integrity.
Pretending will not get the job done.
Don't flinch, Gov. Snyder.
Tom Watkins is a former state superintendent of schools for Michigan who now works as a business and educational consultant in the U.S. and China. He can reached at: tdwatkins88@gmail.com.