Posted on
Fri, Jul 26, 2013 : 9:53 a.m.
Musical pastures - Dancing with the needs of time and space
By Ruth Ehman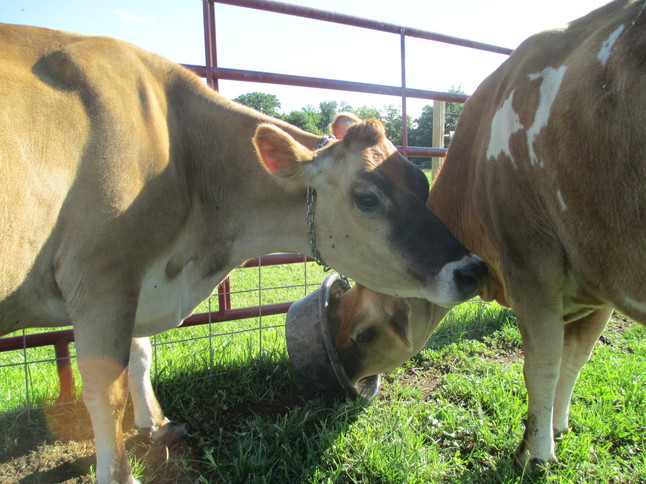 Ruth Ehman | Contributor
The farm has three pastures and six pens/corrals through which the livestock is rotated as needed. Weather, the animals' biological profiles, and my convenience dictate the rotations, with my convenience running a poor third to the first two parameters. But my convenience is at least in the race, and every year I find some way to improve its standing in the contest without compromising the deserved supremacy of the front runners.
Which animals end up where, why, and for how long amounts to a waltz with logic as the leading dancer. Maybe a better analogy would be a square dance, a waltz being perhaps too decorous and predictable for this comparison. Yes, a lively, raucous square dance with room for self expression but with logic calling the steps is a better parallel.
Here's the what and why of the current situation:
Fancy, my horse, is alone in the north east pasture with access to the barn's east end overhang. This gives her plenty of grass plus a shaded, relatively bug-free shelter area.
She's alone because this pasture is not (yet) perimeter fenced adequately to contain smaller animals like sheep and goats. I could put cattle with her but then I'd have quantities of cow poop under the overhang.
My water hydrant is there, plus the corral connecting the back of the barn with this particular pasture must be crossed to access the pig pen, so between showing guests around and doing chores this area sees a lot of traffic. Cows like to lounge up by the barn and are both prone to frequent fecal expulsions and indiscriminate in their choice of expulsion location.
Horses, on the other hand, designate a toilet area and concentrate their output accordingly. Plus the tidy, dry nature of horse poop makes it much easier to clean up than the soupy consistency of cow splats. And I like to keep that area clean. If it was cooler and the flies weren't an issue, I could put cattle here too and keep them all shut out in the pasture itself but giving Fancy access to the barn shade would mean cows up under there too.
Most of the cattle are in the big south west pasture. Miss Jigs, who is being milked twice a day, is the only resident bovine not out there. This time of year that works dandy because it provides plenty of grass and shade plus keeps their poop out where I don't have to address its disposal.
The "but" here is their water trough is a long stretch from the hydrant, so once a week I'm dragging hose; of course this would be a real problem in winter. I could have Fancy out there too but the biting flies of mid-summer drive her nuts while hardly bothering the cattle. One of those mysteries of nature. This pasture is also fenced only to contain large animals, and its size and my budget is likely to keep it that way in the foreseeable future, so no sheep or goats out there.
The lambs and doe (mama) goats are currently in the southeast pasture. They too have access to a section of the barn's east overhang through another adjoining pen. I don't much care who poops in this pen since it's rarely traversed; I scrape it clean with the tractor a few times a year and call it good. But this immediate access to the barn makes it convenient to bring the does in for milking twice a day; Miss Jigs is in this pasture for the same reason instead of being out with all the other cows.
And as of last night she has the company of Miss Charlotte. Miss Charlotte has been playing nursemaid to Miss Annabelle (Jigs' calf) for the past six weeks. Dairy cows are especially complacent about allowing any calf to nurse, and Annabelle was actually using Charlotte more than she was her own mother. By separating Miss Jigs, I could concentrate on just milking one cow while Charlotte fed the calf.
Logic and convenience held hands in this decision; Charlotte's production was already diminishing due to her lactation cycle yet was plenty to supply Annabelle until she was old enough to be weaned. Annabelle's weaning could coincide with the need to dry Charlotte off right about now in preparation for her freshening in September. It is important to give a cow a break from lactating prior to giving birth and Miss Charlotte is due Sept. 24.
Continued logic says leave Annabelle with the steers and move Charlotte to enact the separation. Putting Annabelle back with Jigs would find her again nursing her momma. Leaving her out with the beef steers and bringing Charlotte in enables the separation while leaving Annabelle in familiar environs with friendly company.
I can also now offer Charlotte some oats and additional mineral to meet these last trimester nutritional demands plus start re-establishing the come-in-and-get-milked routine. Plus having another cow with her will obviate Miss Jigs' heat cycles. I want to have her bred back next month for a spring calf, and I'll need to be able to pinpoint ovulation. That's info for another post! Do si do, allemande left and swing your partner...
Ruth Ehman has been farming her 53 acres north of Dexter for 25 years. Recently retired from a "real job" she now makes her living producing "real food" including operating a dairy, and teaching others skills conducive to a small, diverse family farm lifestyle. Contact her at firesignfamilyfarm.com or ruthehman@live.com