Posted on
Tue, Feb 2, 2010 : 10 a.m.
The Rio Lindas Rush Limbaugh never knew
By Dwight Lang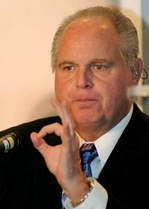 AP photo
When Rush Limbaugh entered a Hawaiian hospital on December 30th suffering from severe chest pains I wondered how this event might affect him. Death is hard for anyone to contemplate.
After extensive tests proved negative I thought our premier pundit might have a change of heart regarding the possibility of universal health care. But Limbaugh came out swinging and proclaimed we have the "best health care the world has to offer." No need to change what is already perfect, I guess.
Following the Jan. 14th Haitian earthquake, Rush continued undaunted into the fray. Our compassionate spin-meister once again confronted death through his distinctive political lens. "This will play right into Obama's hands … they'll use this to burnish their, uh, shall we say, credibility with the black community, both light-skinned and black community in the country. That's why he (Obama) couldn't wait to get out there." I am certain multi-millionaire Limbaugh, especially given his own brush with eternity, opened up the checkbook and contributed hundreds of thousands to our relief efforts. No dithering on his part as homeless and orphaned children roam Port au Prince streets.
The next day (Jan. 15th) Rush reinforced his sympathetic understanding. Mumbling from a distant corner of America's political spectrum, Rush declared that Obama's response to "Haiti is about domestic U.S. politics. … The U.S. military is now meals on wheels. It always is with Democratic Presidents." Ah Rush, your insights provide unlimited optimism regarding the human condition. Limbaugh always presents himself as an ardent representative of everyday Americans. But as a so-called conservative political leader, does Rush speak for millions of hard-working Americans (and their children) who go without health insurance and other essentials? Does he embody the innate compassion Americans feel when others suffer and die? Rush's on-going zeal for government failure and cynicism regarding what government can accomplish conceals deep-seated disrespect dating back to his early years as a radio entertainer in Sacramento, Calif. My experience nearly five years ago highlights Limbaugh's unique place in American culture. Will Rush's intrusive voice and all it represents finally be his undoing?
In 2005 I traveled home to bury my Dad - a World War II veteran, plumber and union organizer who believed in comprehensive health benefits. Dad was a compassionate liberal - as are millions of people in his generation.
On a hot summer day in early July I visited a Sacramento funeral home and in a cold, overwhelmingly silent room imagined Dad's asbestos-filled lungs. But after a few minutes I needed to get out of there. Outside I glance over in the direction of Mom's grave and see a narrow two-lane road leading to a small town where I was raised.
Rio Linda has not changed much over the years. Economic development passed over this working-class community where my family's severely faded double-wide trailer still stands. I bought a cold Coke at a resturant where Mom waitressed in the early 1960's and saw the old house that had been the county library. The suspicious librarian carefully stamped due dates in my books about distant worlds.
Eventually I left Rio Linda and moved to places with names like Ann Arbor, Berkeley and Eugene. Others, many just like me, could not or did not leave. We all had dreams - pursued and realized, set aside and lost.
Rush Limbaugh rudely interrupted my drift to memory. The radio station playing music had switched to his show and he was talking about a jailed journalist refusing to name names.
I knew about Rush's reputation at Sacramento's KFBK radio in the late 1980s - always generous with views on news and people he did not know. He routinely mocked Rio Linda for its white-trash, trailer park ways - cars up on blocks, laziness and unemployment all around - or so he thought. That morning Rush tried to simplify events surrounding a covert CIA agent (Valerie Plame) with the phrase he coined and still uses: "For those of you in Rio Linda…." In other words, these hicks and hillbillies are slow and need things explained to them.
Limbaugh demeans less affluent Americans, including those who build homes for people like Rush. But we never hear his tales of Rio Lindans around the country laboring in the heat and cold - breathing asbestos. "For those of you in Rio Linda…."
I wonder about the irony, as Limbaugh jabbers on about brave Americans fighting for freedom in distant lands. I recall the army ethic sarcastically repeated by Dad over the years: "Ours is not to reason why, ours is but to do and die."
Yet those I grew up around understood politics and some even read literature. I remember their declarations of pride in contributions to America, but also recall resentment with how some outsiders viewed Rio Linda: a place filled with Git-R-Done, trailer-trash, know-nothings.
Would growing numbers of Rio Lindans end up feeling bitter and betrayed? But Rush never bothers to stop by and ask our opinion. He probably assumes we would never reason why. "For those of you in Rio Linda…."
Dad used colorful words to describe political and cultural elites who divide and manipulate. Those words lurk beneath the surface of my middle-class ways: ways that always made my father uncomfortable.
As I live and work in Ann Arbor in the second decade of the 21rst century I wonder how long America will tolerate Rush Limbaugh's corrosive influence.
Dwight Lang is a lecturer in the sociology department at the University of Michigan, Ann Arbor. He can be reached at: dwlang@umich.edu.