Posted on
Sun, Mar 27, 2011 : 6:41 a.m.
The union mentality: We can do well without it
By Guest Column
Those were some pretty angry union members occupying the state houses in Lansing and Madison. Shouting, chanting and hectoring, they were there to demonize two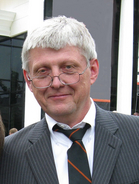 governors for making good on campaign promises and to remind the rest of us of their rights and tell us about what is fair. Questions of fairness, of course, are, in a sense, questions of symmetry, which cannot be judged without first choosing an axis of symmetry. There are as many axes as dogs in the fight and it is a rare person who does not see the axis most favorable to himself as also the most natural and fair. Especially with familiar bullhorn-delivered demagoguery ringing in his ears. But are we witnessing the spirit of Joe Hill on Capitol Hill? I doubt it. If his ghost walks the earth, it is in the third-world where it might still find seriously unsafe and unhealthy working conditions, 12-hour work days, six-day work weeks, child labor, and company stores keeping workers trapped in debt -- that is, actually exploited workers.
Workers in Michigan and Wisconsin face nothing like this, but are nevertheless mightily angry, and, to my eye, embarrassingly self-righteous. Their behavior stems from a set of toxic attitudes that I call the union mentality. If you've had dealings with labor unions, perhaps you recognize the elements of the union mentality: reliance on confrontation and intimidation, resistance to innovation and suppression of initiative; collectivism, entitlement, self-centered intransience, pettiness. And God forbid an employee should actually adopt the business's goals and objectives; no, the relationship must be adversarial. You understand me if you've ever heard a union veteran tell a new-hire, "Son, you need to slow down; this job is supposed to take all day." Or, "Son, this job calls for five electricians, not one working like five." You understand me if you've ever tried to book the Michigan Theater or Hill Auditorium (both union shops) for a musical event. The hall rental charge is reasonable -- about $2,000 for an afternoon and evening. But you may not do your own sound engineering and the union cost for it could add another $6,000, making it a money loser for all but the biggest acts. You understand me if you've ever encountered "work rules." When I enter a union plant to look into some manufacturing issue, often I am not permitted carry my own laptop onto the factory floor. It is a union member's job to carry tools. Then, when the battery runs down -- and a wall plug is right there -- I am not permitted to plug it in myself. An electrician must be found to plug my laptop into a standard electrical outlet. You'll understand me if you reflect on what unions do when, in tough times, they must choose between a negotiated pay raise and seeing their least-senior brethren retain employment. To my knowledge they always choose the pay raise. Solidarity has its limits, I guess. You understand me if you recognize that the concept of unionized professionals is an oxymoron. The union mentality is incompatible with operating as a professional. Actual professionals don't work for wages. They bill clients or patients for services rendered. They practice their profession as a business and shoulder the risks inherent in that mode of earning a living. In a word, the union mentality is unbecoming. Why not face the world as an individual? Offer your knowledge and skills in trade with others. Rise or fall on your own merits. Find job security in being valuable to your employers. Make your employer's goals and objectives your own. Make your bosses worry that they might lose you. Or start your own business. At least have enough self-respect to realize that if you need asinine work rules to keep your job, you don't deserve your job. The union mentality looks out the window on a snowy morning and says: "That might be enough snow to serve as an excuse for not going to work." But this century will belong to the country that is home to the greatest entrepreneurial spirit, the place where most people say, "I hope I can get to work, even with all that snow." Let's be that place.
Will Warner lives in Lodi Township. He can be reached at warnerwm@aol.com.