Posted on
Sat, Apr 21, 2012 : 2:50 p.m.
There's no conundrum - children should be allowed to stay with their non-citizen parents
By Letters to the Editor
I disagree with Judge Shelton's comment, "These situations are awful legal and human conundrums." ("Torn Apart: Undocumented immigrants losing fight to keep children who are U.S. citizens," Sunday, April 15, AnnArbor.com)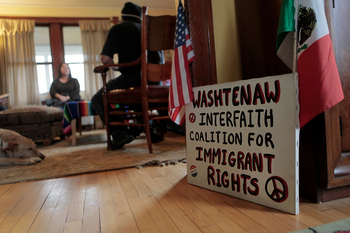 Chris Asadian | AnnArbor.com
If I understand the article correctly, legally Judge Shelton had the option to award Mr.B custody of his children. Unfortunately, the decision was made to coerce Mr. B to give up his parental rights even though he was led to believe that DHS would work with him to obtain custody. Mr. B seemed to be doing everything in his power, against tremendous odds, to show that he desperately wanted his children.
This is a huge miscarriage of justice and Mr. B's parental rights should be reinstated. Did anyone ask the children what they wanted?
The human conundrum doesn't exist. The question that needed to be asked was: What was the decent, loving, kind, and compassionate option?
Under the present "solution," Mr. B will forever be separated from his children, the brothers will be separated from their sister, and the sister will be separated from her brothers. Will someone explain to these children that they have not been abandoned by their father? Will they tell them that the State of Michigan forced their father to sign away his parental rights, and the state then decided to separate the brothers and sister? Will someone tell the children how hard their father was working to provide them with a decent home and how much he loved and wanted them?
Both Gloria and Mr. B's children need to be reunited with their parents. Just because Gloria and Mr. B are not U.S. citizens, and they will not be allowed to live in this country, does not mean they shouldn't be allowed to raise their children.
Christine Parlett
Ypsilanti