Posted on
Thu, Apr 11, 2013 : 8 a.m.
Transportation must remain top priority for public schools
By Guest Column
The first of four "Community Dialogues" was held at Clague Middle School on March 28, and it drew a sizeable crowd. Hosted by alternating AAPS school board members, these meetings are an invitation to the community to share creative ideas on how the district might generate more funds to stave off or reduce further cuts.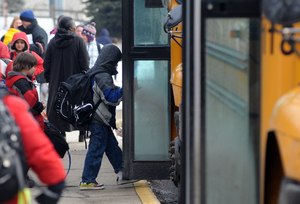 Several participants brought forth proposals deserving consideration. However, not surprisingly, the majority of time was filled by parents, teachers, coaches and a student, expressing concerns about possible cuts to or elimination of athletic programs, the fifth grade instrumental music program, the theater programs, block scheduling, the seventh-hour option and the foreign language program. They spoke against larger classroom sizes, reducing teachers' pay and a shared-principals model. Parents of Community High and Roberto Clemente students extolled the virtues of each. Almost every cut or reduction under consideration had one or more passionate opponents- with a few exceptions.
In some cases proposed cuts are based on an expectation that programs can attract more private or corporate funds, or that staff can consolidate functions. Rather than pitting proponents of specific programs (or opponents to their cuts) against each other, perhaps the conversation should be framed as a discussion of principles and data that should guide the decision making process.
Several of the night's speakers eloquently addressed the values intrinsic in a school system that maintains its arts, music and theater programs - that gives students with those interests and gifts an environment that appreciates and supports their creativity. Few would deny the importance of establishing a guiding value that states our community wants schools that support the success of a diverse student population.
Much to my surprise two very drastic cuts with far-reaching consequences went unmentioned during that first Community Dialogue (at least until — with two minutes to go — I raised them):
Eliminating high school transportation ($466,000 savings), and
Eliminating middle school transportation ($1.2 million savings)
Both measures would create at best an inconvenience and at worst incredible hardship to many AAPS families. Hardest hit will be families who live furthest from their home schools, particularly those without cars and/or with inflexible work schedules. Families with low incomes will be disproportionally affected, of course, and for some it might be nearly impossible to get their children to school. Consider for example high school students living at Carrot Way, a supportive housing complex off Dhu Varren Road. Mapquest estimates it would take them over 2 hours to walk to SkylineHigh School. Currently the high school graduation rate for economically disadvantaged AAPS students hovers around 67 percent — meaning one in three AAPS students from families with low incomes does not graduate high school. This number will likely worsen if transportation to middle or high schools is eliminated. And, since African American students are disproportionally represented in the economically disadvantaged category, the much-lamented achievement gap will no doubt grow wider.
As the discussion of AAPS budget cuts continues, perhaps the examination of the values intrinsic in these decisions should be clearly illuminated. While Ann Arbor values diversity, families with low incomes often don't make it on the radar of decision makers. Without a doubt, cutting middle and high school transportation will hurt many students from economically disadvantaged families disproportionally. A community that makes those cuts sends a clear message about how much importance it places on the investment in their success.
Will AAPS cut transportation to middle and high schools? Certainly if no or few objections are raised during these Community Dialogues trustees will be justified in concluding that is not important to parents. There are two more Community Dialogues opportunities to express your opinions: April 16, from 11:30 a.m. to 1:30 p.m. at the downtown library, and April 20, from 9 to 11 a.m. at Scarlett Middle School. Emails to the Board of Education can be sent to: boe@aaps.k12.mi.us.
Joan M. Doughty is the executive director for the Community Action Network.