Posted on
Sat, Feb 23, 2013 : 4:30 p.m.
Ypsilanti parents must take action to see positive results in schools
By Guest Column
My daughter is a third grader at Erickson Elementary school in Ypsilanti. She is a third-generation Wildcat - my mother and I both attended Erickson. My mother and her three brothers graduated from Ypsilanti High School between 1969 and 1975. I graduated in 1992. My mother worked for the district for almost 15 years. I worked for the district for two years.
My family has a long history in this city. When my husband and I moved back to Michigan, we opted to use the school of choice option to enroll our daughter in Ypsilanti Public Schools. I had hoped that my daughter would be a member of the class of 2022 that graduated from Ypsilanti High School. If things in this school district continue on as they are, I can tell you with almost all certainty, she won't.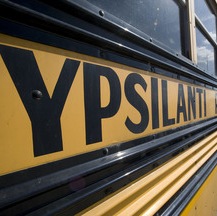 As a future teacher, I believe in public education. I believe in teamwork between educators, families, and the community. I have gone to the mat in defense of YPSD - even when it was failing before my eyes. I have faith in the teachers that they are teaching the best that they can despite being crippled by the lack of funding from their district and the lack of respect from the families they try to serve. I tried to show my support of building administrators who were caught between making sure their teachers were equipped to do their jobs and making sure the demands were being met.
At certain points, I defended the administration because I can not even imagine how difficult a job they have had in the past. I supported the consolidation because I thought it was innovative, brave, and it appeared that both districts were trying to pool their strengths and find a way to make a strong and healthy educational system that would serve the children and families in Ypsilanti and provide them with a quality education while the administration would ensure that the district was running a lean and effective budget.
It appears that I, like the thousands of people that voted for the consolidation, was sold a bill of goods. We were duped. We were conned. I am exceptionally disappointed in the new school board's choice to "explore" a multi-superintendent model. I am disgusted that Sharon Irvine's application isn't being given the due respect and consideration she deserves. And I am appalled that this school board seems to largely believe that the community should not have a say in how the district that we were practically BEGGED to vote for, will be overseen.
However, the lack of familial involvement from the community at large has been deplorable. It has been, for the most part, the same few vocal people over and over again. I recall a time when I attended a meeting of the Parent Advisory Board at Perry CDC — a school with almost 600 children in attendance at the time. There were, at the most, 12 parents there. 12.
So if you are wondering why there has not been more transparency in how things have been running, it's because there are very few people who are asking for it. We, as a community, have been falling down on our duty to hold the people in these offices accountable for what they are supposed to be doing. We - and I definitely include my husband and myself in this - have been sitting on the sidelines, playing armchair quarterback, recalling the bygone days and talking to ourselves about how things SHOULD be.
The time for sitting back in the BARCO lounger is done. The time for being passive recipients of our public educational system is finished. WE are the taxpayers in this community. WE are the parents in this community. And WE need to be the ones who take this board, this administration in hand and tell them that we are finished accepting the status quo that has driven our teachers, our kids, and our schools so deep into the ground that no one can breathe without getting a nose full of dirt.
It is time for action, not words. We can make a difference. We SHOULD make a difference. Robert F. Kennedy once said, "The purpose of life is to contribute in some way to making things better." Folks, we need to stop waiting for someone else to make things better and do it ourselves.
Aimee McVay Conat is a parent of a Erickson Elementary School student and an Ypsilanti resident.