Posted on
Sat, Jul 23, 2011 : 6:28 p.m.
Using the mind to build the body as you age
By Robert Faber
Editor's note: This is another in a series of occasional columns by long-time Ann Arbor resident Robert Faber on what he describes as his most recently acquired area of expertise — growing old.
I was about 10 years old when my grandmother came to visit for a few days. She was a kind and loving "old" lady — she must have been about 60, but still seemed reasonably alert for a woman her age.
A few years earlier she had taught me to play gin rummy, so she challenged me to a game. I'm sure she meant no harm, but to be beaten — to be slaughtered — by a little old lady of such extended age was an embarrassment it took a very long time to overcome.
I'm sure that gin rummy was not the only such competitive game in her inventory, but looking back now, I recognize and appreciate her appetite for intellectual challenges. I don't know what other cerebral exercises she indulged in during that period of budding antiquity, but evidently she was traveling precisely the right path for people her age. According to some new studies, such mental activity can be very beneficial and is highly recommended for all aging citizens.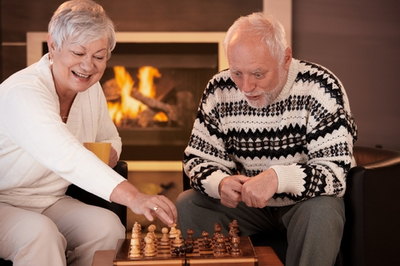 Nyul | Dreamstime.com
Exercise of any sort is good for everyone of advancing age, but a good mental workout — whether bridge or chess or crossword puzzles or Sudoku or any other games to exercise the mind — are now recognized as mentally stimulating and hugely effective in avoiding or delaying age-related dementia.
And that is a lot more than simply hopeful guesswork. A study conducted over a period of two decades by researchers at the Albert Einstein College of Medicine in New York concluded that mental stimulation reduces the risk to seniors of dementia by as much as 75 percent compared to more tranquil members of that age group.
Joe Verghese, the neurologist who led the 21-year study, said that following more than 450 people over the age of 75 verified the fact that seniors who remained mentally active showed the least decline in mental acuity.
(In an interesting side-note to the study, Verghese revealed that while physical exercise seemed to have little impact on the minds of older adults, dancing proved an exception. Evidently choosing between two left feet is as challenging to the mind as to the partner — my conclusion, not his.)
There was one minor dissenting opinion, however, that adds even more appeal to the group's conclusion. James Coyle, professor of psychiatry and neuroscience at Harvard University, followed the study and in an independent view concluded that there is also evidence that mental exercise may do more than simply forestall dementia, that it may actually repair damage to the brain. He believes that the stimulation of the stem cells in the brain can rewire the brain by generating new neurons — a very positive addition if accurate.
Evidently, games requiring thought and challenge can do for the head what a bicycle ride or a fast walk in the park does for the body. While some mind games, like physical exercises, are more demanding and more beneficial than others, just the fact of exertion, whether mental or physical, has an impact that helps keep the body or mind in shape. But they need not be formalized or well constructed games, like chess or bridge. They may simply be individual approaches to personal concerns.
My uncle, for example, kept experimenting with ways to remember names of new acquaintances by tying some issue or idiosyncrasy to the name's translation. Were he alive today, for example, he might use the start of the Russian monarchy to recall the name of Yale Kamisar ("came a czar") or to believe that Senator Pawlenty was "more than enough" (having nothing to do with politics). It didn't always work and was often more nonsensical than logical, but just the planning provided some enjoyable mental exercise and that alone was beneficial
Such traditional pastimes as bridge or solitaire or gin rummy, of course, are not the only games in town. Challenging and interesting and instructive, too, are reading books and newspapers, or listening to concerts, or arguing politics (depending, of course, on the side you choose — but that's a personal bias).
In short, anything that moves the mind in almost any direction has benefits not available from a nap or watching a television romance.
For me, as an example, this game of writing provides benefits even beyond the satisfaction of boosting my ego when it works. It requires some original thought — such as developing a theme or simply remembering events from a distant past — then searching for precisely the right words in the right sequence to make it consequential and interesting. So even if it falls short of its purpose or its goal, at least the exercise of its development gives it a value beyond pleasure.
In brief, however we fill the empty moments of time with activities requiring some degree of physical and/or mental exertion (naps don't count), it can do nothing but good in building us beyond where or what we were — in both mind and body.
Bob Faber has been a resident of Ann Arbor since 1954. He and his wife, Eunice, owned a fabric store and later a travel agency. He served a couple of terms on the Ann Arbor City Council. He may be reached at rgfaber@comcast.net.