Posted on
Sun, Jan 13, 2013 : 8:30 a.m.
Very little 'connecting' taking place with William Street project
By Guest Column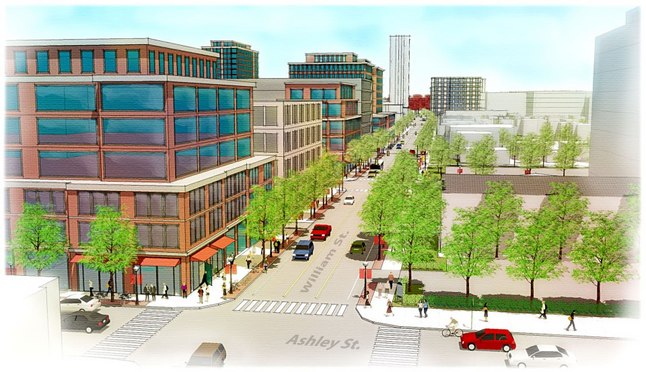 SmithGroupJJR
I attended the Jan. 3 presentation, although could not stay until the end for Q&A.
I have read information online about the project and I have talked to several people.
I agree that the City and DDA should be proactive in defining opportunities that are compatible with the Central Area Plan, that are aesthetically desirable for our downtown, and that promote a higher quality of downtown living.
I support the concept of a greenway streetscape connection through downtown from the west side all the way to campus, dead-ending at State Street.
I appreciate the engagement of local design professionals to interpret and illustrate many of the great ideas and opportunities that are coming out of this project, and I respect their work.
However, I do NOT see any actual "connecting" going on, especially along the William Street route. To encourage, and ultimately require developers to follow through in their responses to requests for proposals, the plan needs to be more articulate in this aspect.
Add elements to the streetscape that are actual nodes, or oases, along the route. These are essential to break up the linear street that is currently only shown as a straight and narrow "chute" with a little bit of green cover along the street edge. Include benches, changes in paving material, additional greenery, and other features of interest.
Add weight to this requirement by including the graphic interpretation now, so that developers can see visual options of expected improvements, and NOT defer to zoning, which in D1 requires NO setback. This makes absolutely no sense. The variability must be demanded by example, and then reinforced by holding developers to this requirement when reviewing their proposals.
We are running into this problem on the northern side of downtown, where the developer for the 413 E. Huron project shows NO setbacks along Huron or Division Streets. So far, the planning staff has supported the developers' proposal and ignored our request and concern about adequate setbacks for the public right-of-way. In fighting this narrow interpretation of the zoning ordinance, our committee very much wants to point to the Connecting William project as an example of a positive force from the city to do the right thing. Lawyers and developers are too quick to use precedents as their sole argument against being made to provide better design, so it is important to improve any and all guidelines they will be using to comply with expectations and to apply for approval for their projects.
While not a public park, the pedestrian right-of-way along William Street must clearly show how it will link the edges of downtown together and, at the same time, provide a green buffer at the southern edge of downtown. Making it a place for people means telling developers, and reminding staff, that nodes for dialogue and oases for respite will be crucial to the successful design for the entire length of the street. Make sure this aspect of good urban design is represented in your final documents.