Posted on
Sat, Nov 19, 2011 : 5:59 a.m.
Washtenaw Community College partners in new network to attract businesses
By Lucy Ann Lance
After graduating from Saline High School a few years ago, my niece traveled the world. Julie speaks numerous languages and loves immersing herself in different cultures. She is now taking online classes at Washtenaw Community College, while living in Finland.
WCC staff, especially FlexEd Program Manager Michele O'Neil, has been impressive in helping Julie set-up her classes, get her books and navigate college from afar, even conducting an online video session with her to get started. The long distance educational experience has been seamless for my niece and it has kept her connected to Michigan, a place her aunt is hoping she returns to one day.
Washtenaw Community College is a valuable resource to our community. That was strengthened even further this week when it was announced that WCC is helping to launch a new network to attract business to the region. The Workforce Intelligence Network (WIN) for Southeast Michigan is funded by a three-year, $1.5 million grant from the New Economy Initiative, which aims to restore southeast Michigan to a position of leadership.
On 1290 WLBY, I talked with WCC's Marilyn Donham, dean of Continuing Education and Community Services, and Brandon Tucker, Workforce Development Program manager, about how this will work.
Tucker: It puts our college, Ann Arbor, and the community in a very unique position and we're excited.
Lucy Ann: You're one of eight colleges involved?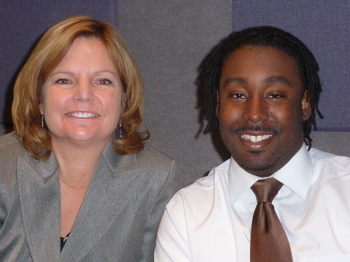 Donham:
Eight southeastern Michigan community colleges and also seven workforce boards. The goal is to collect information about the area's workforce needs and supply employers, schools, those looking for work, and policy makers with the information they need to collect and keep jobs in the area.
Lucy Ann: So how are you going to do that with this initiative?
Tucker: What WIN does is bring the colleges together as well as business leaders and it allows us to talk about strategy and see what the problems are. What are the skill gaps? What are the needs? And really begin as community colleges to craft training opportunities as well as curriculum in response to those gaps and needs. Not just students that are trained, but students that are prepared and ready to take on those jobs as they become available.
Donham: This group will help research and identify the exact skills that people need to get, and in doing that we're going to strengthen the workforce in southeastern Michigan and make it more attractive to new businesses and make it better for businesses that already exist to stay here.
Lucy Ann: How is this actually going to work?
Tucker: It's one thing to say we need these types of skills or we need these types of trainings, but if the community college isn't in a position to do it, then it creates problems. What we'll try to do is get ahead of the game and be able to, as the jobs are coming and those companies are saying we want someone in biotech or we want someone in advanced manufacturing, that we have those core values and curriculum available.
Donham: A lot of people who come back to Washtenaw already have degrees so they may just look at us in workforce development for a specific skill set. We just met last week with a huge group of IT companies in southeastern Michigan. They didn't care what the degree was. They wanted very specific software development skills and we want to provide those skills whether it means going out to the company, and that's what Brandon does, or doing it in-house.
Lucy Ann: You are able to fine tune what you're offering?
Tucker: Definitely. We've been providing workforce development services for over two decades now. We customize training to the needs of business. Businesses come to us and say we want to hire this many people, we have this many people already hired, and we need to develop skills in this specific area. Can you do it for us? And generally what you're able to do over a thousand faculty, full-time, part-time, consultants, really have these experts that know the industry, that know the craft and can develop training that can respond to what their needs are.
Lucy Ann: When a company comes to you and says it needs a specific skill set, how quickly can you provide that at Washtenaw Community College?
Donham: We can have the class ready in a matter of days or weeks and provide the instructor.
Lucy Ann: Wouldn't this also take money?
Donham: We're finding that companies right now do have some funding and they want very specific training and that's what we can provide. The thing about Washtenaw Community College is we provide excellent education and training at a very reasonable cost. Right now the funding (for WIN) is for three years, but we've already seen some success with the IT groups that we met with last week. We've developed a pathway to immediately respond to their needs. We're working with energy companies for apprenticeships and training that is specific to their needs because several energy companies are having major retirements in the next few years. We started that before we even launched.
Lucy Ann: This really ramps up what Washtenaw Community College offers our community.
Tucker: It does, and what I think it also does is increase our visibility. We are always the silent gem of the community and companies need to know whether they need training for five employees or five hundred, we're able to do it.
Donham: I think that the future is very promising for this. Navigating the resources was difficult for companies, especially new companies coming in. Now we've got a one-stop-shop where we can give them everything they need.
Tucker: (They can) call us directly and we can sit down with them, do a needs assessment, and find out where they're at and what they need. I think it's a unique position for employees and for prospective employees to know that they have an opportunity to grow, to develop and really create a career or recreate a career that is promising and has opportunity for future growth.
Donham: That is the mission of Washtenaw Community College. It's to train people so they can get good jobs.
***
Business owners and employees are encouraged to contact WCC at 734.677.5200 to find out more about the resources available through the new Workforce Intelligence Network.
Lucy Ann Lance co-owns Lance & Erskine Communications, which produces "The Lucy Ann Lance Business Insider" (M-F, 8 a.m.-11 a.m.) and "The Lucy Ann Lance Show" (Saturdays, 9 a.m.-12 p.m.) on 1290 WLBY. The programs are live streamed at www.1290WLBY.com, and podcast on www.lucyannlance.com. The above interview is a condensed version of a longer conversation that is edited for clarity. The complete audio interview is posted online at www.lucyannlance.com.