Posted on
Sun, Jul 14, 2013 : 7 a.m.
Well-intentioned regulators can still hurt Michigan business
By Guest Column
Americans, especially Michiganders, are finally seeing light at the end of the tunnel as we work our way out of this recession. But for many, simply getting back to where we were before the financial crisis is a struggle in itself. For example, before all this economic turbulence, I was living the American dream as a small-business franchisee for Domino's Pizza. Through years of hard work, I grew my business to 12 stores.
But like many others, I was forced to downsize just to stay afloat when the crisis hit. It was a tough decision as no small businessman wants to see the fruit of one's labor disappear so quickly. Ultimately it was the right move, and with the support of the community, I was able to weather the storm and maintain four great stores.
As the recovery set in, I eagerly began growing my business once again. Unfortunately, just at this time, I was surprised and disappointed to learn that the 2010 health care bill specifically targets pizzerias with costly and nonsensical regulations.
Section 4205 of the Patient Protection and Affordable Care Act states restaurants like mine must provide nutritional information for all menu items. While I support the end-goal of this rule whole-heartedly, the authors clearly had no understanding of the businesses they sought to regulate.
For starters, they don't realize that the majority of my business is done by delivery. The regulation requires that I maintain expensive, in-store menu boards, despite the fact that 90 percent of orders are placed either by phone or online, meaning that the vast majority of my customers will never see these menu boards, let alone act on them. Domino's implemented an online calorie counter in order to get customized information directly to these customers.
In addition, the regulations would mandate that I label per whole pizza, instead of per-slice. But pizza is a shared meal, and most people are not thinking of having to do long division when they are eating just a slice or two. The law also requires stores to provide the calorie count for every possible type of pizza. For my chain, Domino's, there are 34 million possible combinations (yes, we counted each one). To account for such a customizable product, I would have to provide calorie ranges capturing the lowest to highest possible calorie combination for every pizza. But since there are so many options, the ranges could be extremely wide - up to 2,000 calories in some cases. I fail to see how this overly-broad information will help consumers.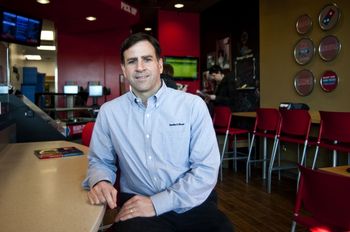 Joseph Tobianski | AnnArbor.com
Even though my stores carry a big company's name, my wife and I proudly consider ourselves small business owners who depend on our stores for our livelihood. This poorly-drafted regulation will be costly and is unlikely to help consumers obtain nutritional information. I now face the prospect of spending tens of thousands of dollars for unhelpful menu boards that a tiny fraction of my customers will see. Â  Luckily, Congress has offered a bipartisan solution -
The Common Sense Nutrition Disclosure Act
. It provides restaurants like mine the flexibility to provide their customers with important nutritional information on our website, using innovative tools like the
Cal-O-Meter
. This would allow us to forgo wallpapering our stores with costly nutritional signage that most of our customers will never see.
Section 4205 is a clear example of a good intention gone wrong. Unfortunately, the consequences of this regulation will make it much harder for small business owners like me to grow. The Common Sense Nutrition Disclosure Act provides a smart, workable solution to providing calorie information to my customers, while allowing me to get back to making pizza and my pursuit of the American dream.
Dave Cesarini of Ann Arbor is the owner of Domino's stores throughout Ann Arbor and East Lansing.