Posted on
Thu, May 10, 2012 : 7:08 a.m.
What I want for Mother's Day: Stop stealing our sex toys and go get rapists
By Guest Column
Three years ago, I told 5,000 people at Hash Bash, "If you get raided, call me," which is proof I need a handler or something. Someone to follow me around and say, "No, Charmie, don't say that."
They call me all right. Hundreds of people, but mostly mothers who are trying to feed or put their children to bed when the guys with guns and masks come in the door, shoot their dog, hold guns to their heads, demand the combination to the safe and steal their sex toys, which I'll get to in a minute.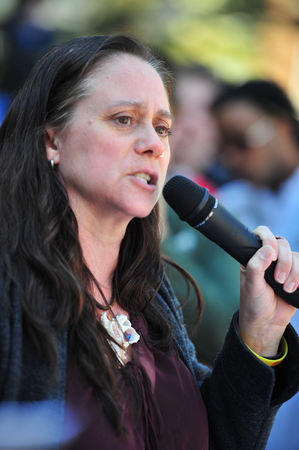 Ryan J. Stanton | AnnArbor.com
This isn't happening because the families are a threat to society, or because the sex toys are dangerous, but because someone inside the house might have marijuana.
Prior to Nixon declaring the drug war, raids like this were unheard of. The original purpose of SWAT was to respond to domestic violence attacks, snipers, or hostage situations. The Military Cooperation with Law Enforcement Officials Act made equipment and facilities available to civilian police in the anti-drug effort, and the Pentagon began equipping local police with M-16s and armored personnel carriers such as the "Colonel" tank owned by the Oakland County Sheriff's Department.
State and local police departments increasingly accepted the military as a model for their behavior and outlook. The problem is that the mindset of a soldier is simply not appropriate for a civilian police officer. Police officers confront not an "enemy" but individuals who are protected by the Bill of Rights.
As the daughter of a law enforcer, I know first hand how these tactics tear at the social contract between citizens and law enforcement, causing community distrust and fear of those who have sworn to protect us. I dream of the day when right relations are restored between communities and law enforcement.
If the purpose of these raids is to improve the safety of Michigan citizens, they have failed.

According to 2010 Michigan State Police crime statistics, police made 1,653 arrests out of 10,228 reported incidents of rape, state wide. That's a 16.16% arrest rate for rape. Voluntary manslaughter rates for arrests are at 35.6%. Yet, somehow, police in Michigan have an 80% arrest rate for controlled substance violations.
If you're a rapist or murderer, Michigan is a great place to live. However if you're a marijuana user, you are at greater risk of being victimized by law enforcement than by the real criminals.
Over the last 9 months we've seen a statewide escalation of police raids on medical marijuana patients and caregivers—the people we were trying to protect with the Michigan Medical Marihuana Act. But instead of protecting our sick and dying citizens, many have been tossed back into the fire, subjected to paramilitary tactics of the local drug task force.
I am the founder of Michigan Moms United to End the War on Drugs, an organization that focuses on educating the community, media and legislators about how the failed drug war decreases public safety. We intend to put an end to these raids on peaceful families, as well as reform Michigans asset forfeiture laws.
Now, about those sex toys. Drug task forces often take them during a raid and line them up to be photographed with the other evidence. It's hard to comprehend, until you remember that this is a real war. The war on drugs is our countries longest running, silent civil war and this wars victims aren't memorialized with statues or fountains. They're hunted, vilified and locked in cages.
But without an enemy, you cannot make war. Michigan Moms United would like to introduce you to some of those enemies; the ones being persecuted for marijuana that is. I can't introduce you to your raping and murdering enemies, because not even the police know where they are.
My Mother's Day wish is that law enforcers make their communities safer by arresting rapists and murderers, instead of terrorizing families.
Ann Arbor resident Charmie Gholson is the media director for Committee for a Safe Michigan (www.repealtoday.org), mother of three sons, oldest of three daughters and a war protestor. You can email her at okisay@yahoo.com.