Posted on
Sat, Mar 24, 2012 : 6:56 a.m.
Where is the community outrage over black doll hanging incident in an Ann Arbor schoolyard?
By Guest Column
Someone wrapped a chain around the neck of a black doll, tossed it into a tree and left it hanging, to be discovered by elementary-school-aged children, and I am told I should not be concerned.
The episode took place at a public school with a "small black student population" and the "the position of the doll did not resemble a hanging." Besides, this black doll with a chain around its neck was only seen by a "few" fifth-grade girls, who handled the incident "maturely."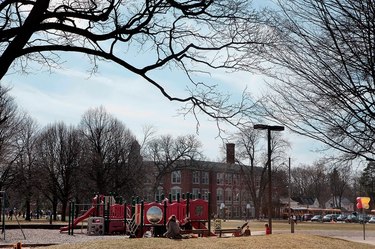 Chris Asadian I AnnArbor.com
The principal's subsequent actions of sending emails to parents and having a school psychologist available the next day for students are offered as assurances that I should not be concerned.
The incident is reported in the local newspaper, featuring the reactions of amazed parents and comments from the readership. The incident then becomes a story on local television news where it is passively dismissed with pledges of police surveillance and the school's final assertion that it was the work of an "outsider," and I should not be concerned.
Well, I am concerned. Concerned and disgusted by these events.
My first concern is that this deed, whether dressed up as an "innocent student prank" or the deliberate action of someone outside the school community, is blatantly racist.
Secondly, it is of concern that those responsible for the education of our children and for shaping young minds refuse to acknowledge and address the existence, even the possible existence, of racism in the Ann Arbor community. In their efforts to color this incident as a non-incident, they have granted the perpetrator(s) support, validation and a pardon while the victims are left with empty assurances and outrage.
Two years ago, this community was filled with outrage and concern when white elementary-school-aged children were thought to be excluded from an achievement gap program. That same support should have been demonstrated here.
Charles A. Lewis lives in Ann Arbor.