Posted on
Mon, Nov 21, 2011 : 8:41 a.m.
Where is the leadership we need on national debt crisis as 'Super Committee' heads toward failure?
By Guest Column
America could become Detroit.
Fifteen trillion and what do you get, another day older and deeper in debt.
Yeah, a take-off on the song, "Sixteen Tons" popularized by Tennessee Ernie Ford, that reached No. 1 in the Billboard charts in 1955.
Sadly it captures the fiscal mess our country is in due to the inability of our elected leaders, on both sides of the political aisle, to get serious about our dire and precarious fiscal situation.
The federal debt does not even including the staggering unfunded health care and pension liability that have built up at the state, county and municipal level and are ticking time-bombs. These bombs are exploding in Detroit.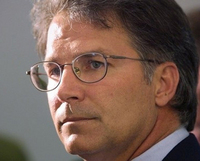 Watching the European Union, in particular; Greece and Italy stumbling to fiscal insolvency and pulling the world down with them ought to be a warning to the Congressional "Super Committee" set up to tame and reduce our national debt not to fail in their assignment.
Yet, the Super Committee, like Congress, appears paralyzed and headed for half-hearted measures or a stalemate.
The deadline is Tuesday to strike a deal about our collective future. Our elected leaders need to stop their pretending and spending ways.
Erskine Bowles, co-chairmen of President Obama' deficit reduction panel along with fellow co-chair Alan Simpson, whose efforts failed to get Congress to act -- captured how insane our debt crisis is when he pointed out America is borrowing money from China to defend Taiwan from China. He continued, "That's crazy."
Who can disagree?
We need to remind the super-committee that the captain of the Titanic only hit the iceberg once!
Change is clearly the most talked about and least acted on concept in our nations capitol. Change is hard. The only human that truly likes change is an infant!
But, change we must. If we keep doing what we have historically done we our going to skid into and economic ditch that we will never free ourselves from. Even making a sensible one-dollar change is proving near impossible in Washington, D.C.
Replacing the dollar bill with a dollar coin would save $5.6 billion over 30 years. It seems the paper dollars deteriorate in 3 years or less and need to be replaced, while coins can last forever.
We could also eliminate the penny, which cost the U.S. Treasury 2 cents each to make, and we lose $70 million a year minting!
Former U.S. Senator Everett Dirksen coined the phrase: "A billion here, a billion there, and pretty soon you're talking real money."
Ask the question, if this was your money (it is you know): Would you make the change?
Yet, the special interest do not roll over easily. In the case of the dollar bill the ink and paper lobbies claim it makes no sense to make the change.
Real change is going to take real change -- and leadership.
Fifteen trillion and deeper in debt. America could become Detroit -- this is crazy.
Tom Watkins is a former Michigan state school superintendent, mental health director and a recipient of the 2011 Detroit Regional Chamber Leadership Detroit Lifetime Achievement Award. He represented Detroit in reforming Wayne County as an elected charter commissioner in the 1980s. He can be reached at tdwatkins88@gmail.com.