Posted on
Fri, Nov 23, 2012 : 7 a.m.
Why Israel Deserves Our Support
By David Shtulman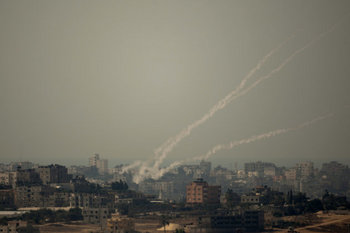 Photo by AP
As most of us slept soundly in our beds in Ann Arbor this past week, millions of Israelis passed the hours of darkness in fear, dozing with one ear open for the all too familiar blare of an air raid siren. And when those warnings did sound, they offered only 15 to 30 seconds to take cover. Fifteen seconds. In other words, the time it roughly will take you to finish reading this paragraph.
Their danger is imminent. In the first 24 hours of Operation: Pillar of Defense, over 200 rockets were fired at Southern Israel from Gaza. That number rose to more than 600 in just six days, shuttering schools and offices, essentially shutting down life in the region. And while the idea of any country tolerating indiscriminate rocket fire from outside its borders is astounding, this trend is, sadly, far from new. Since Israel withdrew from the Gaza Strip in 2005, over 13,000 mortars and rockets have been fired on its towns and cities, with more than 1,900 this year alone. These weapons have also steadily increased in range and sophistication in large measure because Hamas is actively aided by Iran, the world's largest state sponsor of terrorism. To put it plainly, Israelis have been living in a state of terror for far too long.
No government should, or would, accept a situation where nearly a fifth of its citizens - over one million people -- live under a constant threat of fire. That is exactly the reason why Israel's Defense Forces pushed forward with Operation: Pillar of Defense, to target terrorist infrastructure in Gaza, while seeking to minimize casualties among non-combatants. For, just like any other country, Israel has the inalienable right -indeed the obligation -- to defend its citizens from attack. Yet, inexplicably, some still question it.
This leads us to pose the following questions ourselves: If Hamas has the best interests of the Palestinian people at heart, why do they engage in terrorism that is only counterproductive to peace? Why smuggle thousands of rockets and missiles into Gaza and deliberately place them in civilian homes, schools and hospitals, putting their own residents at risk? And why, despite total Israeli withdrawal from Gaza seven years ago, does Hamas leadership remain focused on targeting innocent Israelis, instead of building a peaceful future for their own citizens?
The answer is simple. Hamas targets Israel because it refuses to accept Israel's right to exist as the democratic nation state of the Jewish people. Fortunately, Israel's Iron Dome anti-missile system, developed with the assistance of the United States, was able to intercept many rockets, but it can't prevent all from hitting their intended targets. Hundreds of thousands of Israeli civilians, Jewish, Christian and Muslim, were forced to take cover in shelters as far north as Tel Aviv, a city last hit in 1991 Gulf War. Or even Jerusalem, which hasn't seen a rocket since 1970, yet was scrambling for safety after Hamas launched an Iranian Fajr-5 missile within city limits. Luckily the attack claimed no casualties, yet demonstrates Hamas' willingness to indiscriminately fire on a city that is holy to Islam and Christianity, as well as Judaism, and home to so many Muslims and Christians.
Ultimately, rocket fire from Gaza not only poses a threat to the safety of all peoples, it also makes it infinitely more difficult to move toward a just and lasting peace arrived at through a negotiated two-state solution. The Israeli people have long shown their willingness to make difficult sacrifices and territorial compromises to end the conflict. Yet for Israelis and Palestinians to live safely side-by-side the rocket fire from Gaza must cease.
We profoundly regret the loss of life and injuries suffered on both sides. Let us hope that the ceasefire holds and the bloodshed ends. We support a two-state solution, like the Obama Administration, the Quartet, and the Netanyahu government, but this can only be achieved through bilateral negotiations rather than armed resistance or unilateral declarations at the UN.
David Shtulman is the Executive Director of the Jewish Federation of Greater Ann Arbor. email:david@jewishannarbor.org