Posted on
Thu, Oct 4, 2012 : 10:01 a.m.
Widely misdiagnosed disease takes heavy toll on couple
By Tamara Real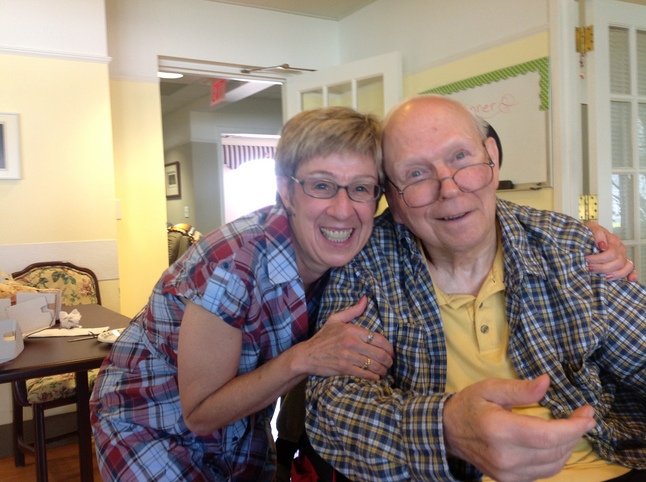 Photo courtesy of Tamara Real
In late 2008, Carl lost his sparkle. It wasn't that anything was particularly wrong, it's just that Carl didn't seem to have the zip and liveliness that he'd previously had.
He seemed sluggish and unusually tired. He didn't want to go to the monthly potluck dinners with friends anymore. "Too noisy and I can't remember everyone's names," he said.
His absentmindedness, which always seemed to reinforce the stereotype of the absent-minded professor (he was a retired U-M professor), grew more pronounced.
He just didn't seem as interested or engaged in the world around him.
And then came the fainting spells. For no apparent reason, whether sitting in a chair or standing upright, Carl experienced bouts of dizziness and lightheadedness that left him shaken. Thankfully, he only fell once (that he told me about), but the experience scared him enough that he agreed he needed to see his doctor.
I now know that these symptoms can be early signs of a dementia that affects 1.3 million Americans and is second only to Alzheimer's disease in prevalence. It's called Lewy Body Dementia, or LBD. You've probably never heard of it. Carl and I hadn't until several years later when Carl was diagnosed with it.
Lewy Body Dementia is a progressive brain disease for which there is no cure. It also is a "spectrum disorder," — meaning it can occur alone or in combination with Parkinson's disease, or co-exist with Alzheimer's disease. LBD symptoms include dementia plus any combination of: unpredictable levels of cognitive abilities, attention and alertness, changes in movement or gait, hallucinations, a sleep disorder where people physically act out their dreams, and severe medication sensitivities. The severe medication sensitivities in LBD make it a very difficult disease to treat without worsening already difficult LBD symptoms.
This last item - the sensitivity to certain medications - particularly is worrisome because LBD is as unfamiliar to many physicians as it is to the general public and misdiagnoses are alarmingly common.
In a study by the Lewy Body Dementia Association, family caregivers reported LBD was not the first diagnosis in 78 percent of cases. Most often, LBD is misdiagnosed as Alzheimer's disease, Parkinson's disease or a psychiatric disorder.
"Given the growing population of older Americans, at some point in your life LBD will likely affect someone you know," says Angela Herron, President of LBDA's Board of Directors. "The general public, and far too many primary care doctors and nurses, have never heard of LBD."
Fortunately, Carl was seen by doctors who were familiar with Lewy Body Dementia, although that diagnosis wasn't made until 2 years after our first visit. In the interim, I wracked my brains trying to figure out what was wrong with Carl. Was he more forgetful because he was depressed? Was he depressed because his memory was starting to fail him? Did he have a hearing loss, in which case if he hadn't heard something in the first place, he couldn't very well remember it.
We trekked from one doctor to the next exploring these various hypotheses while the symptoms kept piling up. Carl started making poor decisions. He began having difficulty following directions: "Can you get the silverware, napkins, and plates and set the table?" seemed to be too complex a request. He became increasingly frustrated trying to understand how to manage his email. The hallucinations were particularly alarming. Once, he watched entranced as a what he believed to be a film crew and cast of Civil War re-enactors set up in our backyard to shoot a historical movie. Most often, he saw small, non-existent animals.
A hallmark of Lewy Body Dementia is the combination of physical as well as mental changes. In 2010, Carl gave up playing his beloved trombone because he no longer had his "lip." Getting in and out of the car became increasingly challenging and finally, in 2011 he fell, broke a vertebra, and could no longer stay at home.
Today, Carl lives at Huron Woods, an outstanding assisted living facility for people with memory loss. The disease has reduced his once-beautiful singing voice to a whisper and consigned his formerly fit body to a wheelchair. Most cruel, however, is he still retains times of lucidity and is sometimes aware of his mental and physical deterioration.
That said, Carl still is the same sweet, loveable man he always was and we still kiss and have fun together. Tamara Real is the Care-Partner of Carl Rinne, and will be speaking at a free informational program about LBD which will take place from 7 to 8:30 p.m., Oct. 16, in the Multi-Purpose Room of the Ann Arbor Downtown Library, 343 S. Fifth Ave. The program is called "More Than Senior Moments — Understanding a Common Cause of Changes in Thinking and Behavior," and also will feature perspectives of a neurologist and social worker.