Posted on
Thu, Nov 17, 2011 : 3:41 p.m.
Snyder should appoint emergency manager for Detroit if city leaders don't act to fix crisis
By Guest Column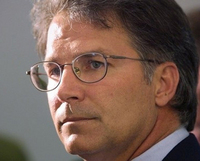 Watching the slow motion financial unraveling in Detroit brings to mind this old saying, "When you show people death they will accept serious injury."
As Mayor Bing acknowledged, Detroit is in a financial "crisis" due to the failure of elected leaders to act and lead over multiple years.
If you have a hole in your roof pretending to fix it does not keep the rain out.
The mayor and City Council must act and lead or the governor must appoint an emergency manager that will.
City officials have known about the problems of declining tax base and rising and unsustainable health care and pension costs for years and have failed to take action to address these structural fiscal issues.
If the governor enacts the Emergency Manager law it is not a power grab by the state. To the contrary, it is responsible leadership.
Local elected officials and unions must come together to fix the structural budget problems in Detroit (and other local units of government as well)--- or the governor should do so.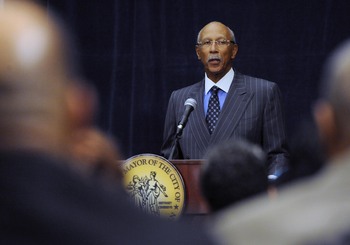 AP Photo | Detroit News, Daniel Mears
The tough Emergency Manager law provides the tools to exert necessary change -- change that local elected officials were unable or unwilling to make.
Consider telling your teenager to clean their room. If they don't, the consequence is that they won't be using the family car to go out on Friday night. If your teen does not clean their room, Friday night rolls around and you allow them to go out anyway, even filling the gas tank and giving them $50 spending money, do you really think they took your threat seriously? Of course not.
This is similar to the situation under the prior Emergency Financial Manager law. All bark and no bite. There must be consequences for failing to act responsibly.
Irresponsible local school districts and municipalities have been over spending their budgets for years, making financial promises they don't have the funds to honor. All the while the state threatened them with reprisals -- never following through.
Guess what? Superintendents, school boards, city managers, mayors and city councils learned there were no consequences for their inactions and in some cases misdeeds, so they continued their pretending and spending ways. No surprise.
Gov. Snyder and the Legislature have provided the needed teeth, or consequences for local elected officials that over the years have failed to act in a responsible manner. Don't clean your room -- there WILL be consequences.
To say this law strips local officials of their authority is absurd. These local officials have not performed their responsibilities for years, thumbing their noses at the taxpayers and their constitutional responsibilities.
Early in my tenure as state school superintendent (2001-2005), I met with Inkster school officials who had been running deficits, (fiscally AND academically) and refusing to provide a sensible plan to address the deficit. I had no interest in running a local school, however, if the school board and superintendent would not clean up the mess, I told them I would.
They did not and with the support of then-Gov. Engler and the Legislative leadership, the governor appointed the first emergency financial manager (EFM) for a local school district.
Gov. Granholm subsequently extended the emergency financial manager's tenure -- because the historical mess was yet to be cleaned up.
I also foreshadowed the brewing crisis of unsustainable health and pension plans in this report: michigan.gov/documents/michiganschoolfunding_110803_7.pdf
As a state we cannot pretend to enact needed change. Real change, requires REAL change.
The bankruptcy of GM and Chrysler are examples of what happens when leaders fail to act.
Are the consequences of an emergency manager a touch draconian? The law allows for the potential to strip power from locally elected leaders and scrapping union contracts. Absolutely it is.
These powers should ONLY be used if/when all else fails. The troubling fact is -- all else has failed for far too long. Yet, if elected officials do their jobs, these consequences would never come to pass.
Gov. Snyder and the Legislature were right to provide teeth to the new law and ask the Supreme Court to rule on the constitutionality of this law as "expeditiously as possible."
Without consequences local municipalities and school districts "rooms" would never be clean.
So, Detroit -- what will it be -- death or serious injury? It is a local decision.
Tom Watkins is a former state school superintendent and a recipient of the 2011 Detroit Regional Chamber Leadership Detroit Lifetime Achievement Award. He represented Detroit in reforming Wayne County as a charter commissioner in the 1980s. He can be reached at tdwatkins88@gmail.com.