Posted on
Wed, May 26, 2010 : 2:07 p.m.
Opponent criticizes David Rutledge for $4,000 dinner funded by Washtenaw County taxpayers
By Ryan J. Stanton
Democrat Lonnie Scott went on the offensive today, criticizing fellow 54th District state representative candidate David Rutledge for his role in a controversial, taxpayer-funded dinner with the Washtenaw Community College Board of Trustees.
The dinner, which took place in March at Detroit's 24grille restaurant, was part of a weekend-long retreat at which Rutledge and other trustees voted for a 10 percent tuition increase.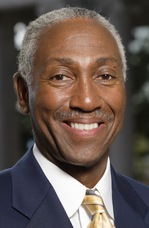 The total bill for the weekend came to more than $9,000, of which $4,024 went to the dinner.
College officials estimated 20 to 22 people attended the dinner at a cost of more than $180 per person. According to WCC President Larry Whitworth, the tab also included nearly $600 for alcohol.
"This tuition increase comes at a time when many families in Washtenaw County and the 54th District are struggling," Scott said in a statement today. "Couple that with the news of this $4,000 dinner, and the whole thing is very hard to stomach."
Scott said he considered $180 an excessive sum for a single meal.
"It's more than some families in our district spend on food in an entire month," he said.
Rutledge, who has been on the college's board nearly 13 years, defended the expenses, saying they were budgeted. He said the retreat provided an opportunity for long-term visioning.
"When you're doing this kind of activity, it does not come free," he said. "If my opponent can't find anything better than that to come after me with then I would say I will stand by the $4,000. It's money well invested in the future of Washtenaw Community College."
Rutledge said his only regret was that it wasn't even a good dinner.
"We shouldn't have spent as much as we spent for what we got," he said.
Scott disagreed with Rutledge's sentiment and commended Trustee Mark Freeman for not attending what he considered a waste of taxpayer money.
"Part of the problem in Lansing right now is that some people believe that if it is budgeted we should spend it all," Scott said. "To me, waste is waste. In these tough economic times, every dollar counts. The actions of the trustees strike me as an example of politicians thinking that they are somehow above making sacrifices. The cost of that dinner alone could have offset the tuition increase for 47 full-time students. I don't believe this is the type of decision-making we need representing the 54th District in Lansing."
Rutledge said he stands by his record and pointed out Washtenaw Community College recently received the highest accreditation report a community college can receive.
Based on his experience as a consultant, he added spending more than $9,000 for a board retreat is considered low by industry standards.
"Because of my involvement nationally with community colleges, I am invited routinely to other community colleges to run the type of retreat that we held," Rutledge said. "I'm brought in as a facilitator to do that type of thing in other places, the latest being Chicago. And what we spent as Washtenaw Community College for a retreat like that pales to what is the normal investment by a community college for its board retreat."
Scott said the issue shows a stark contrast between him and Rutledge. Scott recently took a leave of absence from his position as legislative director in Rep. Alma Wheeler Smith's office so no one could question whether the state was paying him while he campaigned.
"With the struggles the state and our residents face daily, we need experienced, ethical leadership in Lansing, and I am the candidate who brings those qualifications," he said.
Rutledge, who also is chairman of the Washtenaw County Road Commission, said he thinks the collective experience of his opponents pales in comparison to his many years of public service.
Six Democrats are running in the Aug. 3 primary for a chance to replace Smith, who is term-limited, in the state House's 54th District. In addition to Rutledge and Scott, Michael White, Bill Riney, Dave Franklin and Edison Hubert are on the ballot.
On the Republican ticket, Rodney Nanney and Richard Deitering are facing off. The party nominees will advance to the November general election, where David Palmer is expected to run as an independent.
Click here for a list of candidates running for office in Washtenaw County.
Ryan J. Stanton covers government for AnnArbor.com. Reach him at ryanstanton@annarbor.com or 734-623-2529.