Posted on
Sun, Aug 18, 2013 : 5:59 a.m.
Orange barrel season continues: Ann Arbor midway through major road projects
By Amy Biolchini
Orange barrels that sprouted along Ann Arbor roadways this spring are not quite ready to be plucked from the streets.
Major construction projects on two routes — Miller Avenue and Madison Street — are halfway completed, city officials say, and new work is about to begin on Packard Street Monday.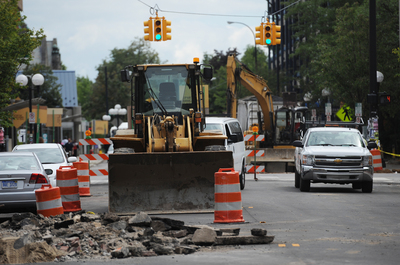 Melanie Maxwell | AnnArbor.com file photo
"We're still in the midst of major construction: With Miller and Madison going on, we're right in the middle of it," said
Nick Hutchinson
, interim manager for the city's project management unit.
A $6.5 million project on Miller Avenue that began in early April is still underway. The project entails reconstructing the road between Maple and Newport roads, improving bicycle lanes and adding pedestrian islands and new left-turn lanes.
Hutchinson said he anticipates the work will be complete by early to mid-November.
Mid-November is also when a $3.16 million reconstruction of Madison Street on the west side of Ann Arbor should be completed, Hutchinson said. From Seventh to Main streets, workers have been replacing an undersized water main and preparing to repave the street.
A complete overhaul of two blocks of South Fourth Avenue in downtown Ann Arbor was finished in early August, and a repaving project on Barton Drive is about to draw to a close this month, Hutchinson said.
Monday marks the beginning of a 10-week-long project on Packard Street from Coler Road to Eisenhower Boulevard. One lane of traffic will be maintained in each direction while the road is resurfaced, configured to three lanes and bicycle lanes are added.
Following Labor Day weekend, a complete reconstruction of South Forest Avenue from South University to Hill Street will begin.
The project, which is scheduled for completion in early November, is similar to the reconstruction and installation of the new storm water system on Fourth Avenue.
On the boundary of Ann Arbor and Pittsfield Township, the roundabout under construction at State Street and Ellsworth Road is behind schedule due to unexpected complications with the replacement of a water main. The project was expected to end by the beginning of October.
Crews are in their third out of four phases of work on the project, during which Ellsworth Road to the east of the intersection is completely closed to through traffic.
The Michigan Department of Transportation's largest project in the Ann Arbor area this summer — joint repair to nine miles of Interstate 94, as well as a mill and resurfacing of three miles — has been completed.
MDOT only had enough funds to mill and resurface three of the nine miles of I-94 that had been under construction. The three miles that were resurfaced run from the Scio Church Road overpass to the railroad overpass near State Street.
MDOT is now searching for additional funding to be able to mill the top layer of pavement off and resurface the remaining six miles of I-94 through Ann Arbor that didn't receive that treatment, said Mark Sweeney, manager of MDOT's Brighton post.
Outside of Ann Arbor, several major construction projects coordinated by the Washtenaw County Road Commission have been significantly completed.
However, two are about to begin:
Monday will mark the beginning of a major construction project in Ypsilanti Township: Michigan Avenue from just north of I-94 to the city limits of Ypsilanti will be completely resurfaced. The work will put Michigan Avenue on a "road diet"—which will reduce the road from four lanes to three. One lane of traffic will be maintained in each direction.
Repaving work will close a portion of North Territorial Road in Salem Township beginning Wednesday for a week. The road will be closed from Pontiac Trail to Curtis Road.
Construction of a roundabout at Geddes and Ridge roads in Superior Township is on track to be completed by Aug. 30. Crews poured curbs for the roundabout last week and will begin concrete paving this coming week. The intersection has been closed since mid-June for the work.
The replacement of the Ford Boulevard Bridge in Ypsilanti Township was progressing on schedule until Wednesday, when a man is believed to have committed arson on one of the two cranes at the site.
The total loss of one of the cranes has meant that work has been halted until the contractor can find a new crane to rent. Two cranes are needed to prepare the framework so the concrete bridge deck can be poured.
The project was supposed to be completed at the end of August. It's unclear how the destroyed crane will affect the completion date.
Amy Biolchini is the K-12 education reporter for AnnArbor.com. Reach her at (734) 623-2552, amybiolchini@annarbor.com or on Twitter.