Posted on
Mon, Nov 28, 2011 : 10:32 a.m.
Overnight snowfall could bring messy Wednesday commute, but will you have to shovel?
By Cindy Heflin
The first measurable snowfall of the season could snarl the Wednesday morning commute in the Ann Arbor area, the National Weather Service says, but with a little luck you may not have to shovel in the aftermath.
The Ann Arbor area could get anywhere from less than an inch to 3 inches of snow overnight Tuesday, said Debra Elliott, observation program leader at the National Weather Service in White Lake Township.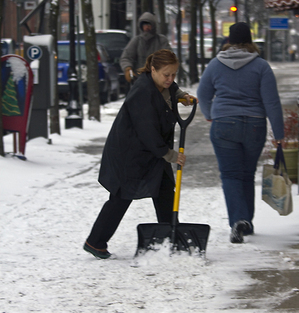 Steve Pepple | AnnArbor.com
Areas to the east of US-23 will likely get less than an inch of snow, Elliott said, while areas to the west could get up to 3 inches.
Since Ann Arbor is right on the line, it could go either way.
"My guess would be that you're going to be on the lesser end of it," Elliott said. "Prepare for the worst and hope for the best."
The confluence of two low-pressure systems is to blame for this bit of late-autumn snowfall. A system moving up from the Gulf of Mexico will bring a lot of precipitation, starting with rain tonight, Elliott said.
As the storm moves to the north and east, cold air coming down from a low-pressure system in Canada will cause temperatures to drop and the rain to switch over to snow.
The Ann Arbor area can expect from 1 to 2 inches of rain by Tuesday night, when it will begin to mix with snow and then likely change to all snow after midnight.
Wednesday morning, skies will begin to clear Elliott said, but temperatures will remain much colder, with daytime highs in the 30s to near 40 for the rest of the week and nighttime lows in the 20s, possibly dipping into the teens Friday night. Snow showers are also possible Thursday night and Friday night.
While the prospect of slick roads and the need to shovel the walk may bring out the curmudgeon in all of us, Elliott offered a bit of perspective.
"It's almost December so we've been pretty good at keeping it at bay," she said. "It's going to happen one of these days."
For updated forecasts and conditions anytime, visit Annarbor.com's weather page.