Posted on
Wed, Feb 10, 2010 : 11:27 a.m.
Overweight men have higher chance of surviving a car crash, University of Michigan study finds
By Tina Reed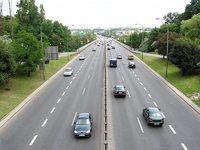 Men who are overweight have a higher chance of surviving a car crash if they're wearing a safety belt, a University of Michigan study found.
The U-M Transportation Research Institute study found men who were overweight had a 22 percent lower chance of being killed in a fatal crash than men who are underweight.
But the opposite was true if overweight weren't buckled in. According to the study, men with a body mass index between 35 and 50 were 10 percent more likely to be killed in an auto accident.
The researchers were analyzing data of more than 300,000 drivers involved in fatal crashes in the U.S. between 1998 and 2008 from the National Highway Traffic Safety Administration.
Female drivers are 1.1 times more likely than male drivers to die in a fatal traffic crash. There was no statistically significant link between a female driver's BMI and likelihood of dying in a crash due to being belted in.
Overall, drivers who don't wear safety belts are 2.1 times more likely to die in a fatal crash than those who are belted.
The researchers suggested design of airbags, safety belts, knee restraints and seats might need to be redesigned to protect people who have extreme BMIs.
"At a similar BMI, men are generally heavier than women because of height differences. Therefore, a man is more likely to overload the airbag, resulting in the increase in risk with increasing BMI for unbelted men. The decrease in risk with increasing BMI for belted men is likely because the safety belt tends to prevent this overloading," Michael Sivak, research professor and head of UMTRI's Human Factors Division, said in a release.
The results were published in the current issue of the journal Traffic Injury Prevention.
Tina Reed covers health and the environment for AnnArbor.com. You can reach her at tinareed@annarbor.com, call her at 734-623-2535 or find her on Twitter @TreedinAA.