Posted on
Fri, Nov 18, 2011 : 10:09 p.m.
Owner asks thief to return missing crossing guard sign from Beakes Street
By Paula Gardner
Neighbors are rallying around Johnnie Mae Seeley this week as they spread the word of the missing "little man" stolen from her yard.
That "little man" is a vintage metal crossing guard sign found by her late husband and mounted next to the fence at their home at North Fourth Avenue and Beakes - until it was stolen last weekend.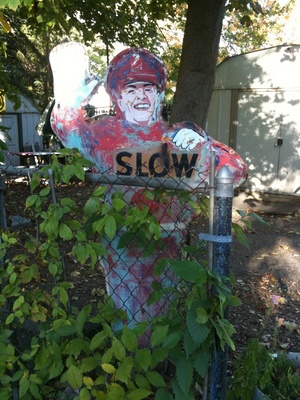 Margaret Schankler
Seeley and her neighbors want the figure returned: It's a neighborhood landmark and an important memento that her late husband valued, she told WDIV-TV for a video report.
Commenters on AnnArbor.com's report of the theft speculated about reasons for the theft: It could be a campus prank, they said, or scrappers could have tried to profit with it.
Another commenter found a link to a damaged version of the figure listed for sale on a Canadian website.
Wystan Stevens posted a link showing what the "little man" looked like when he was pristine.
And one commenter seemed to sum up much of the reaction: "This guy not only means more to Mrs. Seeley than you know, it also means a lot to this neighborhood. I hope that the guilty party quietly returns him soon. Mr. Seeley hunted that thing down last time it was taken and cemented it in the ground to try to prevent this from occurring. The Seeleys contributed so much to this town and neighborhood."
Another reminded readers: "If you have any information about the whereabouts of the Little Man, please call the Ann Arbor police desk, 994-6920, and refer to case number 11-56130."