Posted on
Mon, Apr 9, 2012 : 5:47 p.m.
Owner loses 'basically everything' when home struck by lightning last year burns
By Kyle Feldscher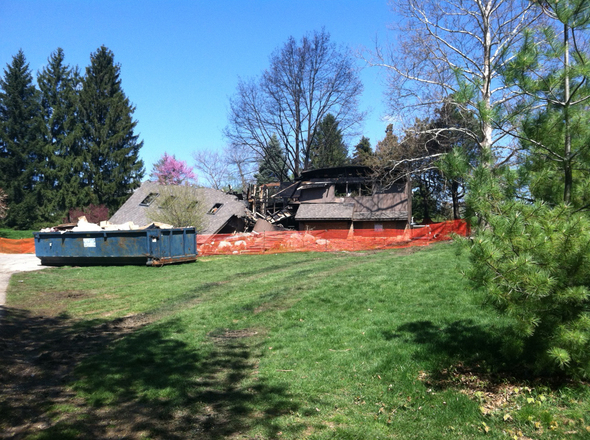 Paula Gardner | AnnArbor.com
John Morris and his wife, Michelle, spent all of Friday moving their possessions into their home on Hunting Valley Drive, excited at the prospect of returning to the home they left after it was struck by lightning in July.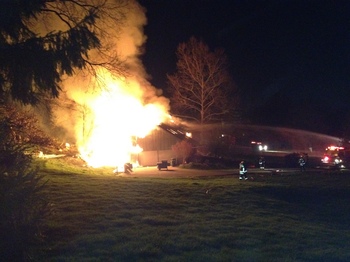 Photo courtesy of Nicholas Ferrario
They left the home at about 9 p.m. A little more than two hours later, that happy future had gone up in flames.
Morris, an orthopedic surgeon at St. Joseph Mercy Hospital, and Michelle Morris were notified at about midnight that their home at 3125 Hunting Valley Drive was engulfed in flames. It was an unfair twist of fate for the couple, who left the home after a July lightning strike damaged the exterior of the home.
"Something dramatic happened, going from being fine to totally engulfed in flames," he said. "I'm just dumbfounded, and we just lost basically everything. We have to start all over again."
Ann Arbor firefighters were dispatched to the home at about 11:11 p.m. Friday, initially being told they were going to a bonfire, according to a statement released Monday. While on their way to the home, the call was changed to a structure fire, and firefighters learned the two-story home was engulfed in flames.
The cause of the fire still is under investigation and foul play hasn't been totally ruled out, John Morris said. When speaking to AnnArbor.com Monday afternoon, he said he asked investigators if they had ever seen a home go up so quickly without some sort of accelerant. They said it's possible, according to Morris.
He and his wife have been living in a rental house since they were originally forced to leave the home. When the Hunting Valley Drive home was struck by lightning in July, a small fire damaged part of the roof and the side of the house but all of the family's possessions were spared, he said.
The home was struck July 28 on the east side, with the charge causing the gas meter to explode, Morris said. Although he woke up after the loud noise, he went back to bed because all the power in the home was evidently still on. A few minutes later, he was woken up by a neighbor pounding on the door, alerting him that the home's roof was burning.
Firefighters extinguished the blaze but had to return a few hours later when the fire rekindled, Morris said.
Most of the family's possessions were in storage or at the rental home during the ensuing months, but the time had finally come to return them to the home on Hunting Valley Drive. Morris said all was well when he left at about 9 p.m.; all was well when he talked to a neighbor on the phone at about 10 p.m.; all was well when a neighbor's aide went by the home at about 10:45 p.m.
Investigators still are trying to figure out what happened after that, he said.
"It's a grieving process," Morris said, his voice cracking with emotion.
It took about an hour for Ann Arbor firefighters, with help from the Pittsfield Township Fire Department, to get the fire under control. Crews were on scene for hours afterward, working to prevent the fire from rekindling and burning what remained of the home.
Firefighters initially estimated the loss at $500,000 to the home and $150,000 for the contents of the house. The house was a total loss, according to fire department officials.
Morris said he's thinking about rebuilding the home on the same spot, but is more concerned about where he and his wife will live after their rental home is sold.
"We're just going to have to stay where we're at for now," he said.
Kyle Feldscher covers cops and courts for AnnArbor.com. He can be reached at kylefeldscher@annarbor.com or you can follow him on Twitter.