With videos, and poll:

Panelists agree: Negative political ads distract from real issues Michigan's next leaders must face

Posted on Wed, Oct 13, 2010 : 6:03 a.m.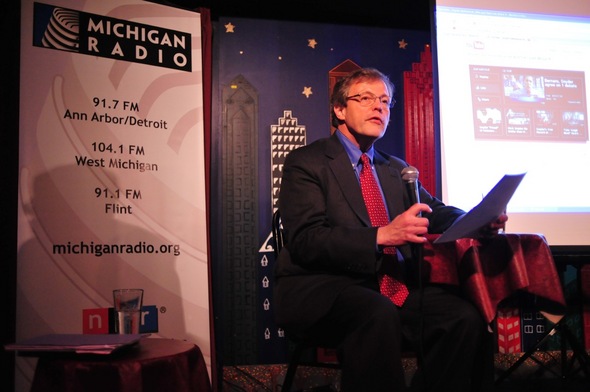 Ryan J. Stanton | AnnArbor.com
Michigan Radio's Jack Lessenberry recalls a conversation he had over lunch with state Attorney General Mike Cox in early August.
Cox had just suffered defeat in the Republican gubernatorial primary, falling to Ann Arbor businessman Rick Snyder. And he wasn't happy about it.
"He was complaining bitterly," Lessenberry said. "He said, 'I've got all these good things that I could have done for the state, and I understand Detroit, and I understand all this other stuff,' which was not reflected in his campaign. And I said, 'Well, why in that case did you not communicate that? Why did you run a solely negative campaign attacking your opponents?'"
Lessenberry said Cox responded: "Because positive advertising never works."
Did Cox have a point?
Susan Demas, a Lansing-based political columnist and Michigan Truth Squad referee, said during a forum Tuesday night such a hypothesis hasn't been tested very often. But Snyder found a path to victory while running a mostly positive campaign in the primary, she noted.
"He won by 9 points in the primary, and he didn't run a lot of negative ads," she said. "He just ... spent $7 million. Now maybe that's one lesson: have $7 million to spend."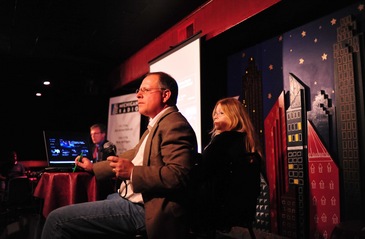 Ryan J. Stanton | AnnArbor.com
Lessenberry and Demas were joined by John Bebow, executive director of the Ann Arbor-based Center for Michigan, for a panel discussion on the 2010 elections in Michigan. Together, they took a close look at some of the dirtiest political ads of the season.
Nearly 100 people filtered into the Ann Arbor Comedy Showcase for the free event dubbed "Issues and Ale," an attempt to separate fact from fiction.
"It's been a long campaign season, we need a beer, and it looks like a lot of citizens need a beer, too," Bebow said before the event.
Bebow and Demas are part of a team that has been blowing the whistle and calling fouls on false and misleading political ads through www.MichiganTruthSquad.com.
"I think the Michigan Truth Squad is one of the best developments in politics in this state in a long time, and as most of you have figured out, I'm old," Lessenberry said Tuesday night.
The Center for Michigan, which started the Truth Squad this year, is a "think-and-do" tank headquartered in Ann Arbor that encourages bipartisan policymaking in Lansing.
"We launched the Truth Squad this year because, when we were just getting started four years ago, we were noticing some really awful attack ads," Bebow said. "One was the 'slow boat to China' ad against Dick DeVos. Just about the same day that launched, I got a mailer in my mailbox at home that basically claimed that Jennifer Granholm was a she-devil because Madonna had given her $100 at one point. So we kind of tucked all of those materials away and said, 'When 2010 rolls around, we're going to try to have some fun with these ads.'"
The three panelists kept the crowd laughing Tuesday night as they spent a little more than an hour watching and dissecting political ads that have appeared both online and on television, including several in the gubernatorial race between Snyder and Virg Bernero, the Democratic mayor of Lansing.
'Priceless' TV ad
The first ad the crowd watched Tuesday night was an attack on Bernero for spending $2,699 in taxpayer money to maintain an office aquarium, $20,012 on food, and $1,277 on pencils. The ad was paid for by the Republican Governors Association, which said it found the expenses by acquiring purchase receipts from Bernero's city credit card.
"Well, Republicans could take solace from the fact that, if he ate like this all the time, the cholesterol would kill him," Lessenberry joked of the steak dinner shown in the ad.
Demas said the ad earned a "warning" from the Truth Squad.
"There were a lot of questions that were raised by this ad," she said. "First of all, the source of these figures appears to be Mayor Bernero's credit card statements. That's what the RGA says. However, they would not give us those receipts so we could look them over, so that raises a flag with us. If you're going to make the claim, back it up."
Demas said it's also unclear what time period the expenses covered.
"They wouldn't tell us that either," she said, though she noted the Truth Squad was able to put the expenses into some context. "As far as the percentage of Lansing's city budget … these expenses would be 0.0002 percent, so not exactly breaking the bank."
Snyder's Gateway record
The second ad the panel looked at Tuesday night was an attack the Michigan Democratic Party launched on Snyder's record at Gateway Computers.
The ad claimed when Snyder was a director and CEO at Gateway, the company eliminated 19,000 American jobs and outsourced work to China. It also said Snyder cashed out $14 million in stocks before selling what was left of Gateway to a Chinese company.
Snyder has not disputed the $14 million figure, though the ad wasn't exactly factual in stating Gateway was sold to a Chinese company — it actually was sold to Taiwan-based Acer Inc.
Demas said the outsourcing attacks on Snyder are misleading.
"It's true that Gateway did outsource jobs," she said. "Most of this took place when Rick Snyder was not in management, when he was sitting on the board. But they want to make the claim that Rick is personally responsible for these, and there's no smoking gun that this was his call."
Gateway shed 19,400 jobs from 2001 to 2007, according to annual reports filed with the Securities and Exchange Commission.
According to the Truth Squad, Snyder was executive vice president of Gateway from 1991 to 1996 when he was promoted to president and chief operating officer. He left active management in 1997 to start a venture capital fund in Ann Arbor, but remained on Gateway's board of directors until the company was sold to Acer Inc. in 2007. Snyder also briefly served as interim CEO of Gateway in 2006 before the company was sold.
"We gave it a foul for misleading representation of Snyder's record at Gateway," Bebow said of the ad. "When he was CEO in the '90s, they had incredible job growth."
The latest gubernatorial ad
The panel also took a look Tuesday night at a brand-new ad released by the Democratic Party, showing scenes from Sunday's gubernatorial debate in which Bernero alleged one of Snyder's companies, Discera Inc., has opened a new office in China. The ad shows Snyder denying Bernero's claim. The claim turned out to be true, though it was only a small sales office.
"That was definitely a flub by Snyder, and I'm sure he's kicking himself for doing that in the debate on Sunday," Demas said of Snyder's denial. "A few minutes later, his campaign put out a paper downplaying the significance of the office, but that part of it is true, even though obviously they clipped it to look as negative as possible."
Bebow pointed out Tuesday night that the Truth Squad recently helped shame the Michigan Republican Party into taking down an online ad called "Pure Lansing," which had painted a grim picture of Bernero's city in an attempt to portray him as an ineffective leader.
"It was unfair, out of bounds, out of line," he said. "It was a bunch of videos going through Lansing, saying people in Lansing have family values and now they get more time with their family because none of them have any jobs and it's boarded up houses left and right."
The fact is, Bebow said, Lansing has one of the lowest unemployment rates in the state, and there's a lot of evidence the city is diversifying its economy and bringing in new jobs.
"Almost anything goes, and I think that's part of why we're doing this," Bebow said of political attack ads that have run rampant in Michigan. "We're trying to point out that, as long as we're supporting organizations with donations that will do this kind of thing, the further removed we get from real-issues discussion about our state's future."
Bebow said the attacks distract from the real issues the next governor will face.
"They have to deal with downsizing of government, trying to provide services to local citizens, trying to navigate some very nasty conflicts in how we educate our kids," he said. "We're not hearing about that. We asked 19 questions in the debate the other night, and that is as deep as it's going to get. And there were plenty of concerns that wasn't deep enough."
Demas said she thinks some of the independent groups that have popped up only to launch political attack ads may run into trouble with the IRS.
"A lot of these groups are just popping up to slam certain candidates and they're breaking laws, so it will be interesting to track what happens with these organizations in a few years, because I know the IRS is looking at a lot of these groups," she said.
'On duty for Big Oil' ad
Another ad the panel looked at Tuesday night was a Democratic Party attack on Republican attorney general candidate Bill Schuette. The ad showed an oil-covered Gulf Coast with an economy in ruins, and said Schuette wants to drill for oil in the Great Lakes.
The Truth Squad called foul on it.
"We have a ban on Great Lakes drilling in the state. There's also a federal ban," Demas said. "So I think this doomsday scenario is not going to happen anytime soon. As far as Schuette's position goes, he did change his position, he had supported some drilling, but he voted on the ban, which of course you can't get from that ad."
'Liberal Harvard elitists' ad
Another ad paid for by the Republican Party showed a cartoon of Democratic secretary of state candidate Jocelyn Benson riding in a car with Democratic Gov. Jennifer Granholm. The ad made several comparisons between the two, calling them both "liberal Harvard elitists."
Demas said the Truth Squad took special exception to the derogatory remarks about Benson appearing in a spread in Glamour Magazine. In fact, Benson appeared in the magazine because she was one of the "Top Ten College Women" of 1998, which isn't mentioned.
'Soft on crime' ad
Another ad paid for by the Republican Party attacks Genesee County Prosecutor David Leyton, the Democratic candidate for attorney general. The ad juxtaposes news headlines about violent crime in Flint with an interview with Leyton about his role as prosecutor.
"Basically, they cherry picked a bunch of really negative stories about Flint," Demas said. "They just wanted to make him look as bad as possible."
"It's just a pure character assassination from the minute it starts," Bebow added.
It's the third online ad the Michigan Republican Party has run blasting Leyton for being "soft on crime." All three spots have earned fouls from the Truth Squad.