Posted on
Thu, Mar 24, 2011 : 5:59 a.m.
Panhandler's paradise: One man's story, and what an Ann Arbor task force report has to say about panhandling
By Ryan J. Stanton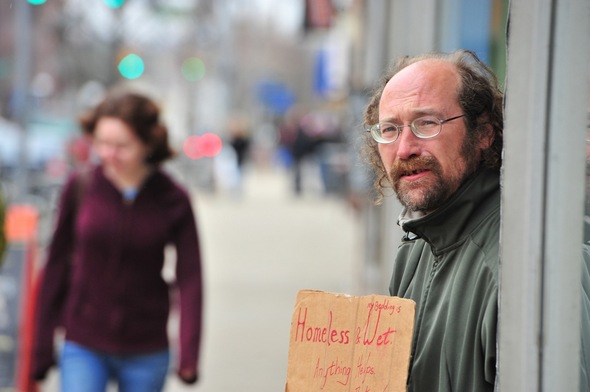 Ryan J. Stanton | AnnArbor.com
It's early in the afternoon and 42-year-old
Gwyddion Storm
has about five or six dollars collected in a faded cap that sits on the sidewalk in front of him.
In red marker, his cardboard sign reads: "Homeless & Wet. Anything Helps." He's perched in front of a store on Liberty Street in downtown Ann Arbor, one of his usual spots.
"If you want to have any kind of spending money for tobacco, coffee, extra food, whatever, then you've got two choices," says Storm, who is homeless. "You can either collect cans, which is really time consuming and doesn't pay off that well … so panhandling is kind of the way I make my money. And I don't really consider myself a panhandler. I'm a professional beggar."
Storm isn't alone. Within a block of him, not far from the downtown Borders bookstore, are at least four other panhandlers, all of them casually asking passersby for spare change.
Storm knows some of them, and he knows their stories. He knows Ann Arbor's panhandling culture. He knows a number of them have mental illness or substance abuse problems, and some of the more aggressive ones, as he explains it, are just out "crack spanging."
"I'm not aggressive," Storm says. "I sit here with a sign and a hat. Those do the begging. I just say, 'Good morning, good afternoon, good evening' — whatever."
Pondering panhandling
Police Chief Barnett Jones said last summer that aggressive panhandling had become the No. 1 crime in Ann Arbor. The city reconvened a task force in September to look into the issue.
After six months of work, a 42-page report from the Mayor's Street Outreach Task Force was presented to the Ann Arbor City Council this week.
The report recommends revisions to the city's solicitation ordinance to expand the areas where panhandling is prohibited. It also requests the police chief and city administrator refocus police attention in the downtown area, with targeted foot patrols during busy hours.
Ryan J. Stanton | AnnArbor.com
Perhaps more importantly, the task force is recommending the launch of a community campaign called "Have a Heart, Give Smart," an effort to address what it found are often the root causes of panhandling and homelessness: substance abuse and mental illness.
The campaign will encourage people to stop giving their money to individuals on the street, potentially feeding drug and alcohol addictions, and to instead make donations to local human service agencies that provide help for those in need.
"The truth is, if you want to make a difference in somebody's life, you want to help them get off the street, then yeah, that's the way to do it," said City Council Member Sabra Briere, D-1st Ward, who chaired the 12-member task force.
In talking with several panhandlers in Ann Arbor, the task force learned that not all panhandlers are homeless, though some certainly are. And each panhandler has his or her own story.
"Mostly, they're his stories," Briere said. "Many of them have mental illness as well as substance abuse problems. The big thing I learned, though, was that when offered help, they all had plans for how they were going to solve their problems, but none of them wanted help today."
The task force found some panhandlers work as part of a group, earning hundreds of dollars a day and paying rent. Some have territories, and many are familiar faces downtown.
Some are youths, attracted to a lifestyle they see as romantic. In some cases, those youths return to their parents' homes each night. In other cases, they roam the streets all summer.
That was the case last summer when several teenagers and young adults came to Ann Arbor for an underground festival known as "Punk Week." Their aggressive panhandling caused many downtown businesses concern, and some of their behavior led to arrests.
The task force is recommending a new program of educational outreach, part of which suggests the University of Michigan's orientation program for new students should include information about panhandling and safety net services available in the community. The task force plans to launch a web site called a2cares.org to direct donations to service providers like Dawn Farm, the Delonis Center, Home of New Vision and Food Gatherers.
The task force also has drawn up small cards that provide information on free services available to those in need, including food, shelter and sobriety help. The cards, expected to go into production in June, stress that panhandling is typically a symptom of a greater need.
Other promotional materials, such as bumper stickers and posters, will be printed and distributed with financial support from the DDA and downtown merchant associations.
The report acknowledges that panhandling is an expression of free speech protected under the First Amendment. So, the task force's approach wasn't to end the activity, but rather to better understand the unmet needs in the community, as well as how to balance the rights of those who panhandle with the rights of others who want to feel safe downtown.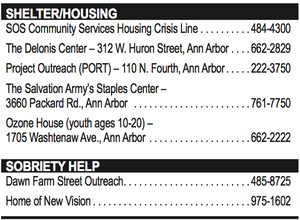 The city's current solicitation ordinance prohibits panhandling in specific areas, such as on public buses, inside or near parking structures, from a person in a vehicle, from customers in outdoor seating areas, within 12 feet of a bank or ATM, or within 12 feet of Nickels Arcade, the Galleria and the Pratt Building on Main Street.
An ordinance amendment Briere plans to bring to the City Council next month would make it so panhandling also is prohibited in front of the downtown library or within 12 feet of a public alley.
The ordinance would continue to prohibit aggressive panhandling, which is described as moving within two feet of a person solicited, following and continuing to solicit a person who walks away, knowingly making a false or misleading representation when soliciting, soliciting in a manner that is intimidating or threatening, or obstructing the free passage of traffic.
The task force is requesting the city's community standards officers increase their interaction with the public and report any aggressive panhandling situations to police.
"We know we have limited police resources, but a lot can be done with simply better enforcement of existing ordinances," said Ray Detter, chairman of the Downtown Area Citizens Advisory Council and a task force member.
A reason for staying
Originally from Columbus, Ohio, Storm says he's traveled the country over, from one ocean to the other and back, five times, mostly hitchhiking. He came to Ann Arbor last summer after he heard a Michigan tourism ad on TV beckoning him to "seek a pleasant peninsula."
"This is the first time I've ever really settled in one place and really needed to do this for a long period of time," he says. "Most of the time I'm not in a place very long."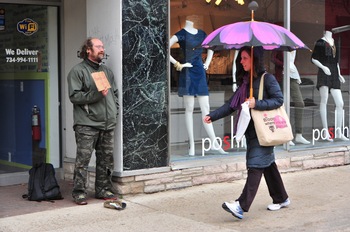 Ryan J. Stanton | AnnArbor.com
He's living in a tent north of downtown in a location he calls "the hidden arb." He says it's just him and another guy right now, but there are others who keep tents pitched there.
Storm is open about why he's homeless and panhandling. It's not because he has substance abuse problems, he says, though he does enjoy a cold beer at the end of the day. Rather, he says, it's because he has mental health issues.
"I have chronic depression and my psychiatrist tells me I also have a personality disorder, and what that basically means is that I've been fired from every job I've ever had," he says. "I've done everything from pumping gas to being a clerk in a nuclear power plant. But at this point, you know, 40 jobs in 20 years, you put that on an application and they're like, 'Uh, next.'"
Asked how much money he makes panhandling in Ann Arbor, Storm replies, "In the summertime, you can make $20 or $30 a day. In the wintertime, it's more like $5 or $10."
Storm says he's found Ann Arbor to be a friendly place, and the community's safety net services have kept him here. He regularly eats meals at the Delonis Center, and he relies on the mental health services of PORT, an outreach team that serves individuals in Washtenaw County who are homeless and those in the justice system who need mental health assistance.
"That's one of the main reasons that I really decided to stay in Ann Arbor," Storm says. "Back in my hometown of Columbus, Ohio, they have nothing like that."
Storm says he's not interested in staying in a homeless shelter. "I don't like being there," he explains. "I've been in lots of homeless shelters everywhere and they're all institutionalized. It's like self-admitted jail. You know, you have no freedom once you go in there until you leave."
So, for the foreseeable future, the streets of Ann Arbor will continue to be Storm's playground and, like many others, panhandling will be his game.
Ryan J. Stanton covers government and politics for AnnArbor.com. Reach him at ryanstanton@annarbor.com or 734-623-2529. You also can follow him on Twitter or subscribe to AnnArbor.com's e-mail newsletters.