Posted on
Sun, Feb 19, 2012 : 5:59 a.m.
Panhandling on freeway ramps: State trooper tries to make a difference one person at a time
By Cindy Heflin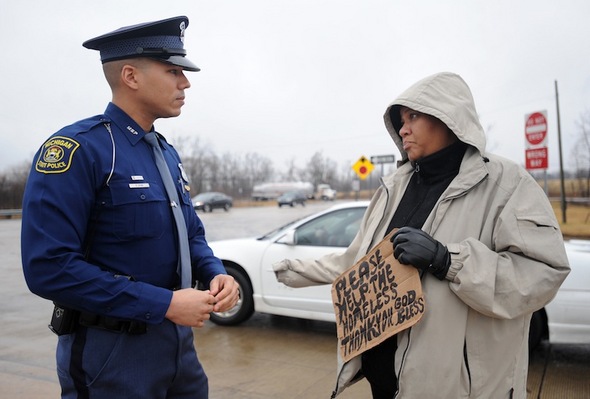 Angela Cesere | AnnArbor.com
It was the man who froze to death that did it for
Duane Zook
.
Like everyone who drives around Ann Arbor, Zook had seen people standing at the end of highway exit ramps. They hold signs bearing messages like "Will work for food" or "Homeless vet. Please help."
But after 41-year-old Timothy Rogers froze to death in December 2007 near the Ann Arbor-Saline Road exit from Interstate 94, Zook decided it was time to do something. Zook had seen Rogers panhandling on the ramp during the summer and fall of that year, but he had never stopped to talk to him.
He wondered, "Who are these people?"
To give or not?
Drivers who give money to highway ramp panhandlers should be aware that the money donated often goes to feed a drug or alcohol habit, experts say.
Instead, Zook suggests calling an agency like Project Outreach, which helps homeless people with mental health and substance abuse problems find needed services.
To reach Project Outreach, call (734) 222-3750
Zook, a community service trooper with the Michigan State Police, began engaging the panhandlers he saw on the freeways in the Washtenaw County area. The stories he heard were troubling. Tales of homelessness, heroin addiction and alcoholism. People who were clearly in danger of dying from overdose or the elements. People who weren't willing or able to solve their own problems.
"They will not seek help on their own," he says.
So, Zook began trying to force the issue. His goal is twofold: To stop, or at least cut down on, the panhandling at the ramps, and to get those who need help access to services. He began the effort in earnest a year ago.
The first time he sees someone panhandling on a highway ramp, he'll write a warning. He'll explain that panhandling is against state law, and people aren't allowed to do it on freeway ramps. Panhandling is considered disorderly conduct under Michigan law and is a misdemeanor punishable by up to 90 days in jail or a fine of up to $500.
Zook tries to get to know the people he encounters on the ramps. He writes down their names and the basic details of each person's story in a notebook he keeps. He usually pairs the information with a picture.
The notebook helps him keep track of people so he knows who they are if he runs into them again, and Zook makes the information available to other officers who may encounter them. Zook will include details about their history, such as whether the person is HIV positive.
If he sees the same person a second time, he'll generally issue a citation. That gets the person into the court system, where a judge can order treatment for drug or alcohol abuse if it's warranted.
But problems of drug and alcohol addiction and poverty are so intractable that it's difficult to really have an impact. Zook knows this and it weighs on him. Sometimes he has contact with people a few times and then never sees them again.
Zook was saddened to learn about a man who recently died. He was among the panhandlers on whom Zook had been keeping tabs. An acquaintance of the man told Zook he had died of a heroin overdose.
Zook says the majority of people he encounters on the ramps have some kind of substance abuse problem.
"I wonder about all of them," he says. "I like to keep tabs on them to make sure that they're still doing ok. It's almost like you have a bond with them."
Heart-wrenching stories
Zook has heard lots of stories, and he's generally wary of a hard-luck tale. People will frequently carry signs proclaiming they're homeless, but Zook says that's often not the case. The signs are designed to elicit sympathy and money, often to feed a drug or alcohol problem.
And they work. While some drivers are fearful or scornful of people asking for money, others are generous. Zook has heard panhandlers working the Ann Arbor-Saline Road ramp from I-94 can make $200 a day.
But some stories are so sad they would melt the heart of the even the most skeptical trooper.
There was the young woman Zook saw panhandling last January at Interstate 94 and Rawsonville Road. Zook suspected she was using heroin, but she denied it. She gave him a false name.
The second time Zook saw her on the ramp, a couple of weeks later, he arrested her. She gave him her real name and admitted her heroin addiction. She said she was from Jackson but had come to the Ann Arbor area for the services available here.
She also told him her mother had died of a heroin overdose and her sister was addicted to crack and was in rehab. She said her best friend in Jackson introduced her to heroin at a party when she was 15 or 16. Zook said a kindly couple in Ypsilanti agreed to let her stay with them. She would now be about 20, but Zook hasn't heard from her in months, even though he gave her his phone number so she could contact him.
"I had phone contact with her and was trying to get her into a treatment program." Money to pay for it was a problem though. He did see her waiting for the bus outside court a month or two after his last phone contact with her. "She said she hadn't used." A hopeful tone creeps into his voice. "She did look better." He hopes no news is good news.
A mother's struggle
And then there's Linda Edwards. Zook picked her up on a Friday in early January begging for money on the Rawsonville Road exit ramp from Interstate 94, her 6-year-old daughter in tow. She lives with her daughter at a Belleville motel, she told Zook, and begs for money on the ramp in order to have enough to pay the weekly rent for the room.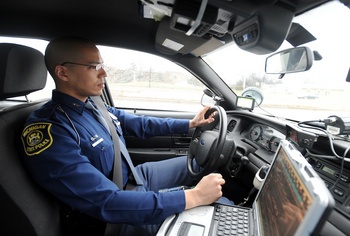 Angela Cesere | AnnArbor.com
Edwards, 41, says she got evicted from her apartment in Belleville after she lost her job at Walmart because she didn't have anyone to care for her daughter when she wasn't in school. Then her car was repossessed and she ended up at the motel.
Zook told her she couldn't be on the ramp, especially not with her daughter. Edwards said she had to bring her daughter with her that day because there wasn't any school. She has to pay the rent on Friday so she needed the money.
A couple of weeks later, Zook saw her out on the ramp again. holding her sign of brown cardboard with the words "Please help the homeless. Thank you. God bless." He stopped his patrol car and got out. When he walked up to her, she hugged him.
"I asked him if he was going to arrest me, and he said, 'no,'" Edwards said. She was grateful for his lenience. "I was scared because I don't want to lose my child."
He told her again she shouldn't be on the ramp. "I truly believe she has good intent behind what she's doing," he said. Edwards is unusual, Zook says, in that the money she was collecting was going for housing, not drugs or alcohol.
Edwards said she had no choice but to work the ramp. She gets food assistance from the state and used to get $200 twice a month from the Family Independence Program, but says that was cut off because without transportation she couldn't participate in the Work First program. She didn't have a car and says the motel isn't near a bus line.
She said she had no other way to earn money and no family able or willing to help her. She said she got anywhere from $25 to $60 a day from panhandling on the ramp. She was walking several miles to the ramp and back each day.
"I can't stop because I have to keep this roof over me and my baby's head. … I don't want nobody trying to take my daughter away from me, cause that's all I got."
But Edwards' story has taken a dramatic turn for the better in recent weeks. Detroit television station WXYZ got wind of Edwards' plight and did a story about her. Calls from people who wanted to help started pouring in. Zook worked with Billy Salamey, the owner of Budget Towing in Ypsilanti, to get a fund set up for Edwards. Donors have contributed more than $7,000 to the fund. One person even gave Edwards a van.
"I'm overwhelmed with all the support," Edwards said.
A childhood dream
Zook, 31, has been a state trooper for more than seven years, but he started thinking about it long before that.
It was the shoes that got his attention. Zook was a little boy, only 7 or 8 years old. He was at a car wash at a gas station with a friend of the family. The car wash required an attendant, and Zook had gotten out of the car while they waited for the wash.
"As I'm walking around, I see these shiny shoes," Zook recalls. "I looked up and there was a state trooper in his dress blouse." The sight so impressed Zook that he never forgot.
In 2004, he got to wear the outfit himself at the 120th Michigan Trooper Recruit School graduation. He's been working as a trooper in Washtenaw County since then.
Since January of 2011, Zook has been serving as a community service trooper. His job is to get to know the community, work with schools and other organizations and try to identify and solve problems, like the problem of panhandling on freeway ramps.
That particular assignment is one he gave himself. Zook often thought about Rogers after he died in 2007, but it wasn't until he took on the community service trooper role that he had time to devote to finding out who was working the freeway ramps.
On average, Zook estimates he finds about one person a week panhandling on the ramps, and he's arrested about 12 to 14 over the past year.
Zook is respectful of the people he meets on the ramps even if he's arresting them. They're generally respectful of him too. Rarely does anyone try to resist arrest, though recently a man he found panhandling for the second time tried to run from him. Zook used his patrol car to cut him off and quickly caught him.
Other local experts back up Zook's assertion that most people working the ramps are addicted to drugs or alcohol and not necessarily homeless.
"Almost all of the people panhandling are not homeless," said James Balmer, president of Dawn Farm, the drug and alcohol treatment facility in Ypsilanti. He said an addicted panhandler once told him he could make $150 a day working the ramp from Interstate 94 to Ann Arbor-Saline Road. He carried a sign reading "Broke and homeless. Please help," but Balmer said the man had his own apartment.
Balmer said people have to make their own decisions about whether it's a good idea to give money to freeway ramp panhandlers but should be aware that the money will likely go to feed an addiction.
Ellen Schulmeister, executive director of the Shelter Association of Washtenaw County agrees: "If you're going to do it, do it with your eyes open."
Making a difference?
So are Zook's efforts having a positive impact on the panhandlers and the thousands of motorists who exit the highways each day? It's a hard question to answer.
For a while, the number of people begging on the ramps was greatly reduced, Zook says, though he's noticed it creeping back up this winter. But he says most of the people working the ramps now are people he's never seen before rather than repeat offenders.
Still, he knows that doesn't necessarily mean they've kicked their drug habits or otherwise gone on to productive lives. "They've essentially just been displaced. Sometimes it's frustrating because some of them don't want help at all."
But Zook refuses to give up. "I'm optimistic something will change with them," he said. "Time will tell."
It's that optimism that keeps him at it. That and the hope that his efforts will keep anyone else from freezing to death on a cold winter night.
For information about donating to help Linda Edwards, contact Budget Towing at (734) 485-2055.
Contact Cindy Heflin at 734-623-2572, or cindyheflin@annarbor.com or follow her on Twitter.