Posted on
Thu, Jun 20, 2013 : 10:32 a.m.
Parade of Homes to offer ideas and inspiration for home owners and designers
By Ann Dwyer
Summer brings with it lots of parades, including the Parade of Homes.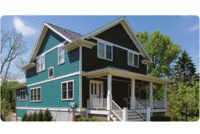 Tour 13 destinations, including new homes and land in Washtenaw and Livingston counties. Experts will be available to discuss plans and ideas.
Preview the homes and map out your route at www.bragannarbor.com/se_showcase.cfm.
The event is sponsored by the Builder and Remodelers Association of Ann Arbor.
June 23, 2013. Noon-7 p.m. Adult admission is $10 each and ages 16 and under are free.Tickets will be sold at each home and are valid for all homes for all days of the event.