Posted on
Wed, Jul 3, 2013 : 12:37 p.m.
Parades kick off 4th of July celebrations Thursday morning
By Chelsea Hoedl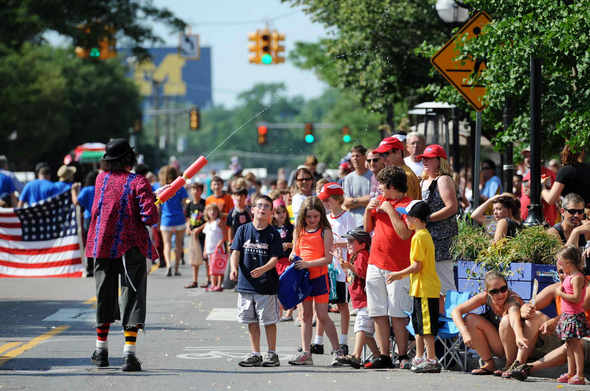 Ann Arbor, Ypsilanti and Whitmore Lake will be ringing in the Fourth of July with celebratory parades on Thursday. Looking for an alternative? Washtenaw County residents can recognize Independence Day 2013 with a comedy show or a BBQ as well.
Ann Arbor
The 23rd Annual Ann Arbor Jaycees Fourth of July Parade will begin at 10 a.m. Thursday on the corner of South State and East William streets. The parade will be led by the University of Michigan's men and women's swimming and diving coach, Mike Bottom.
Floats, music and walking groups will make their way through downtown Ann Arbor and this year, children ages 12 and under can take part in a bike decorating contest at 9:30 a.m. and then ride their finished bike in the parade.
For more details on the Ann Arbor parade, visit the Ann Arbor Jaycees' website.
Ypsilanti
The 84th Annual Ypsilanti Independence Parade hosted by the American Legion and the Ypsilanti Area Jaycees will begin at 11 a.m. on the corner of Oakwood and Cross streets. Participants will wind their way through Depot Town and end at Rice Street.
The parade will feature a little more than 50 participants including live bands, classic cars, business vendors and veterans. The parade will also feature participants from Depot Town's annual Elvisfest, which will take place next week.
For more information about Michigan's longest-running Independence Day Parade, visit the Ypsilanti Jaycees' website.
Whitmore Lake
The Whitmore Lake Fourth of July Parade will begin at 10 a.m. on the corner of Barker Road and Main Street and head south on Main towards the Northfield Township Public Safety Building.
Last year the event featured walking groups, marching bands, police on horses and floats, men on stilts and a moving tiki bar.
For more information visit Whitmore Lake's Fourth of July Facebook page.
Other events scheduled for the Fourth of July include a comedy show and an annual BBQ.
The Capitol Steps, hosted by the Ann Arbor Summer Festival at the Power Center will offer a different form of celebration with shows at 5 and 8 p.m. on Thursday. Political issues, events and personalities will be poked fun at in a show featuring song parodies and sketches. Tickets are between $30 and $50 and can be purchased online.
The Sons of American Legion Post 31 will be hosting their annual July Fourth Chicken BBQ as well. Grilled chicken dinners include coleslaw, baked beans, a bag of chips and a roll for $9. Those hoping to participate in the meal may arrive at 11 a.m. Post 31 at 1700 Ridge Road. Everyone is welcome.
Have something to add to Washtenaw County's Fourth of July schedule? Leave it below in the comments or email us at news@annarbor.com.
Chelsea Hoedl is an intern reporter for AnnArbor.com. She can be reached at choedl@mlive.com.